Sunrise House & C.L.E.A.R. Announce Expansion of Program Helping People Recover from Addiction
January 18, 2018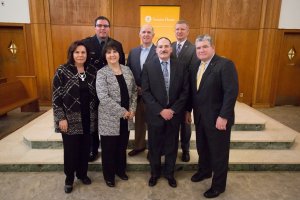 At a time when Sussex County is facing an opioid epidemic, Sunrise House Treatment Center and the Sussex County Community Law Enforcement Addiction Recovery (C.L.E.A.R.) Program announced Thursday, January 18, that the program is expanding to help even more people with substance use disorder and addiction find recovery. The expansion includes the addition of several new police departments to serve as intake locations and more scholarships for those who can't afford treatment.
The C.L.E.A.R. Program provides a safe place for individuals to gain access to recovery services and turn in illegal drugs or paraphranalia without fear of arrest or prosecution. This innovative and collaborative approach by law enforcement and recovery specialists offers a proactive solution to address the public health and public safety issue of substance use.
Since launching the program in July of 2016, 43 family members and 58 people with substance use disorder have been connected with trained Recovery Coaches, of which 41 entered the program by walking through the doors of a participating police department. Forty-eight of those individuals seeking assistance have been connected to professional treatment despite lack of insurance coverage or financial resources.
Fred Trapassi, CEO of Sunrise House, was joined by New Jersey legislators, police officers, the C.L.E.A.R. Steering Committee members and other concerned community members when he announced that his facility would be increasing the 5 scholarships currently provided to 15. The scholarships will provide 30 days of treatment for each recipient, with a combined 450 days of free treatment being provided to the New Jersey community every year.
"Overdose is now the leading cause of accidental death in our state," said Trapassi. "By increasing the number of scholarships available to the C.L.E.A.R Program, we aim to directly impact the opioid crisis that is impacting our community."
Mike Richards, Chief of Police at the Newton Police Department, also announced that the C.L.E.A.R. Program would be expanding to eight participating police departments. These intake locations now include:
Andover Township Police – 145 Lake Iliff Road, Newton, NJ 07860
Byram Township Police – 10 Mansfield Drive, Stanhope, NJ 07874
Franklin Borough Police – 15 Corkhill Road, Franklin, NJ 07416
Hardyston Township Police – 149 Wheatsworth Road, Hardyston, 07419
Newton Police – 39 Trinity Street, Newton, NJ 07860
Ogdensburg Borough Police – 14 Highland Avenue, Ogdensburg, NJ 07439
Sparta Township Police – 65 Main Street, Sparta, NJ 07871
Vernon Township Police – 21 Church Street, Vernon, NJ 07462
Becky Carlson, Executive Director at the Center for Prevention and Counseling, shared news of the expansion of a current state grant they manage that will assist CLEAR participants along with the providing the latest details on the numbers served by C.L.E.A.R. in Sussex County.
Former NJ Governor Chris Christie also received a special award from C.L.E.A.R. for his efforts in combating the opioid epidemic on a state level where he worked to increase funding and resources for those with substance use disorders including ReachNJ.
Other speakers at the event included: Francis Koch, Prosecutor at the Sussex County Prosecutor's Office, Senator Steven V. Oroho, Freeholder Sylvia Petillo, Bianca Madzarova, Project Specialist from NJ Senator Corey Bookers office,  Michael Cartwright, CEO of American Addiction Centers, and Kaitlyn Krakowiak, C.L.E.A.R Recovery Coach.
Next News Article
Desert Hope Alumni Coordinator Shares on Resolutions & Getting Treatment in the New Year