Rehab Accreditation: CARF, Joint Commission, and More
What you will learn:
What is accreditation when it comes to quality treatment
The types of accreditations rehabs may have
Individuals seeking treatment for alcohol or drug misuse are bombarded by hundreds of online ads promising miracle addiction treatments, rapid detox services, and easy alcohol and substance addiction cures. Some programs claim they can magically cure your loved one of their addiction overnight.
When a substance use disorder impacts your life or the life of someone you love, it's essential to find the right care. The options can be overwhelming. What do you look for in a reputable drug program?
Finding Quality Drug Rehabilitation Centers
With so many rehab program options in the growing industry of addiction treatment, how can you identify a rehabilitation program that will provide the quality care you or your loved one need to address the specific addiction issues?
After finding facilities that meet your treatment, insurance, and location needs, you can narrow the options by choosing an accredited facility.
Explore AAC's Accredited Rehab Facilities Near Me
What is a Rehab Accreditation?
Holding accreditations means that, in addition to meeting the requirements to be licensed by the state, the addiction treatment program adheres to certain policies, guidelines, and standards of practice and care set by a respected third-party organization in the addiction and mental health treatment industry. The facility undergoes a lengthy process that includes a series of evaluations in the pursuit to reach standards of excellence in client care. For you or your loved one, it means quality services are received. Several accreditation bodies help govern rehab treatment facilities.
The Meaning of Accreditation to You and Your Loved One
Becoming an accredited facility shows a provider's ability to meet standards of quality and care in addiction therapy practices that are often more comprehensive than the state requirements to become a licensed facility. Additionally, accredited treatment facilities commit to continued learning and growth within the addiction and mental health space and are re-evaluated by the accrediting agency regularly.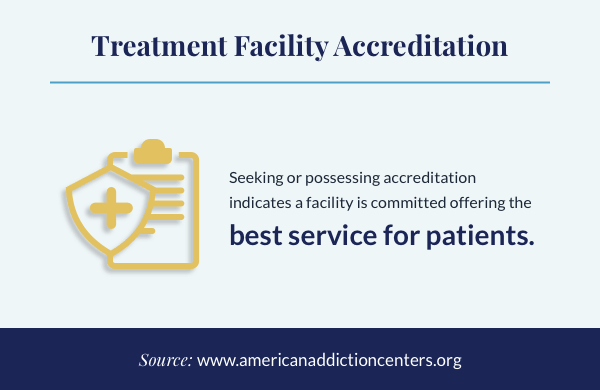 During the lengthy preparation and accreditation process, the facility and staff opens its doors for the accrediting bodies for onsite visits and evaluations. A number of practices are evaluated at the facility—including the organization's day-to-day operations, aspects of the facility's management, staffing, training, policies and procedures, safety plans, client residential areas, treatment areas and equipment, programming schedules, and the effectiveness of the clinical services and therapies.
The Accreditation Process
When providers decide to pursue accreditation, they go through an intensive application and review process that can take a year or more of preparation before the accrediting body even visits the facility. Additionally, accreditations can be expensive; thus, not every facility gets accredited even though it can be a positive differentiator for individuals and their families seeking treatment.
Accrediting Bodies
While several accreditation bodies help govern rehabilitation facilities, the two most prominent accrediting organizations for addiction treatment programs include the Commission on Accreditation of Rehabilitation Facilities (CARF) and the Joint Commission, previously known as JCAHO. For this reason, the majority of addiction programs seek accreditation from these two groups.
CARF Accreditation
CARF, an international nonprofit accreditation body that has been in existence since 1966, evaluates health and human services in aging services, behavioral health, child and youth services, employment and community service, medical rehabilitation, and inpatient rehab programs.1
The weight that CARF accreditation carries is recognized internationally in the health and human services fields. During the thorough review and application process, surveyors look for consistency in procedures and policies. Additionally, insurance companies require CARF accreditation for rehabilitation services.3
Addressed in their mission statement, CARF strives to "promote the quality, value, and optimal outcomes of services through a consultative accreditation process and continuous improvement services that center on enhancing the lives of persons served." CARF-accredited facilities and service providers abide by CARF's core values that all people deserve to be treated with respect, have access to high-quality services, and utilize informed choice.4
The Joint Commission
The Joint Commission, established in 1951, accredits and evaluates more than 22,000 healthcare organizations and programs in the United States. Formerly known as the Joint Commission on Accreditation of Healthcare Organizations (JCAHO), the Joint Commission evaluates these healthcare organizations, facilities, and professionals and challenges them to provide safe and effective care at the highest quality and value.5
The Joint Commission surveyors—made up of doctors, nurses, hospital administrators, laboratory medical technologists, and other healthcare professionals—visit facilities a minimum of once every 3 years (every 2 years for laboratories) to assess compliance. Self-assessment scoring tools help these facilities and organizations monitor their ongoing standards and compliance.5
Other Healthcare Certifications and Memberships
Health Insurance Portability and Accountability Act (HIPAA)
HIPAA offers its Seal of Compliance to healthcare providers that meet exceptional quality care standards in the behavioral health industry. Additionally, a facility that bears the HIPAA seal demonstrates a commitment to protect the privacy of patients' personal health information.6
Substance Abuse and Mental Health Services Administration (SAMHSA) Directory
To be listed in SAMHSA's national Behavioral Health Treatment Services Locator—used by individuals (and their loved ones) seeking treatment for substance use and/or mental health disorders—facilities must be licensed and/or accredited by their respective state licensing agency or one of the national accrediting agencies.7
National Association for Behavioral Healthcare
The National Association for Behavioral Healthcare recognizes facilities that are "committed to the delivery of responsive, accountable, and clinically effective prevention, treatment, and care" of individuals with substance use and/or mental health disorders.8
HIRE Vets Medallion Program
The Honoring Investments in Recruiting and Employing American Military Veterans Act of 2017 (HIRE Vets Act) requires the secretary of labor to establish a program that recognizes employer efforts to recruit, employ, and retain veterans.9
Facility Accreditation Fees
None of these accreditations, certifications, or memberships are free. Facilities make a commitment to quality care and a financial investment when they decide to go through the accreditation or certification process.
Accredited Addiction Programs by Numbers
So how prevalent is accreditation in substance use treatment facilities? In 2020, of the 16,066 addiction treatment programs that voluntarily supplied information on their programs for the National Survey of Substance Abuse Treatment Services, 30% were accredited by CARF, the Joint Commission accredited 23%, and 891 facilities did not hold any licenses or accreditations.10
Are AAC facilities accredited?
Yes. All American Addiction Centers (AAC) facilities are accredited by CARF or the Joint Commission or both. That's because of our strong desire to help individuals turn their lives around after struggling with alcohol and drug addiction. We want to provide effective, research-based addiction therapies that meet the highest industry standards.
We know that accreditation means constantly re-evaluating and improving processes to provide the highest quality of care and to continue educating our healthcare professionals and staff on changing industry standards, on treatment considerations and protocol, interventions, psychopharmacological advances in detoxification, and more.
Selecting an addiction treatment program with CARF or Joint Commission accreditation indicates that quality, safety, high standards, and therapies based in research carry weight in your facility selection.
Continuous Quality Care Standards
Facilities must renew accreditations every 1 to 3 years, depending on the accrediting body, the type of facility, and other factors. The need to re-assess often shows the provider's commitment to continuously improve service quality and focus on the satisfaction of the individuals served.
Additional Benefits of Accreditation
Insurance Reimbursement
Third-party payers like insurance companies often use CARF and Joint Commission accreditation to determine the facilities where they will cover or reimburse for services.
A Safe, Therapeutic Environment
Becoming an accredited facility requires a rigorous vetting process, which may be considered safer than a facility that has not been vetted. Furthermore, accrediting bodies require person-centered care, which means the environment centers around your recovery.
Marketing Programs and Promotion
When combing through a sea of treatment options, looking for the CARF or Joint Commission stamps of approval—used with permission—makes the task less overwhelming.
Risk Management and Safety
Accreditation can help an organization reduce its exposure to risk in areas like human resources, healthcare, governance, and finance.
Quality Care
By achieving accreditation from CARF or Joint Commission, the facilities ensure high-quality care and treatment that meets the standard of the accrediting entity.
Non-Accredited Addiction Treatment Facilities
In 2020, 5.5% of addiction treatment facilities were not licensed or accredited.10 
There are addiction rehab facilities that are not accredited but operate as treatment facilities. Accreditation isn't mandatory and can be an expensive and laborious process that may not make sense for a smaller facility.
However, earning accreditation from CARF or the Joint Commission signifies that the treatment programs at the facilities have met internationally accepted and research-based standards.
Accreditation and Chances for Greater Recovery Success
Success treatment outcomes depend on many variables—including substance misuse history, co-occurring mental health disorders, chronic health conditions, home environment, and more.
While attending a treatment program in an accredited facility does not guarantee long-term recovery, accredited programs provide research-based therapies and the highest standard in addiction treatment care that puts the individual first.