Drug & Alcohol Rehab for Professionals Near Me
Substance abuse does not discriminate on the basis of social and economic status, income, or profession of a person. In fact, professionals, such as politicians, doctors, lawyers, engineers, educators, business persons, and other highly skilled specialists, may find themselves especially at risk for experiencing drug and alcohol problems due to demanding and high-stress careers.
Fortunately, executive rehab centers and private rehabs are designed to provide professionals with the confidential, secure, and high-quality support they need to work through their substance abuse issues.
American Addiction Centers offers inpatient and outpatient rehab to working professionals in the U.S. Call
Statistics on Drug & Alcohol Abuse in Professionals
According to a recent national report, about 9.5% of full-time workers were dependent on or abused alcohol or illicit drugs in the past year.1 Additionally, several industries have considerably high rates of substance use disorder (SUD) among workers, including:1
3% in construction.
9% in the arts, entertainment, and recreation.
4% in company and enterprise management.
0% in real estate, rental, and leasing.
4% in finance and insurance.
1% in transportation and warehousing.
8% in professional, scientific, and technical services.
7% in healthcare and social assistance.
5% in educational services.
Drug & Alcohol Treatment Options for Professionals
Finding confidential treatment can be difficult for professionals, primarily in cases when they are not able to leave their positions for a prolonged period of time. However, though treatment options may vary, executive and private rehabs offer an array of services and programs tailored to their unique needs.
Detox may be done on an inpatient or outpatient basis and can provide professionals with a discreet, more comfortable, and safe withdrawal process.
Inpatient rehab allows professionals to receive high-quality treatment in a remote, private, and safe environment, often while continuing to work online or by phone when necessary.
Outpatient programs empower professionals to discreetly continue treatment after finishing inpatient rehab. Many programs offer flexible scheduling options and private recovery services tailored to fit your needs.
Workplace supported recovery (WSR) programs, including employee assistance programs (EAP), health insurance programs, or other valuable and confidential resources, aim to reduce the stigma surrounding substance abuse and SUD by lowering barriers to seeking treatment, receiving services, and maintaining recovery.2
What Happens in Rehab?
Rehab programs for professionals are customized to fit the patient's needs. However, rehab for professionals typically begins with medical detox to ensure safe and comfortable withdrawal periods. During this time, medication may be used to help reduce some of the uncomfortable physical withdrawal symptoms that arise after a person stops using drugs or alcohol. After detox, a professional may begin a formal substance use treatment program by working with a highly skilled team of professionals to move forward in maintaining their recovery.
Specific issues, such as a person's needed length of stay, whether they will go to inpatient or outpatient treatment, and other details, are typically determined by the professional and their care team prior to starting treatment. Unfortunately, many professionals are fearful about attending inpatient rehab for fear of losing their jobs. For those who wish to keep their jobs and go to rehab, this can cause considerable stress. It is important to note, however, that there are supports in place to help working professionals pursuing quality treatment, including the Family and Medical Leave Act (FMLA), the Americans with Disabilities Act (ADA), and more.
Will I Get Fired for Going to Rehab?
No, you will not get fired for going to rehab. In fact, professionals seeking rehab may find protection of confidentiality and of their careers under laws such as the ADA and FMLA.
The ADA protects the rights of people with disabilities, such as professionals in recovery for addiction to alcohol, opioids, and other substances.3 To be protected under the ADA, you must:3
Be in recovery from a SUD.
No longer engage in the illegal use of drugs.
Currently participate in or have already completed a rehab program.
The FMLA permits eligible professionals to take unpaid, job-protected leave for certain family and medical reasons.4 Additionally, the FMLA allows them to maintain their group health insurance coverage under the same terms and conditions that they had before taking leave.4
How Long is Rehab?
Rehab for professionals varies in length and may last between 30-90 days or more. Typically, a person's length of stay depends on factors like their insurance coverage, their unique needs, the capacity of the provider's program, and others.
Will Insurance Cover Rehab?
Yes, insurance typically covers rehabilitation. In fact, American Addiction Centers (AAC) accepts most large health insurance plans and offers a variety of treatment options such as co-occurring disorder treatment, behavioral therapies, and more.
Find Professional & Executive Rehab Treatment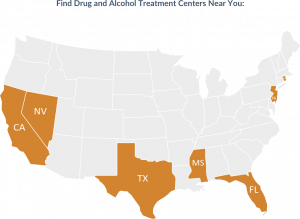 You Might Also Be Interested In
Sources: