Private Rehab: Benefits, Cost & Finding Private Drug Rehab Near Me
What you will learn:
What a private rehab program is
The cost of private rehab
Whether private rehab programs are right for you
What are Private Rehabilitation Programs?
Private rehabilitation programs derive their funding from private sources — namely, admission fees from people who enroll. They have a financial incentive to deliver results, so people will refer friends and family. They tend to have vast financial resources, so they can offer a wide array of treatment options to patients and a low staff-to-patient ratio. Costs may be higher, but the benefits can be worth the expense.
Drug and alcohol rehabilitation has come a long way, and individuals now find themselves with a plethora of treatment services and options to choose for recovery.
For those seeking private rehabilitation programs, a number of facilities offer exclusive, high-quality care that spares no expense in helping the person create a new, substance-free life.
Find out if insurance may be able to cover all or at least part of the cost of treatment.
What Are Public Rehab Programs?
Public, or state-funded rehabilitation programs, accept money from state governments to provide treatment services to people who need them. Medicaid is an example of this. They are generally only available to residents of that particular state, and they are intended for people who cannot cover the entire cost of treatment on their own (or who do not have sufficient insurance coverage).
Notwithstanding the vital services offered by public rehab programs, they do come with limitations. Because they are low-cost (or even no-cost) organizations, there is usually a high demand for their treatment, which brings the possibility of having to endure a long wait to be seen. For a person seeking immediate help for a drug or alcohol problem, this is obviously not ideal.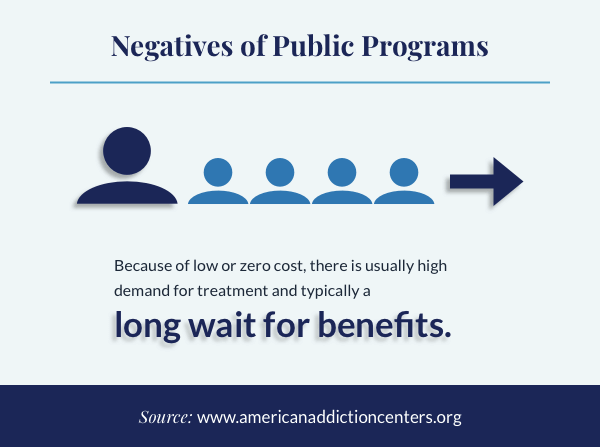 Public facilities are typically limited in the variety of services they can offer. Sometimes they are able to take in only a small number of patients, or they have a skeleton staff to handle an entire patient population. Some, especially those in rural areas, may not even be able to afford a doctor on their staff and can thus only offer a very basic set of treatment modalities to patients.
Since such programs receive public funds, they are also at the mercy of budgetary constraints in times of economic crisis.
In 2011, for example, then-governor of Illinois Pat Quinn was forced to cut all funding for his state's drug treatment and prevention programs. The CEO of the Illinois Alcoholism and Drug Dependence Association estimated that 80 percent of patients – roughly 55,000 – would lose their care. With 32,000 youth losing access to prevention programs, it was described as "the most devastating picture possible."
AAC is in-network with many insurance companies. Your addiction treatment could be free depending on your policy.
Private Rehabilitation Programs
On the other end of the spectrum are private therapy and rehabilitation programs. These, as the name implies, derive their funding from private sources. Unlike a public institution run by the state or county, private programs operate at a profit, so they have a financial incentive to deliver results. They also have the financial resources to offer a wider array of treatment options to their patients.
One advantage of a private facility is that they tend to have a lower staff-to-patient ratio than public centers. This allows for doctors and other personnel to give care that is individualized and as specific as possible to patients. The limited budget of public facilities suggests that the ratio of patients to doctors is unfavorably high, stretching the time and energy of staff across a number of patients.
That said, private facilities might have waiting lists of their own, albeit not as long as those associated with public rehab centers.
The Importance of Location
Individuals who are being rehabilitated stand a much better chance of recovery if they can be in an environment that is as conducive as possible to their mental and emotional health. Private facilities, which are often in secluded areas surrounded by nature, provide settings of peace and quiet for clients to heal their bodies and souls. From the outside, they can often look like resorts. Such programs may offer activities, such as outdoor recreation, yoga classes, or swimming, all pursuits that help clients physically, as well as mentally.
Public facilities, by comparison, tend to be located in dense, urban areas, where there is noise, temptation, and limited space for individuals to stretch their legs — metaphorically and literally.
The difference in locations also has an impact on some of the key components of addiction and its recovery, which are shame and guilt. The seclusion and solitude of private rehabs offer privacy in more than just the name, allowing clients to process and take stock of themselves away from condemning or judging eyes.
However, since family involvement is vitally important in the treatment and rehabilitation of a person, some private facilities may even provide on-site accommodation for family members or loved ones.
As much as this allows for spouses, children, and siblings to be a part of key therapy sessions, it also provides healing and restoration for people who have been hurt by the person's addictions. It brings the most important people in clients' lives together, so their recovery is interconnected and mutually invested.
Money Matters: Public and Private Rehab
Public treatment programs also tend to limit patients to periods of stay that will be covered by insurance plans. In the interests of maintaining fairness between patients and their insurance providers, mental health and substance abuse therapy coverage cannot exceed the coverage of surgical or medical conditions offered by the same provider. While this ensures no preferential treatment towards one ailment or another, it does limit how much time patients can be covered by their insurance.
Private rehabilitation programs, on the other hand, do not operate under such constraints, making it possible for individuals to receive therapy for as long as they need and can afford. To that effect, private centers usually offer a variety of payment options, such as payment plans or sliding scales.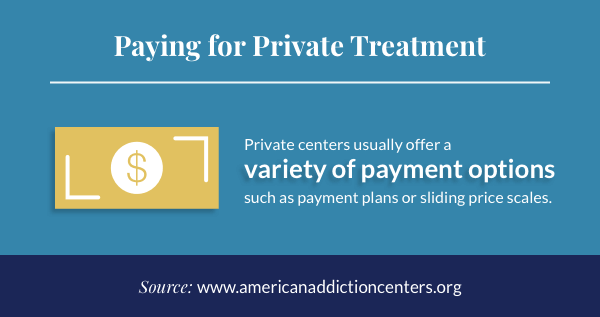 Private centers can also afford to be more creative with their therapies. They might, for instance, hire a meditation instructor or acupuncturist. They might offer cooking therapy or art therapy as part of their programs, giving clients new hobbies and new ways of expressing themselves and coping with their thoughts and feelings.
Following-Up & Aftercare
Private centers also have the resources to invest in the long-term health of their clients. To that effect, they may have the tools to follow up with patients at regular intervals following their "graduation" from the program. They might even offer return visits, interviews, and group meetings as part of the treatment course. A public clinic will almost certainly emphasize the importance of aftercare, but may not be able to actually stay in touch with graduated patients because of a lack of financial resources or manpower.
A vitally important part of continued care is having clients stay in touch with support groups after they have been discharged from programs. While a public clinic will undoubtedly stress the importance of this, a private facility could conceivably have a much greater ability to facilitate the individual's introduction and transition into such a group as an extension of its treatment program. This ensures there is a solid link between the completion of formalized treatment and the beginning of living in the outside world as a newly sober person.
Private Rehab Benefits & Amenities
Other things to expect at a private treatment center might be, for example, a better quality of food than what could be found in a public clinic. Even amenities like bedrooms and common areas might be better furnished, every little detail contributing to the restoration of the person's mental health.
Having a comfy bedroom may seem like a luxury, but The Fix points out that there can be a therapeutic advantage to some of the opulence offered by a private rehab. Some people's recovery may be best served by privacy, and having as small a number of people around them as possible (barring medical staff). This can become very important when withdrawal symptoms – nausea, fever, muscle cramping, insomnia, and depression – are at their worst, and having other recovering addicts in close proximity (maybe even sharing a room) would not help.
The Costs of Private Rehabilitation
Private rehabilitation programs may sound like the answer to every prayer, but it should be remembered that they come with a very literal cost. Even though centers often offer payment plans to provide a bit of financial breathing space, the bill for a 26-day stay at a facility in Minnesota may be as high as $28,000. The Washington Post writes of a facility in Florida that charges $48,000 a month. Arguably, clients get what they pay for, and it is often money well spent in the fight to save a loved one's body and mind.
Similarly, even while the seclusion and isolation of private rehab facilities provide benefits, the distances and travel logistics may prove to be difficult.
Is Private Treatment Right for You?
With all this in mind, how will you know if private treatment is the right option for you? You could start by asking a treatment professional where and how your loved one's experiences with substance abuse would be best treated. Once you have a list of options, you can inquire at those facilities about:
The range of their treatment plans
What they offer and what they don't offer
How much effort they put into following up with patients after graduation
What programs they offer for family members, in terms of joint therapy sessions, accommodations, or transportation to the facility
Private rehabilitation programs are not inexpensive, by any means, but the depth of treatment they offer can make a huge difference in a person's recovery.