Top Reasons to Choose Greenhouse Treatment Center Near Dallas, Texas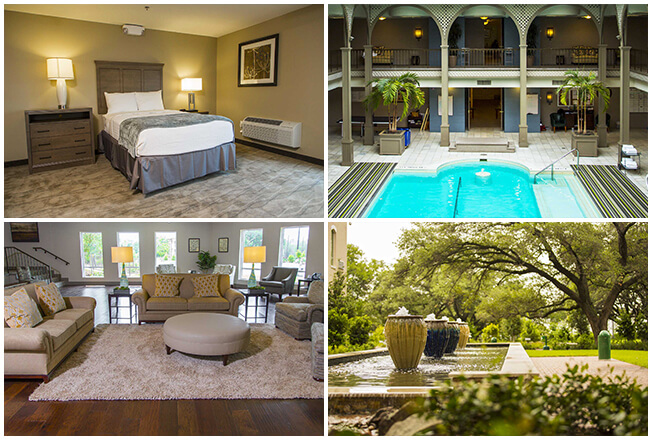 We're partners on the recovery journey with treatment designed specifically for you.

Our programs at Greenhouse Treatment Center are specifically designed to address not only substance addiction but the root cause of the addiction as well as any co-occurring mental health disorders to increase your chances of long-term recovery. We won't offer a cookie-cutter approach to your treatment; instead, we tailor our treatment to your needs and make adjustments as you progress in your recovery. Treatment and communication is confidential, and we work with YOU to find the best treatment plan and facility for your needs.

We offer the optimal healing environment with a luxury feel.

Our facility is located in a former Neiman Marcus spa, offering a luxurious experience complete with two pools, a sauna, jacuzzi, and executive chef in a relaxing, tranquil setting.

We offer multiple levels of care personalized to your individual needs.

Whether you need a medically supervised detoxification program to overcome the symptoms of withdrawal, are looking for a live-in inpatient or residential program, or are ready to step down to an outpatient setting, we have a program for you.

We offer specialized tracks and programs because we realize that not everyone has the same exact needs.

Specialized tracks include a Veterans & First Responders Program, a Program for Professionals, LGBTQ+ Support Programs, Christian and 12 Step Recovery Programs, and more.

We offer a robust wellness program.

Our wellness program has something for everyone. Comprehensive wellness program features a registered dietician, a gym, yoga, cardio equipment, Pilates, Qi Gong, Tai Chi, water aerobics, massage, acupuncture, and spirituality.

We offer 24/7 medical monitoring during detox.

You can rest assured that we take your safety extremely seriously. Our medical detox patients are medically monitored around-the-clock by a staff of registered nurses.

Our staff is amazing!

Many of our caring staff members have either experienced addiction or recovery themselves firsthand or from a loved one. Our staff members treat all patients with a genuine passion for helping them seek freedom from addiction. This is true of staff at Greenhouse and in our corporate offices across the U.S.
All of our compassionate and experienced clinical staff have in-depth knowledge of addiction and mental illness. Areas of expertise include trauma, eye movement desensitization and reprocessing (EMDR), biosound therapy, experiential therapy, cognitive behavioral therapy (CBT), and dialectical behavioral therapy (DBT).

Previous patients review us as "the best".

We take our feedback to heart. We get feedback from each and every person that joins us at Greenhouse. Our clients give their own testimony at weekly completion ceremonies and regularly describe Greenhouse Treatment Center as a premier addiction treatment facility.

Our high standards in providing quality care have afforded us various licenses and accreditations.

Greenhouse is accredited or licensed by the Commission on Accreditation of Rehabilitation Facilities (CARF), the Texas Department of State Health Services, and is a Member of the National Association for Behavioral Healthcare.

Alumni programs and ongoing support are priority.

Led by a former client in recovery, our Alumni program offers weekly meetings in the Arlington, Texas area to help our alumni stay connected to a group of people who are motivated to stay sober and to provide ongoing support after treatment.

We are located just a short drive away from Dallas proper.
We offer effective & evidence based programs.

We wouldn't be as effective — 63% of our patients maintain sobriety at the 12 month mark — without the active and ongoing participation in our treatment, recovery, and alumni community from you and former patients just like you. Everyone contributes their experience and sometimes our clients even go on to work at Greenhouse or in other jobs in the addiction treatment industry. We are advocates of those in addiction coming together as a community. You make that possible.
We believe in you, and we are here to help you and your family find new joy in recovery.

Did you know your insurance provider may be able to cover all or part of the cost of rehab?

The cost of rehab may deter people from finding treatment, but many insurance providers may be able to help foot the bill. Find out if your insurance provider may be able to help you cover the cost below.
Get in contact with us today!

If you believe you or someone you love may be struggling with addiction, let us hear your story and help you determine a path to treatment. There are a variety of confidential, free, and no obligation ways to get in contact with us to learn more about treatment.