Drug Rehab for Teachers, Professors & Educators (Is it Confidential?)
Being an educator and having a substance use problem can feel overwhelming and you might be wondering what you can do to receive help for your addiction. As of 2020, 5.5% of people within the education community suffer from a substance use disorder (SUD).1
This article will help you learn about the prevalence of substance abuse issues in the education community, what substance abuse treatment looks like, and how it could impact your career.
Statistics on Drug & Alcohol Abuse in Teachers
Educators are among one of the most stressed populations for various reasons, putting them at high risk for burnout.2,3 A study in 2020 found an association between levels of stress and substance use disorder symptoms.3 Here is a glimpse of what educators face:1,4,5
High teacher stress is associated with psychological distress, often alleviated through poor coping skills.
7% heavy drinking in educational occupations.
8% illicit drug use in educational occupations.
5% of a diagnosed substance use disorder in educational occupations.
Ways to Get in Contact With Us
If you believe you or someone you love may be struggling with addiction, let us hear your story and help you determine a path to treatment.
There are a variety of confidential, free, and no obligation ways to get in contact with us to learn more about treatment.
Is Substance Abuse Treatment Confidential for Educators?
Finding treatment can be intimidating, especially if you're concerned about how it might impact your career. The good news is that there is hope and certain laws and policies exist to help you protect your career as an educator. Rehabilitation and substance abuse treatment falls under the Health Insurance Portability and Accountability Act (HIPAA) of 1996.9 HIPAA protects your privacy with a few limitations; you can seek treatment confidentially except if you or someone else's safety are in danger.10
Many educators have an Employee Assistance Program (EAP) which is a benefit that allows employees to utilize counseling and other services.11 EAP services abide by confidentiality standards.11 Similar to HIPAA standards, EAP providers cannot release private information unless there is a signed document from you or the provider believes that releasing the information would protect you or others from imminent danger.11
Seeking rehab treatment through your EAP can be intimidating if you aren't sure what information might be shared with your employer. EAP providers are required to disclose any outside relationships or conflicts of interest, further securing your privacy.11 If you are using the EAP, be aware that your employer will be billed for the treatment.11 As someone seeking rehab treatment, you are also covered by the Confidentiality of Alcohol and Drug Abuse Patient Records privacy rule which keep your records private unless you give your written consent.10
Can I Still Be a Teacher If I Go to Rehab?
Returning to teaching after attending rehab might be an option but is contingent upon several factors. Some of these factors include location, professional organization, and personal decisions. For example, Florida has a Recovery Network Program that helps teachers seek treatment for alcohol and substance use without fear of being unable to attain a job again.
Other organizations, like the United Federation of Teachers, offer protections to aid you in seeking treatment.
Rehab & Treatment Options for Teachers
There are a couple of different types of rehab options including inpatient rehab, outpatient rehab, and detox. Depending on your concerns, one of these formats will likely suit your needs. The different programs have different lengths of time for treatment. You can call AAC's drug addiction helpline to get more information about treatment programs.
Alcohol and substance use treatment might be covered by your insurance or EAP benefits.11 You can check your individual plan or call the helpline to find programs near you that take your insurance. With your EAP, you should receive a list of approved providers where you can get help. If you need to take time off from your work, the Family and Medical Leave Act (FMLA) covers employees pursuing rehab.12
Find Inpatient Rehab and Detox Treatment Centers Near You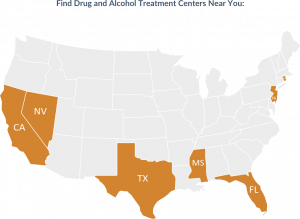 Sources
M. Bush and R.N. Lipari. (April 16th, 2015). The CBHSQ report: Substance use and substance use disorder, by industry. Substance Abuse and Mental Health Services Administration, Center for Behavioral Health Statistics and Quality. Rockville, MD.
Travers C. (2017) Current knowledge on the nature, prevalence, sources and potential impact of teacher stress. In: McIntyre T., McIntyre S., Francis D. (eds) Educator Stress. Aligning Perspectives on Health, Safety and Well-Being. Springer, Cham.
Lin, S.-Y., Fried, E. I., & Eaton, N. R. (2020). The association of life stress with substance use symptoms: A network analysis and replication. Journal of Abnormal Psychology, 129(2), 204–214.
Cameron Montgomery, & André A. Rupp. (2005). A meta-analysis for exploring the diverse causes and effects of stress in teachers. Canadian Journal of Education / Revue Canadienne de l'éducation, 28(3), 458–486.
Shatterproof & The Hartford. (2021). Shatterproof Addiction Stigma Index in collaboration with the Hartford.
Herman, K.C., Hickmon-Rosa, J., and Reinke, W.M. (2018). Empirically derived profiles of teacher stress, burnout, self-efficacy, and coping and associated student outcomes. Journal of Positive Behavior Interventions, Vol. 20(2) 90–100
Greenberg, M. T., Brown J. L., Abenavoli, R.M.(2016). Teacher Stress and Health Effects on Teachers, Students, and Schools. Edna Bennett Pierce Prevention Research Center, Pennsylvania State University.
Jakubowski TD, Sitko-Dominik MM. (2021). Teachers' mental health during the first two waves of the COVID-19 pandemic in Poland. PLoS ONE 16(9): e0257252.
The Department of Health and Human Services. (n.d). HIPAA Privacy Rule and Sharing Information Related to Mental Health
U.S. Department of Health and Human Services. (June, 2004). The confidentiality of alcohol and drug abuse patient records regulation and the HIPPA privacy rule: Implications for alcohol and substance abuse programs. Substance Abuse and Mental Health Services Administration, Center for Substance Abuse Treatment
International EAP Association. (August, 2009). EAPA code of ethics.
U.S. Department of Labor. (n.d.). Family and medical leave (FMLA).
About The Contributor
Megan received her Bachelors of Science in Human Services with an emphasis in Rehabilitation Counseling and a minor in Psychology from the University … Read More