What you will learn:
Learn more about addiction treatment types and options.

Understanding how your location and insurance can effect where you receive treatment.

Finding ways to over come obstacles and challenge when seeking treatment.
There is a marked discrepancy between the number of people who need addiction treatment in the United States and those who actually receive it.
In 2016, about 21 million people age 12 and older, or approximately 1 in 13 people in this age group, needed substance abuse treatment. An estimated 3.8 million people age 12 and older got treatment.1 That means only about 18% of those who needed treatment were able to access it.
People go untreated for many reasons. They may be reluctant to seek treatment because they hold certain beliefs about it, or they may not have insurance to cover the costs. Or they may live in an area where treatment isn't available.
Whatever the case may be, there are changes occurring on several fronts that can make treatment more accessible for more people. Changes in insurance coverage may open the door for increasing numbers of people to get the treatment they need. Innovations, such as teleheath, allow people in secluded areas to connect with providers without having to travel long distances. Additionally, alternative options to treatment—such as 12-step groups and other self-help programs—are free and widely available.
Even though many barriers remain, some encouraging signs point to treatment becoming more within reach for populations who have struggled to find recovery help in the past.
Types of Options
The most common treatment options available for substance abuse are inpatient/residential, outpatient, group therapy, and private or individual therapy.
These forms of treatment can differ quite a bit in terms of cost, time commitment, services, and scheduling.
Inpatient/Residential Rehab
The distinguishing characteristic of inpatient/residential programs is that people in these programs live at the facility throughout the duration of their treatment. Many programs of this type also offer a comprehensive treatment design that includes medical and psychological care, group and individual therapy, 12-step meetings, and other rehabilitation activities.
Inpatient rehab usually takes place in special units of hospitals or medical clinics. These programs offer detox and rehab treatment services, case management, and other group activities. Inpatient treatment is a good option for people with concurrent mental health issues, serious medical conditions, or those who require medical detoxification since these more complex situations often require more intensive levels of care.2
Find Drug and Alcohol Treatment Centers Near You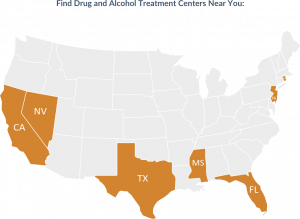 Residential rehabs offer housing along with treatment services such as therapy, as well as medical care—though they may not always provide detox. Programs may also include recreation and special events such as movie nights. Residential treatment may work well for people who don't have a secure living situation or a good support system. They may also be good for people who have serious addictions and have not made much progress in other forms of rehab.2

American Addiction Centers offers free and confidential guidance to those suffering from addiction. Call us today at to speak with an admissions navigator.

Outpatient Rehab

Outpatient rehabs include standard outpatient, intensive outpatient, and partial hospitalization programs.

These programs do not provide housing; rather, you visit the treatment center on a set schedule that can vary from a few hours a week to several hours a day. Facilities that may offer outpatient include community mental health clinics, therapists' offices, hospitals, health department offices, and residential programs. Most programs last from 2 months to a year.2

While many outpatient programs are unable to provide the most intensive levels of supervision and care as their inpatient program counterparts, some offer similar services, such as medical care.

People who are best suited for outpatient programs are motivated to attend regular treatment sessions, have a stable place to live, are supported by family and friends, and have a means of transportation to get back and forth to the rehab center.2

Standard outpatient programs can consist of 1 hour a week at a therapist's office to a few hours a week of group therapy. These programs typically do not feature medical care or detox.
Intensive outpatient programs (IOPs) range from 9 to 20 hours a week.2 If you attend an IOP, you will mostly participate in group therapy, but individual counseling may be a part of treatment as well. Many people transition into IOPs from a higher level of care such as an inpatient program. Programs may meet in the early evening for a few hours or 3 to 4 hours per day, 3 days per week.3
Partial hospitalization programs require you to come to a hospital for treatment for as many 20 hours per week, attend individual and group therapy sessions, and receive medical care. Health care professionals will be on hand to medically manage withdrawal, if necessary. You may transition to this type of program from an inpatient program or be admitted if you have relapsed and require more intensive services. The total recommended length of these programs is at least 3 months.2,3

Group Therapy

Group therapy can take place as part of an inpatient or outpatient rehab program and is led by a licensed therapist or certified addiction professional.

Group members support each other as they learn to live without drugs or alcohol, sharing experiences, discussing challenges, and realizing that they are not alone in the struggles they face to remain sober. Groups also may delve into topics such as spirituality and how it plays a part in recovery.2

Private/Individual Therapy

Individual therapy can also take place in an inpatient or outpatient program or independently in a therapist's office.

Initially, the therapist helps you discover your personal motivations to quit using drugs or drinking. After this stage, they help you learn how to remain sober. Topics covered in private therapy can include understanding addiction and exploring any trauma, learning how to change behaviors, repairing relationships, building a new network of sober friends, and developing a lifestyle centered on recovery.2

Limitations

While these options can be effective, their associated costs and locations may present some challenges for certain people who need substance abuse treatment. For example, many people who need rehab lack insurance, which can help cover a significant portion of the cost of treatment. Without insurance, the out-of-pocket costs can make treatment unaffordable for a large group of people—even lower-cost options such as outpatient and individual therapy.

These programs may also not be available in rural areas. If they are, they may not be able to offer services for certain populations, such as people who need medication for opioid addiction or who need treatment for an addiction and a mental health disorder. American Addiction Centers also offers telehealth options to help folks in rural locations.

Further, though the structure of these programs can be helpful for many people, some may not adapt well to a formal treatment setting and would prefer a more informal approach to recovery.

Number of Programs Available

Each year, the Substance Abuse and Mental Health Services Administration (SAMHSA) surveys treatment centers across the country. In 2016, SAMHSA reported the following numbers on types of treatment centers available in the United States:4

Residential programs: 3,469 (1,816 short-term, less than 30 days; 2,814 long-term, more than 30 days; 954 detoxification programs)
Hospital inpatient: 751 (550 treatment, 661 detoxification)
Outpatient: 11,836 (11,036 regular outpatient, 6,553 intensive outpatient, 1,890 day treatment/partial hospitalization, 1,361 detoxification programs, 3,079 methadone maintenance)
Dual diagnosis (treatment of both addiction and mental health disorders): 6,749

Twelve-step groups such as Alcoholics Anonymous (AA) and Narcotics Anonymous (NA) periodically survey their members. As of January 1, 2018, AA had 61,904 groups and nearly 1.3 million members in the United States. And as of April, 2016, Narcotics Anonymous held 67,000 meetings in 139 countries.5

In 2016, there were about 12,560 individual counselors providing substance abuse and behavioral disorder treatment throughout the country.6

Even though there are a wide range of addiction treatment programs available in the United States, these programs are only able to serve a limited number of patients at a time due to bed availability and other issues such as insurance. There are also arguably not enough programs in existence to serve the people who need help. For example, the 14,399 facilities surveyed by SAMHSA in 2016 served a little more than 1.1 million patients—far less than the 21 million people age 12 and older who needed treatment that year.1,4

In addition, individual therapists are only able to take on a limited number of patients at a time, and many people either don't have insurance for therapy or can't afford to pay the hourly rates out of pocket.

Geographic Limitations

A large portion of the rehab programs in the United States are concentrated in states with high populations. In 2016:7

California had 1,430 treatment facilities.
New York had 922 facilities.
Florida had 716 facilities.
Illinois had 675 facilities.

Conversely, states with low populations tend to have fewer facilities, and many of these states are quite large geographically—which means facilities are more spread out and harder to access for people in rural areas. In 2016:7

Vermont had 46 treatment facilities.
Wyoming had 58 facilities.
Montana had 64 facilities.

Rural Areas

People in rural areas face particular hurdles to treatment: 92% of the substance abuse treatment facilities in the United States are in urban areas. Rural areas face specific shortages in inpatient and partial hospitalization or day treatment programs.8 One study found that fewer inpatient and residential beds are located in non-metro areas (27.9 per 100,000) in comparison to metro areas (42.8 beds per 100,000).9

In addition, 90% of the physicians who are approved to prescribe buprenorphine—a common medication used to treat opioid addiction—practice in urban areas. About 53% of rural counties do not have a physician who can prescribe it, and rural providers who can prescribe buprenorphine report high demand, a lack of resources, and long wait times for patients.8

Rural areas are also less likely to offer some specialty treatment addiction programs, such as those tailored specifically to women or racial minorities. Patients in these areas may have a harder time maintaining their anonymity, too, since there are not as many facilities and they may be recognized in a group meeting at another facility.10

In one study, rural providers pointed to a lack of funding as a barrier to providing treatment. Counselors explained that basic infrastructure was lacking—such as adequate facilities—which was likely due to the poor areas where the facilities were located. The lack of money also creates problems recruiting and retaining staff members in rural areas as well as enabling counselors to advance their education and obtain certifications.10

Further, rural providers face problems coordinating care for patients. One mental health facility may cover several counties, and it may not have sufficient resources to care for all of those who need it—there may not be a detox center for more than 100 miles. As a result, patients in these areas may even fake suicidality just to get into detox.10

Due to the lack of treatment centers in rural areas, patients may have a hard time getting to and from facilities—particularly if they're in outpatient care and need to make multiple trips to a treatment center each week. Public transportation is not as readily available in these areas, and patients may live a long way away from a program. Many can simply not afford the cost.10 These people may also have children who they can't leave at home for long periods of time.

Financial

Financial limitations are one of the major barriers that prevent people from receiving treatment.

Insurance can help cover the cost of substance abuse treatment, but many people remain uninsured due to:11

The high cost of insurance.
The loss of a job.
Losing Medicaid.
Lack of insurance through an employer.
Change in family status.
Believing that they don't need coverage.

In 2016, 27.6 million people ages 0–64 did not have health insurance. About 44% of these people were white, 33% were Hispanic, 15% were black, 5% were Asian/Native Hawaiian or Pacific Islander, and 3% were of another race, and three-quarters of them were in a household with one or more full-time workers.11

The National Comorbidity Survey-Replication, a nationally representative survey of more than 9,000 people, asked why people with mental health and substance abuse disorders did not seek treatment. About 15% of the respondents cited financial barriers such as lack of insurance and concerns about cost. Almost 17% said they left treatment early due to treatment costs and their insurance not paying for further treatment.12

If you are unemployed and had health insurance through your previous employer, you may be able to enroll in COBRA. COBRA is a federal law that was passed in 1985, providing continuous health insurance coverage to those that are unemployed.

COBRA can enable the continuation of your health insurance coverage for you and your family. Through COBRA addiction treatment my also be covered. If you or a loved one is seeking addiction treatment give us a call at and we can share more about our treatment options and how to use your COBRA benefits.

Socioeconomic status may also play a role in whether someone can access and complete treatment. It has already been established as a risk factor that can prevent people from entering treatment, and one study found that blacks and Hispanics were less likely to complete addiction treatment largely due to differences in socioeconomic status—particularly higher unemployment and unstable housing among these groups.13

Even people with insurance may run into problems when they try to get treatment because plans do not always cover medication-assisted treatment (MAT) for opioid addiction. And while Medicaid covers MAT, many states impose limitations and requirements on it that make it more difficult to receive—though this may be changing (see "How to Overcome These Obstacles" section below).14

Cost of Rehab

Many people do not enter treatment because they don't think they can afford it.

The actual cost that someone will pay for rehab depends on a number of factors such as:

Insurance coverage.
Length of treatment.
Type of program (inpatient vs. outpatient).
Treatment for physical and mental health problems.
Where the program is located.
Program amenities (gym, spa, chef-prepared meals, etc.).

The full cost of treatment can range from $15,000 to $27,000, depending on the factors above. Individual treatment option estimates are:15

Professional intervention services: $2,500 plus other expenses.
Medically supervised detox: $500-$650 per day (private pay rate, no insurance).
Partial hospitalization: $350-$450 per day (private pay rate).
Inpatient care: $500-$650 per day (private pay rate).
Intensive outpatient care: $250-$350 per day (private pay rate).
Sober living home/halfway house: $1,500-$2,500 per month.

The National Institute on Drug Abuse has also provided the following estimates for medication-assisted treatment for opioid addiction:16

Methadone treatment (medication plus support services): $126 per week or $6,552 per year)
Buprenorphine treatment (medication and visits 2 times a week): $115 per week or $5,980 per year
Naltrexone (medication and support services): $1,176 per month or $14,112 per year

 

Other Challenges

In addition to the issues outlined above, there are a number of other reasons why people have a hard time getting help for an addiction.

Stigma

The stigma around addiction can affect someone's decision to seek treatment. One study that looked at people's reasons for not seeking treatment found that:17

3% of respondents said they would lose friends if they went to treatment.
4% said people would think badly of them if they went to treatment.
5% said their family would be embarrassed or ashamed if they went to treatment.

People also might not get help because they hold other beliefs about treatment or themselves. The study further found that:17

5% of respondents said they did not like to talk in groups.
6% said they did not like talking about their lives with other people.
5% did not believe they had a problem with drugs.
3% said they did not think treatment would make their life better.

Women

Women face several specific barriers to treatment, particularly around pregnancy and childcare. Many programs do not offer services for pregnant women or childcare, and women may have trouble regularly attending treatment sessions due to family responsibilities.18,19

Women are also more likely than men to experience economic barriers to treatment. They may have lower levels of education, rates of employment, and income. In addition, they may have less support from their families or partners to enter treatment and encounter more stigma and discrimination for their addictions.18,19

Co-Occurring Disorders

Many people with addictions also struggle with mental health disorders. When someone has a substance abuse problem and a psychiatric issue, it is known as a dual diagnosis or co-occurring disorders. More than 8 million people age 18 or older, or 3.4% of this population, had a dual diagnosis in 2016.20 

Unfortunately, this population is less likely to enter treatment than people who are not dually diagnosed. Only 7.4% get treatment for both conditions, and 55% do not get treatment at all.21

One of the barriers for those with a dual diagnosis is a lack of programs that can provide adequate treatment. Only 18% of substance abuse programs and 9% of mental health programs are equipped to properly treat co-occurring disorders. Many people in prisons or jails have a dual diagnosis, where there is particularly limited access to services for these conditions.22

Other barriers among this population are personal. For example, people with schizophrenia who have a substance abuse problem may have exacerbated mental health symptoms that lower their motivation to seek treatment. In addition, people who are minorities or from lower socioeconomic backgrounds may believe that their mental illness or substance abuse adds another layer of stigma to their already marginalized situation.21, 22

Workforce Shortages

There is a recognized shortage of mental health and substance abuse providers in rural areas, which limits access in these regions.

For example, 13% of rural counties don't have behavioral health providers. Nationwide, 65% of rural counties don't have a practicing psychiatrist, 47% don't have a psychologist, and 81% don't have a psychiatric nurse practitioner. In more remote rural counties, 80% don't have a psychiatrist, 61% don't have a psychologist, and 91% don't have a psychiatric nurse practitioner.8

How to Overcome These Obstacles

Overcoming the barriers presented above is challenging because they occur on a number of levels: structural, systemic, personal, societal, and socioeconomic.

That said, there are some potential solutions to help more people get help for their addictions and begin to live more fulfilling lives.

Types

For people who cannot afford or access the main types of rehab treatment (inpatient, outpatient, individual and group therapy), self-help groups such as Alcoholics Anonymous and Narcotics Anonymous are free programs available in most cities around the country. They use a 12-step model that includes working with a sponsor and receiving support from other people in recovery. Meeting times and information can be found on the websites for central offices for your city or by calling the offices directly.

For people who are not comfortable with the spiritual aspect of 12-step groups, there are a number of non-12-step programs such as SMART Recovery, Secular Organizations for Sobriety, LifeRing Secular Recovery, and Women for Sobriety. These programs promote self-reliance and develop programs based on the latest evidence-based approaches to addiction treatment, such as cognitive behavioral therapy.

Amount

The number of rehab facilities in the United States is determined by several factors, including local, state, and federal funding, as well as the overall economy. According to SAMHSA surveys, the number of rehab facilities appears to have remained relatively stable since 2007, holding around 14,000.23

However, the number of facilities providing medication-assisted treatment for opioid addiction has increased. The number of opioid treatment programs increased from 1,067 in 2003 to 1,482 in 2016. The number of people who received methadone at these programs increased from 227,000 in 2003 to more than 356,000 through 2015, and the number of people who received buprenorphine increased from a little more than 2,000 in 2003 to more than 76,000 in 2016.24

These increases are likely due to the national response to the opioid crisis and are a positive development in expanding access to treatment for people with opioid addictions. While it can be difficult to increase the number of programs, the ones that currently exist can take steps to improve access to treatment for people who need it, such as through focusing on meeting the specific needs of certain populations.

Geographic

One way to improve access to treatment in rural areas is through telehealth, which involves receiving an assessment and counseling from a certified provider via online video. The Health Resources and Services Administration has awarded grants to 3 organizations to develop a Substance Abuse Treatment Telehealth Network. These programs can also expand access to dual diagnosis treatment and medication-assisted treatment for people in underserved areas.25

Other ways to expand access to medication-assisted treatment (MAT) in rural areas suggested by the National Rural Health Association (which could also help to expand addiction treatment in general and the workforce in these areas) include:8

Removing barriers to treatment through changes to Medicaid and Medicare; easing of licensing standards; integrating substance abuse treatment and recovery services; and using group visits and other innovative models.
Increasing the number of providers in rural areas through funding telemedicine consultation services; promoting addiction education and pain management in medical schools; enhancing eligibility for National Health Services Corps loan repayment; and funding more pervasive regional care networks for efficient delivery of treatment services, such as the Hub and Spoke program found in Vermont.
Improving the availability of outpatient services through the funding of mental health infrastructure in rural communities, and support and funding for community strategies to address the opioid epidemic.
Improving the impact of inpatient addiction treatment services by developing programs to help pregnant women stay on MAT; prescribing buprenorphine to patients in inpatient settings; and coordinating outpatient treatment before patients are discharged from an inpatient program.
Increasing availability of naloxone (a drug that can reverse an opioid overdose) to people addicted to opioids and their families and expand Good Samaritan laws in every state, which provide legal protection to those who provide assistance to those who are ill or in evident trouble.
Boost funding for research on the treatment of opioid addiction in rural areas, specifically for provider availability, treatment availability, outcomes of treatment models, and prescription monitoring programs.

Financial

For people who have a hard time paying for rehab, many programs offer payment plans or sliding scale options. Payment plans allow people to pay off the cost of treatment over time, so that they don't have to pay the full amount at once, while sliding scale fees adjust the cost of treatment based on what patients can afford.

A 2016 survey found that almost 59% of substance abuse treatment facilities in the country offered sliding scale fees, and 45% offered treatment at no charge for patients who couldn't pay.7 To qualify for these programs, patients often have to provide proof of income and meet other eligibility requirements.

Expanding access to Medicaid, such as through the Affordable Care Act (ACA), can also increase access to treatment. The same survey found that almost 62% of substance abuse treatment facilities accepted Medicaid as a form of payment in 2016, and about 34% accepted Medicare.7

People may also be able to receive treatment through health insurance plans sold through the ACA marketplace, which cover mental health and substance abuse treatment as essential services. Those with incomes below 400% of the poverty line are eligible for subsidies to purchase plans.11 Keep in mind that plan coverage tends to vary by state and provider.

Despite the fact that 27.6 million people ages 0–64 did not have health insurance in 2016, that was a reduction from 44 million in 2013 and largely due to the ACA.11

People who are interested in Medicaid can see if they're eligible, and more information on ACA health insurance plans is available on healthcare.gov. Open enrollment for ACA plans is only available during certain times of the year. The 2019 open enrollment period runs from November 1 to December 15, 2018.

For people who have insurance, the Mental Health Parity and Addiction Equity Act of 2008 is a federal law that requires group health plans that provide mental health or substance abuse treatment coverage to offer the same coverage for these services that they do for medical or surgical services. In 2010, the law was amended to include individual health insurance plans as well.26

For those who don't have insurance and don't qualify for public insurance programs, the Substance Abuse and Mental Health Services Administration (SAMHSA) has a Behavioral Health Treatment Services Locator that allows people to search for low-cost or free programs in their area.

Finally, many rehab programs offer scholarships that let people receive treatment at their facility for free or at a reduced cost. Again, people need to provide proof of income and meet other eligibility requirements to qualify, and rehab programs often don't advertise these programs, so you'll need to ask the facility you're interested in.

Stigma

As mentioned, stigma is a major barrier to treatment. Overcoming stigma and making people feel more comfortable admitting they have a problem and seeking treatment requires a multipronged approach involving communities, treatment centers, providers, and other institutions.

The Addiction Technology Transfer Center Network recommends the following steps to help combat stigma:27

Use mass media such as radio, television, and the Internet to draw attention to stigma, provide information, change perceptions, and promote debate and action
Demystify treatment by providing information about the phases, stages, goals, and objectives of treatment
Educate the public that recovery is a dynamic and multi-step process
Humanize the recovery process by having people who are in recovery share their stories
Explain that relapse is an unfortunate but common part of recovery
Celebrate successes at every stage of recovery
Use campaigns that frame addiction as a social problem through which a lack of treatment access can be viewed and solved through social justice

Women

Some strategies that can help women access treatment are:28

Comprehensive case management that matches the woman's needs.
Services such as transportation and escorts to appointments, phone calls to offer services and remind them of appointments, and child care during sessions.
Outreach programs that address domestic violence, HIV/AIDS, and crisis intervention.
Pretreatment intervention groups that address barriers such as stigma, lack of information about treatment services and recovery, and lack of motivation to enter treatment.

While outreach programs can be effective, other factors can affect whether women actually enter treatment, such as level of readiness, a history of trauma, and a good support system. Women with a history of trauma may be less likely to follow through on treatment.28

There are also support groups specifically targeted to women that are free to attend, such as Women for Sobriety. It is based on 13 Acceptance Statements that encourage emotional and spiritual growth.

Co-Occurring Disorders

Increased funding can help programs expand their capacities to treat this population. In 2004, SAMHSA awarded grants to states to increase their infrastructure so that they could make the treatment of co-occurring disorders more accessible, effective, comprehensive, and integrated.29

The grants were $2 million to $4 million per grantee over 5 years. States implemented a number of changes, including the credentialing of therapists as providers of both mental health and substance abuse services, workforce training in co-occurring disorders, screening for both types of disorders, and changes in Medicaid billing to allow for co-occurring disorder services.30

In 2017, SAMHSA awarded as much as $34 million in grants to improve treatment for adolescents and young adults with substance use disorders and co-occurring substance use and mental health disorders. The grants were awarded to 10 states and the Kickapoo Tribe in Oklahoma. The funds are intended to be used to "expand treatment services, develop policies, expand workforce capacity, and disseminate evidence-based practices."31

Because many people with co-occurring disorders may be from marginalized communities or are homeless, assertive outreach programs can help them access treatment. These programs connect with people and their support systems through case management and meetings at the person's home. Homeless people with dual diagnoses may also be more open to entering treatment when they receive help with housing and can develop a positive relationship with a provider.32

Taken together, these solutions can make it easier for people who have addictions and their families to find help somewhere—because everyone deserves a chance at recovery.

Sources

[1]. Substance Abuse and Mental Health Services Administration. (2017). Key Substance Use and Mental Health Indicators in the United States: Results from the 2016 National Survey on Drug Use and Health.

[2]. Substance Abuse and Mental Health Services Administration. (2008). What Is Substance Abuse Treatment? A Booklet for Families.

[3]. Johns Hopkins Center for Substance Abuse Treatment and Research. (n.d.). Treatment Settings.

[4]. Substance Abuse and Mental Health Services Administration. (2016). 2016 State Profile—United States and Other Jurisdictions: National Survey of Substance Abuse Treatment Services (N-SSATS).

[5]. Alcoholics Anonymous. (2017). Estimates of A.A. Groups and Members as of January 1, 2017 and Narcotics Anonymous. (2016). Narcotics Anonymous 2015 Membership Survey.

[6]. Bureau of Labor Statistics. (2017). Occupational Employment and Wages, May 2016: 21-1011 Substance Abuse and Behavioral Disorder Counselors.

[7]. Substance Abuse and Mental Health Services Administration. (2017). National Survey of Substance Abuse Treatment Services (N-SSATS): 2016 Data on Substance Abuse Treatment Facilities.

[8]. National Rural Health Association. (2017). Treating the Rural Opioid Epidemic.

[9]. Lenardson, J. and Gale, J. (2008). Distribution of Substance Abuse Treatment Facilities Across the Rural-Urban Continuum. Muskie School of Public Service, University of Southern Maine.

[10]. Pullen, E. and Oser, C. (2014). Barriers to Substance Abuse Treatment in Rural and Urban Communities: A Counselor Perspective. Substance Use & Misuse, 49(7), 891–901.

[11]. Henry J. Kaiser Family Foundation. (2017). Key Facts About the Uninsured Population.

[12]. Mojtabai, R. et al. (2011). Barriers to Mental Health Treatment: Results from the National Comorbidity Survey Replication (NCS-R). Psychological Medicine, 41(8), 1751–1761.

[13]. Saloner, B. and Le Cook, B. (2013). Blacks and Hispanics Are Less Likely Than Whites to Complete Addiction Treatment, Largely Due to Socioeconomic Factors. Health Affairs, 32(1).

[14]. National Rural Health Association. (2017). Treating the Rural Opioid Epidemic.

[15]. American Addiction Centers. (n.d.). How Much Does Alcohol Rehab Cost?

[16]. National Institute on Drug Abuse. (2018). How Much Does Opioid Treatment Cost?

[17]. Rapp, R., et al. (2006). Treatment barriers identified by substance abusers assessed at a centralized intake unit. Journal of Substance Abuse Treatment, 30(3), 227–235.

[18]. Greenfield, S., et al. (2007). Substance Abuse Treatment Entry, Retention, and Outcome in Women: A Review of the Literature. Drug and Alcohol Dependence, 86(1), 1–21.

[19]. Green, C. Gender and Use of Substance Abuse Treatment Services. National Institute on Alcohol Abuse and Alcoholism.

[20]. Substance Abuse and Mental Health Services Administration. (2017). Key Substance Use and Mental Health Indicators in the United States: Results from the 2016 National Survey on Drug Use and Health.

[21]. Priester, M. (2016). Treatment Access Barriers and Disparities Among Individuals with Co-Occurring Mental Health and Substance Use Disorders: An Integrative Literature Review. Journal of Substance Abuse Treatment, 61, 47–59.

[22]. National Institute on Drug Abuse. (2018). Part 4: Barriers to Comprehensive Treatment for Individuals with Co-Occurring Disorders.

[23]. National Survey of Substance Abuse Treatment Services (N-SSATS). (n.d.). Annual Reports.

[24]. Substance Abuse and Mental Health Services Administration. (2017). SAMHSA report shows increase in opioid treatment facilities.

[25]. Raths, D. (2018). Telehealth put to use in rural America. Behavioral Health Executive.

[26]. Centers for Medicare & Medicaid Services. The Mental Health Parity and Addiction Equity Act (MHPAEA).

[27]. Landry, M. (2012). Anti-Stigma Toolkit: A Guide to Reducing Addiction-Related Stigma. Central East Addiction Technology Transfer Center Network.

[28]. Substance Abuse and Mental Health Services Administration. (2009). Substance Abuse Treatment: Addressing the Specific Needs of Women.

[29]. Federal Grants. (2018). State Incentive Grants for Treatment of Persons with Co-Occurring Substance Related and Mental Disorders.

[30]. Hornik, J. (2010). Creating Sustainable Structural Changes in State Mental Health and Substance Abuse Systems: Findings From the National Evaluation of SAMHSA's Co-occurring State Incentive Grant Program. Presentation to the AEA Conference.

[31]. Substance Abuse and Mental Health Services Administration. (2017). SAMHSA awards up to $34.4 million in grants to improve treatment for youth with substance use disorders and/or co-occurring substance use and mental disorders.

[32]. Substance Abuse and Mental Health Services Administration. (2009). The Evidence: Integrated Treatment for Co-Occurring Disorders.