Telehealth in Florida for Addiction and Mental Health
Telehealth provides an alternative route to care, allowing patients to receive treatment via video call software or a telephone.
What you will learn:
How telehealth works for substance use disorders
Telehealth services available in Florida
American Addiction Centers' facilities in Florida that offer telehealth services
Substance use and addiction continues to be a problem throughout the country. In Florida, in 2020, drug overdose claimed the lives of 7,231 people—second only behind California.1 That year, the COVID-19 pandemic led to an increase in substance use as individuals grappled with uncertainty and isolation. Research indicates that the pandemic led to a 23% increase in alcohol misuse and a 16% increase in drug misuse among individuals who had previously consumed these substances.2 Thus, there is a definite need for accessible and effective substance use treatment.
In Florida, telehealth offers individuals access to healthcare services, including treatment for mental health and substance misuse.3
What is Telehealth?
Telehealth makes use of various technologies and software to connect medical and mental health practitioners online with people in need of care. Sessions between the patient and healthcare professional occur remotely instead of in person.4
Telehealth works for specialized care services, including online therapy, counseling, and medication management for mental health treatment.5
In fact, data shows that 62.5% of individuals who sought telehealth services in December 2022, did so for mental health conditions.6
How Does Telehealth Work for Substance Use Disorders?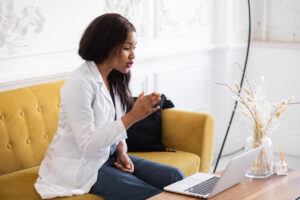 During the COVID-19 outbreak, many substance use treatment centers in the United States reduced the number of in-person patients they could treat due to staffing changes and distancing requirements.7 As a result, telemedicine offerings increased. In fact, the percentage of facilities offering telemedicine services more than doubled in a year—from 27.5% in 2019 to 58.6% in 2020.7
Telehealth behavioral health interventions that may be used to treat substance use disorders generally include:8
Screening, evaluation, and diagnosis.
Online counseling.
Consults for medication and medication management.
Individual counseling.
Group talk therapy.
To utilize telehealth services, you need to first find a provider and request an appointment with an addiction care expert who provides telehealth services. These individuals may include psychologists, licensed professional counselors, clinical social workers, licensed chemical dependency counselors, licensed marriage and family therapists, and prescribing providers.8
Florida Telehealth Laws
The 2021 Florida legislators passed a statute outlining the regulations for telehealth in Florida, which provides guidance to providers about how to conduct telehealth, methods of recordkeeping, how to perform evaluations, and laws concerning out-of-state providers.9
Some of the various regulations include:9
Providers can only give the type of care that they are licensed to give (a therapist provides therapy and doctors write prescriptions, for instance).
Telehealth providers must keep careful records about the medical service the patient receives using telehealth.
Medical records, including all aspects of telehealth appointments, must be kept confidential.
Providers need to adhere to the telehealth guidelines for prescribing .
Florida requires out-of-state telehealth providers to register with the state of Florida to provide virtual treatment to patients there.
Online Prescribing Regulations in Florida
Doctors can prescribe medication, including controlled substances, to treat substance use disorders and mental illnesses if they follow the Florida state guidelines, which include certain requirements, such as the medication is used to treat a psychiatric disorder or the patient is receiving treatment at a licensed inpatient hospital. Additionally, federal law requires at least one in-person examination before a doctor can prescribe a controlled substance via telehealth.10
Types of Telehealth Services Offered in Florida
While most providers typically offer telehealth services to screen and assess patients as well as case management, physicians and therapists in Florida may offer certain telehealth services to treat serious mental illnesses, substance use disorders, and co-occurring disorders. Telehealth treatment may include:11
American Addiction Centers' Telehealth Options in Florida
You can find telehealth support in Florida by connecting with American Addiction Centers' (AAC) facilities. Our top-rated addiction treatment facilities in Florida, near Miami and Tampa offer telehealth therapy and medical expertise for substance use disorders and mental health conditions from our addiction care experts. This means that individuals participating in our telehealth services receive the same evidence-based treatments that our in-person patients do.
At Recovery First Treatment Center, not far from Miami, telehealth patients can benefit from virtual services that include:
Inpatient therapy groups.
Individual counseling sessions.
Psychiatry services.
At River Oaks Treatment Center, near Tampa, Florida residents may participate in telehealth programs that include:
Telehealth may not be right for everyone. To see if telehealth services is a good option for you, call AAC at to speak with one of our knowledgeable . They can answer your questions, discuss treatment options, verify your insurance, and start the admissions process for you.
Before you begin using telehealth services for your substance-use treatment, you'll provide consent to be treated remotely through AAC's HIPAA-compliant video-conferencing service, which ensures that all of your personal information is safe and secure.
Telehealth services afford individuals flexibility to get the help they need from wherever they are. While some struggling with substance misuse may benefit from telehealth services, individuals experiencing withdrawal or serious addiction may need medical oversight, which can be provided in an inpatient facility.
To find out what might be best for you, call .