Florida Drug and Alcohol Rehab Treatment Centers
Instantly find your coverage information.
We'll be able to tell you if your insurance provider is in network with an American Addiction Centers treatment facility.

Rehab in Florida provides an ideal environment for drug and alcohol detox and rehabilitation in a more tropical climate. Whether you or a loved one are suffering from addiction, let American Addiction Centers help you find the best treatment center in Florida to meet your personalized needs and financial situation.
Where is Addiction Treatment Located in Florida?
With more than 700 drug rehab facilities, Florida, has ample provisions for people seeking help for their addiction.2 Many of these facilities are located near larger cities like Jacksonville, Tampa, Miami, and Orlando, but you will find addiction centers scattered across the state.
AAC's Florida locations are conveniently situated in Miami and Tampa, two large Floridian cities, making drug rehab treatment easily accessible to a wide variety of people in the Southern State. Call us at to learn more.
Does Insurance Cover Rehab in Florida?
Rehabs in Florida accept a variety of private and state-funded insurance policies. For those patients who don't have any form of insurance, many treatment centers in Florida offer sliding-scale fees and alternative payment arrangements.
At American Addiction Centers, you have several payment and insurance options. Recovery First Treatment Center in Miami and River Oaks Treatment Center in Tampa accept many private insurance plans. They work with well-known insurance providers such as Anthem, Humana, Kaiser Permanente, and United Health. If you don't have insurance, AAC provides other payment plan options. Explore state funded drug rehab programs as well as free rehab options.
Do Rehab Centers in Florida Treat Alcohol and Drug Addiction?
Yes, Florida alcohol and drug addiction treatment centers treat all forms of addiction, including drug and alcohol addiction. While some rehabs in Florida may target specific addiction issues, this is far more rare. Most of the time, you'll find that Florida rehab centers are certified to treat a wide range of substance use problems and many even offer luxury rehab amenities.
According to 2018 data, the top substances people sought treatment for at a Florida drug rehab were: 1
Opioids: 10,245 people were admitted for opioids, including heroin.
Alcohol: 8,145 people went to a treatment center for alcohol abuse.
Marijuana: 4,551 people sought help at a drug rehab for marijuana use.
Methamphetamine: 976 people went to treatment for methamphetamine.
Cocaine: 937 people were admitted to treatment for cocaine abuse.

Other Ways to Get Help & Florida Rehab Resources
Everyone's journey of recovering from substance abuse issues is unique. Whereas some people may go immediately to a rehab facility in Florida, others might turn to other resources to quit using drugs. Usually, people need a combination of approaches or resources to ensure a successful recovery. Here is a list of Florida resources that may be of help to you:
Take Our Substance Abuse Self-Assessment
Take our free, 5-minute substance abuse self-assessment below if you think you or someone you love might be struggling with substance abuse. The evaluation consists of 11 yes or no questions that are intended to be used as an informational tool to assess the severity and probability of a substance use disorder. The test is free, confidential, and no personal information is needed to receive the result.
Common Florida Rehab & Addiction Statistics
5,147 Florida residents overdosed in 2019, with the highest number (502) coming from Broward county.3
1,703 Florida residents died from alcoholic liver disease in 2019; males outnumbered females (1,153 males vs. 550 females).4
There are 366 adult substance abuse beds in Florida. Broward County has the most, with a total of 46; Duval County has 40.5
In 2018, there were a reported 598 outpatient facilities in Florida.2
Florida had 212 residential (non-hospital) treatment facilities and 59 hospital inpatient facilities in 2018.2
30,104 people 12 years or older were admitted to a Florida drug treatment facility in 2015.1
Find Addiction Treatment in Florida
American Addiction Centers boasts two Florida rehab centers: Recovery First and River Oaks Treatment Center. To find out more about these addiction treatment programs in Florida, or to access other free resources, be sure to call our admissions navigators today.
Find Drug & Alcohol Treatment Centers Near You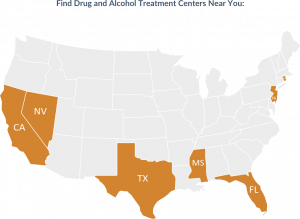 FAQ About Drug & Alcohol Rehab Treatment in Florida
Sources