People travel from all over the country for addiction treatment centers in Florida. Learn more about the programs in the state and what to expect in terms of treatment offerings, insurance, and what to pack.
Do the Programs in Florida Treat My Addiction?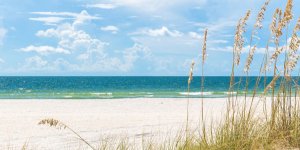 More than 30,000 people received treatment in Florida in 2015. The top addictions people sought treatment for there were:
1
Alcohol.
Non-heroin opiates/synthetics.
Marijuana.
Heroin.
Cocaine. 
That said, rehab centers in the state are able to treat many other addictions, such as prescription drugs (sedatives, stimulants), heroin, hallucinogens, methamphetamine, and others.
More than half of the rehabilitation facilities in the state treat people with co-occurring disorders such as depression, schizophrenia, and bipolar disorder. More than 30% treat people who have experienced domestic violence and sexual abuse, and more than 40% treat people who have experienced trauma.2
AAC centers in Florida are able to treat a wide range of addictions and provide special care for people struggling with mental health issues in addition to their addictions. Patients in our programs participate in different therapies in individual and group settings, and we offer supplementary therapies that foster improved well-being, including art therapy, music therapy, and mindfulness.
If you'd like to hear more about our programs, you can speak to one of our admissions navigators at 888-966-8152 .
Where Are Treatment Centers Located in Florida?
Florida has 668 rehab facilities that provide everything from medical detox to intensive inpatient to standard outpatient.
Florida is one of the most well-known places to seek addiction treatment in the United States.
Treatment centers are located in every part of the state. But they are particularly prevalent in South Florida, Orlando, and Tampa.2
Those who are interested in getting care in Florida have plenty of options—the state has 668 rehab facilities that provide everything from medical detox to intensive inpatient to standard outpatient.2
Lots of people travel to Florida for the scenery and warm weather. They find that getting out of their current environment can be helpful because that environment can be filled with triggers to use, such as certain people or places. It offers them the opportunity for a fresh start. Florida also is home to many high-end rehabs near the beach, which is appealing to many people.
AAC operates medical detox, intensive inpatient, residential treatment, partial hospitalization, intensive outpatient, and sober living programs in Florida.
Our Recovery First facilities are located less than an hour from Miami International Airport and half an hour from the Fort Lauderdale-Hollywood International Airport. Our River Oaks facility is located half an hour from Tampa International Airport.
Get directions to Recovery First
.
Get directions to River Oaks
.
Do Rehabs There Take My Insurance?
Almost 70% of rehab facilities in Florida accept private health insurance, and almost 40% accept Medicaid. About 95% accept cash or self-payment.2
It's hard to make a general statement about insurance coverage for rehab. Plans differ in terms of what types of treatment they will cover, how long they will cover it, and how much they will cover.
AAC has a number of payment options for treatment at our Florida facilities, including insurance coverage, private pay, and payment plans.