Addiction Treatment & Rehab in New Jersey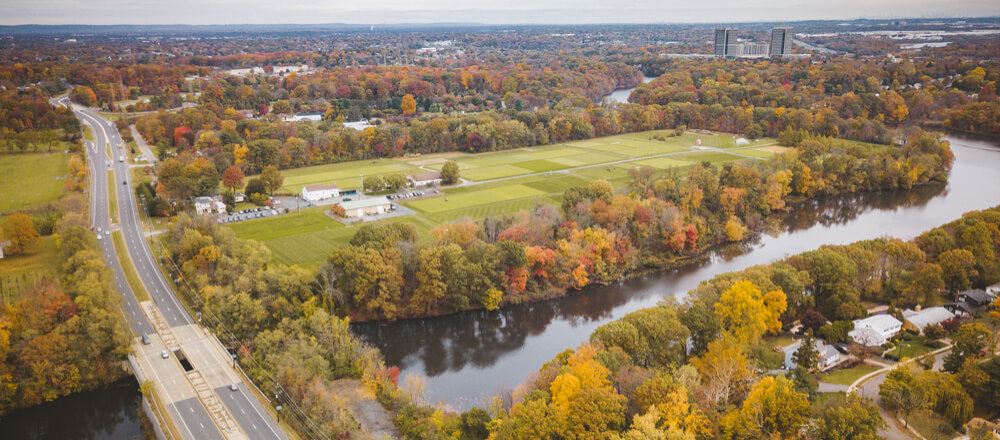 New Jersey is one of the smallest states in the U.S. but is home to more than 300 drug and alcohol rehabilitation programs. Learn more about these programs below.
Where Can I Find a Rehab in New Jersey?
Alcohol and drug rehab centers in NJ are located throughout the state. In 2017, New Jersey had 344 programs. Of those  programs, 12 were hospital inpatient centers, 46 operated residential programs, and 308 provided outpatient services.1
There are programs in both urban and rural parts of the state, including near the Jersey Shore, the small-town northwest, major cities in the north, and the Philadelphia suburbs.
American Addiction Centers is located in Lafayette Township, New Jersey, a rural area in northern New Jersey away from the hustle and bustle of the areas outside of New York City. We're about an hour from the Newark Liberty International Airport. Get directions.
Our New Jersey rehabilitation center program offerings include medical detox, residential treatment, intensive outpatient, and standard outpatient. We're here to answer your questions about treatment options. Give us a call today at or schedule a time that is more convenient for you, and we'll call you back.
New Jersey Addiction Treatment
New Jersey had 68,628 substance abuse treatment admissions in 2015.2
The 5 most common drugs people were admitted to treatment for were:2
Heroin.
Alcohol.
Marijuana.
Other opioids/opiates (painkillers such as morphine and oxycodone).
Cocaine.
Even though these were the most common addictions seen, drug and alcohol treatment centers in NJ can treat many other addictions, including methamphetamine/amphetamines, prescription drugs, hallucinogens, and inhalants.
The most common addictions treated in the state were heroin, alcohol, marijuana, opioids, and cocaine.
In terms of specific treatment offerings, 62% of New Jersey treatment centers treat people with co-occurring disorders (people who have a mental health disorder and an addiction), 33 have opioid treatment programs, 28% offer treatment for those who identify as LGBT, and 30% treat pregnant or postpartum women.1
American Addiction Centers in New Jersey is capable of treating numerous types of addictions and people who struggle with co-occurring disorders. Our facility administers medication-assisted treatment for opioid and alcohol addictions, and we are one of the small number of programs in the state that can treat pregnant women in our residential program, as well as people with other medical conditions such as high blood pressure and diabetes. In addition, we offer group therapy sessions specifically for LGBTQ patients and people with anger management issues.
Can I Use Insurance for Rehab?
When it comes to using insurance to pay for an addiction treatment program in New Jersey, 64% of programs accept private health insurance, 61% accept Medicaid, and 26% accept Medicare. Over 90% accept self-payment, and 73% have sliding scale fee options.1
Insurance will often cover rehab. But the coverage will depend on the plan and the provider. For example, some plans will cover detox or outpatient treatment but not inpatient or residential treatment. Or coverage may be limited to a specific time period.
AAC accepts most forms of insurance and has affordable payment plans and a self-pay option.
AAC's drug and alcohol addiction treatment programs in New Jersey are set in a relaxing environment surrounded by nature, and they feature a number of amenities to promote physical and mental well-being, including:
Chef-prepared meals.
On-site gym.
Basketball.
Nature trail.
Meditation.
Ping pong.
Gardening.
Saturday family visits.
We use a number of therapies backed by research, including cognitive behavioral therapy (CBT) and motivational interviewing. Groups at the center focus on relapse prevention, first responders, age-specific issues, gender-specific groups, 12-step meetings, meditation, team-building, and self-esteem building. Holistic therapies, such as art and music therapy, are also available.
AAC is open during the COVID-19 (aka coronavirus) pandemic. Our rehab facility in NJ, Sunrise House Treatment Hospital, is open and accepting patients. Our treatment comes with a 90-day brand promise. Attend our program for 90 days, and you may come back for a complimentary 30 days of treatment if you relapse.
Find out more about our brand promise
.
What to Expect
New Jersey is known for places like Atlantic City and the Jersey Shore, with proximity to both Philadelphia in the south and New York City in the north. Some may think of the state as being urban and dense, but sizable parts of it are quite rural. The central part of the state is home to Princeton, an Ivy League university with several affluent communities nearby.
When preparing to pack clothes for rehab, keep in mind that the state's climate can range from hot and humid in the summer to cold and snowy in the winter. Temperatures can reach 100 degrees or higher or 0 degrees or lower.3
Your decision for which clothes to pack will be influenced by the time of year, but some items to consider include:
Socks.
Undergarments.
Shoes (casual, athletic).
Sweatshirt.
Coat or jacket.
Sweater.
Pajamas.
Belt.
T-shirts.
Shorts.
Winter hat.
Gloves.
Flip-flops or sandals.
Keep in mind that the program may have a dress code. Many programs do not allow clothing with offensive or graphic images or language or anything that promotes drug use.
Other items that may be useful to pack include:
Your driver's license or alternate ID.
A list of any currently taken medications.
Journal.
Your insurance information.
Alarm clock.
Toiletries.
Laundry detergent.
Photos/mementos of family and friends.
Names, phone numbers, and addresses of family and friends.
Check with the program before you pack electronic devices, nail clippers, razors, and cigarettes.
Before you leave home, you may also want to make sure you have a way to pay your bills while you are away, and have taken care of child care and time off from work or school.
If you're ready to enroll in our New Jersey addiction treatment programs or learn more about them, call today. 
Sources
[1]. Substance Abuse and Mental Health Services Administration. 2017 State Profile—United States and Other Jurisdictions: National Survey of Substance Abuse Treatment Services (N-SSATS).
[2]. Substance Abuse and Mental Health Services Administration. (2017). Treatment Episode Data Set (TEDS): 2005-2015.
[3]. Rutgers University. NJ Climate Overview.