Substance Misuse in the Reserve and National Guard
The Reserve and National Guard service members are an important part of the U.S. Military. These part-time service members are activated to full service in times of need. The Reserve and National Guard service members and Veterans deal with many of the same stressors and issues of substance misuse as Veterans of other branches of the military.
Substance Misuse Among Service Members
Substance misuse is an issue in the military. Studies indicate significant numbers of alcohol use disorders among both active-duty service members and Veterans, with alcohol use being more prevalent than that of illicit drugs.1 Though problematic substance use may develop as a result of several factors, there are many reasons that may additionally contribute to substance misuse issues for current and prior service members, including:1
Stresses of deployment.
Stigma against seeking help.
Loss of protective influences (e.g., zero-tolerance policies, random drug testing) when military service ends.
More than 10% of military Veterans have been diagnosed with a substance use disorder, which is a rate higher than that seen in the general population.1
Alcohol Misuse
Alcohol use disorders are commonly characterized by the compulsive use of alcohol despite the mounting negative consequences associated with such drinking behavior. Some of the additional signs, symptoms, and behaviors used to diagnose an alcohol use disorder include:2
Craving alcohol.
Experiencing withdrawal when drinking stops.
Using more alcohol than was originally intended.
Using alcohol even though it increases family conflict.
Using alcohol in risky situations, such as driving and drinking.
Making repeated, unsuccessful attempts to stop using or cut back on using alcohol.
Among Veterans, 65% report alcohol as the primary substance that led them to seek addiction treatment. In addition, Veterans are likely to report more frequent usage—and higher usage—than the general population.1
Drug Misuse
Drug addictions, or substance use disorders (SUD), are chronic conditions characterized by compulsive drug seeking and use, despite their associated negative consequences.3 With some types of drugs, such as opioids, a person may be at risk of experiencing markedly unpleasant physical withdrawal when continued use of the drug stops.3
Drug misuse is relatively uncommon in any branch of the military. It has been estimated that fewer than 1% of active-duty service members use illicit substances. Some of the reasons for these low rates of drug use are due to military policies and procedures such a mandatory, random drug testing and the fear of discharge or even criminal charges if caught using illicit substances.1
However, after leaving military service, the rates of drug use increase, with marijuana being the most commonly used drug. Overall, about 3.5% of Veterans report marijuana use in the past month.1
Veteran Mental Health and Addiction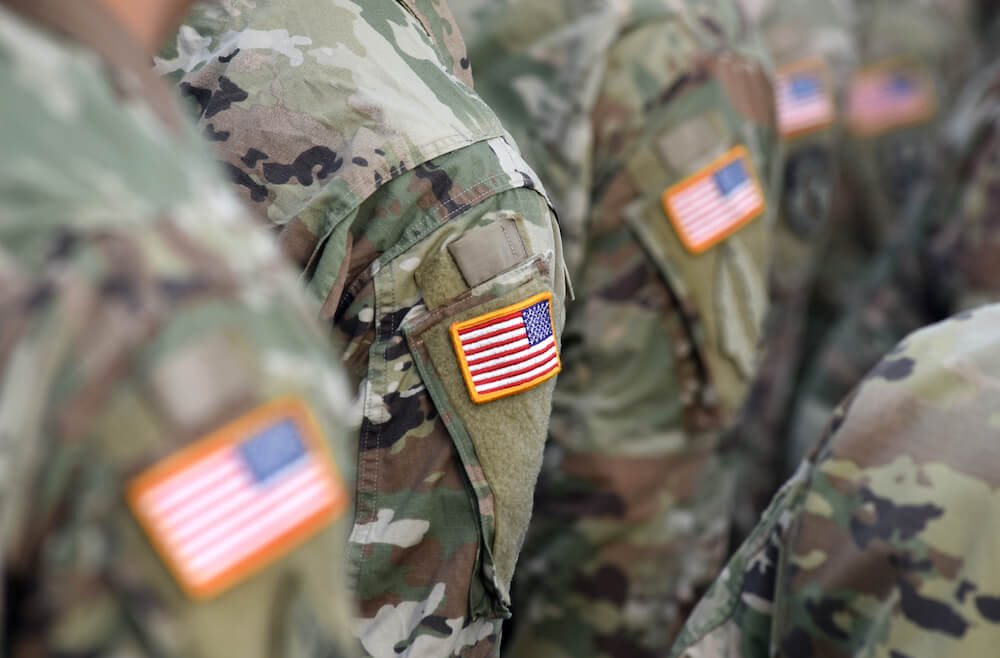 Many Veterans also have what are called co-occurring disorders, which means that a person is dealing with both a SUD and a mental health disorder. One condition commonly seen in Veterans with a SUD is post-traumatic stress disorder (PTSD).4 An estimated 2 out of 10 Veterans with PTSD also have a SUD.4 And, roughly 1 in 3 Veterans seeking addiction treatment also have PTSD.4
It is important to note that the National Guard has the highest suicide rate of any branch of service.5 The National Guard formed a special initiative—the Suicide Prevention and Readiness Initiative for the National Guard—to help identify risk factors and provide information about effective intervention techniques.5
Ask for Help
Veterans Affairs (VA) has numerous programs to assist Veterans from all branches of military service, including the National Guard and Reserve. The Veteran's Crisis Line is available at 1-800-273-8255, then press 1 after dialing to connect with a responder. The VA also has a screening tool about tobacco, alcohol, and other drug use that can help Veterans determine if you or a loved one is in need of treatment.
Treatment for Veterans
Veterans of the National Guard and Reserve can access VA addiction treatment, but may also have the option to receive treatment from private providers. The MISSION Act, which was created in 2018, expanded the types of services available to Veterans from the private sector.
Private providers are able to join the VA network, or become Community Care providers, by contracting with the VA to provide services to Veterans that are not readily available through a Veteran's local VA medical or treatment center. American Addiction Centers (AAC) is a Community Care Provider.
In addition, if a National Guard or Reserve Veteran has mental health issues, a substance use disorder diagnosis, or is in need of help of any kind, numerous resources are available, including:
What is Salute to Recovery Program?
At AAC, we offer the Salute to Recovery program, which focuses on Veterans and their needs for addiction treatment. Many of the staff members of Salute to Recovery program are Veterans themselves, which helps them relate and understand the unique stressors and challenges that Veterans face.
At AAC, we are here to answer your questions about addiction and provide information about your treatment options. If you or a loved one is a Veteran, and you would like to learn more about our Salute to Recovery program, give us a call at (888) 902- VETS.

If you have served in the National Guard or Reserve, know that resources are available for you. Whether you need help with alcohol misuse, drug misuse, or general mental health issues, help is available. The VA and their Community Care providers, such as AAC, are experienced and knowledgeable in treating Veterans and bringing recovery and hope to you or your family.
Salute to Recovery Program Reviews