People looking into rehab have several pressing questions. Including, 'Can I afford this?' and 'Can I afford to take the time off from work?' The individual should check if their insurance will cover treatment. That's an important element to look into before starting their search.
What do you need to consider before choosing a treatment center? Not all rehab facilities are created equal. Here we tell you how to choose a drug rehab facility that works for you.
Types of Treatment Centers: Outpatient v. Inpatient
When we say treatment center, we distinguish between outpatient and inpatient.
Inpatient centers are residential facilities where the person lives in a sober setting, receives regular counseling, and engages in group therapy in a structured environment.
Outpatient programs prescribe regular treatment while the person lives at home. Outpatient programs may be the best fit for those with more manageable addictions or want to join a transitory program after completing a residential stay.
Outpatient programs often include a minimum of 3 hours a day of treatment on 3 days of the week. Alternatively, partial hospitalization can provide an experience somewhere between inpatient and outpatient care.
Length of stay also varies from facility to facility. AAC's residential programs typically range from 30 to 90-days, but stay times at certain facilities can range from one month to 12 months.
Rehab Facility Features
It's a world of options out there for treatment centers. Do you prefer a religiously guided or secular treatment? What kind of services should your program to involve? Here are elements to keep in mind.
Services
AAC facilities each offer a different combination of services, including group meetings on topics like the 12-step approach, coping skills, and cognitive behavioral therapy. Some facilities offer additional services like equine therapy, music therapy, fitness activities, or art therapy.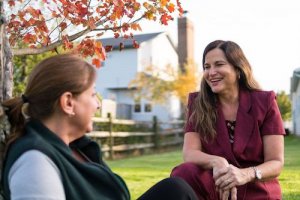 Nutrition
Along with the correct therapies, AAC believes that nutrition also plays a key role in your recovery. Your body will take time to recover as you detox from the substance you've been relying on. Having a balanced diet ensures your body maintains optimal health as you go through recovery.
Location
If you want to stay in your home city, you may want to prioritize location.
AAC has treatment centers all across the country, including in California, Florida, Mississippi, Texas, New Jersey, and Rhode Island, and all provide a different experience.
River Oaks Treatment in the city of Riverview, Florida features an on-site baseball field, several tennis courts, and a fitness center. That's very different from AAC's Oxford Treatment Center in the hills of Mississippi, where residents have the option of horseback riding, hiking, and Native American healing.
Conclusion
Sometimes it takes a while to choose the right treatment center for recovery. Other times, the most important thing is finding immediate help. For a free consultation and insurance verification, you can call AAC at (888) 997-5062.
Research Sources
National Institute On Drug Abuse. (2018). Types of Treatment Programs.
National Institute On Drug Abuse. (2018). The Science of Drug Use and Addiction: The Basics.