Delirium Tremens: Symptoms and Treatment
What is Delirium Tremens?
Symptoms of Delirium Tremens
Treatment of Delirium Tremens
What is Delirium Tremens?
Symptoms of Delirium Tremens
Treatment of Delirium Tremens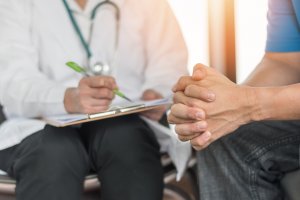 Alcoholism
is a condition that interferes with day-to-day activities and can lead to severe medical problems. According to the
2015 National Survey on Drug Use and Health
, over 15 million adults in the United States suffer from an alcohol use disorder.
1
Many people with a history of chronic alcohol abuse will exhibit withdrawal symptoms when they discontinue or decrease their alcohol use. These symptoms can include:
2
Tremors
Hallucinations
Seizures
Delirium tremens
What is Delirium Tremens?
Delirium tremens (DTs), also referred to as withdrawal delirium, is a severe form of alcohol withdrawal that usually appears after longer periods of heavy drinking. It is characterized by the rapid onset of severe confusion and changes in the way your brain regulates blood circulation and breathing. First described in 1813 as a "brain fever" attributed to excessive alcohol abuse, DTs is a serious condition that can be life-threatening if not properly treated. Previous studies estimate that about 1 out of every 20 people going through alcohol withdrawal exhibit symptoms of DTs.3
DTs usually sets in about 48 hours after the last consumption of alcohol and is usually most intense 4-5 days after the last drink. DTs can last anywhere from 1-8 days, but the typical duration is between 2-3 days.3
Symptoms of Delirium Tremens
DTs occurs because the brain is unable to properly adjust its chemistry after the cessation of alcohol. This change in your brain can lead to dangerous shifts in breathing, circulation, and temperature control. Heart rate and blood pressure can dramatically change, leading to reduced blood flow to the brain and an increased risk of heart attack, stroke, or even death.
Symptoms of DTs include:3
Severe confusion
Nervous or angry behavior
Extreme hyperactivity
Global confusion
Loss of consciousness
Hallucinations
Sleep disturbances
Fever
High blood pressure
Rapid heartbeat
Excessive sweating
Dehydration
Studies show that between 1-4% of hospitalized patients with DTs will die as a result of symptoms.3 Death from DTs can be precipitated by life-threatening complications such as irregular heartbeat, respiratory arrest, sepsis, severe electrolyte disturbance, and trauma from prolonged seizures.
Not Ready to Talk?
If you aren't ready to talk, but want more information about addiction, you can sign up for Personalized Text Support. Receive 24/7 text support right away and at your convenience. There is no obligation to enter treatment and you can opt-out at any time.
Treatment of Delirium Tremens
DTs is considered a medical emergency. Untreated DTs has a death rate of 37%, making early recognition and treatment essential.4 Owing to the harmful risks associated with the symptoms of DTs, vital signs should be continuously monitored during treatment.5 Due to the extreme agitation among patients with withdrawal delirium and the high potential for fatal outcomes, DTs should be managed in a locked inpatient ward or the intensive care unit.
Treatment involves supportive care with continuous sedation through the administration of benzodiazepines.3,6 Intravenous fluids are typically administered to address any issues with electrolyte levels or dehydration. Antipsychotic medications can be provided to calm agitation and prevent hallucinations.
After completion of medically monitored detox patients should undergo alcohol rehab at an inpatient facility. Cognitive behavioral therapy can provide the coping skills needed to live a sober life and is often a key part of the overall recovery program. To prevent relapse, it is recommended to seek continued guidance through support groups like Alcoholics Anonymous.
You Might Also Be Interested In
Sources:
Substance Abuse and Mental Health Services Administration. (2015).

National Survey on Drug Use and Health

.
Mirijello A, D'Angelo C, Ferrulli A, et al. Identification and management of alcohol withdrawal syndrome. 2015;75(4):353-365. PMID: 25666543
Schuckit, M.A. (2014).Recognition and management of withdrawal delirium (delirium tremens). New England Journal of Medicine, 371(22), 2109-2013.
Abdul Rahman, A., & Paul, M. (2018). Delirium Tremens.
Long, D., Long, B., & Koyfman, A. (2017). The emergency medicine management of severe alcohol withdrawal. American Journal of Emergency Medicine, 35(7), 1005-1011.
Mainerova, B., Prasko, J., Latalova, K., Axmann, K., Cerna, M., Horacek, R., & Bradacova, R. (2015). Alcohol withdrawal delirium-diagnosis, course and treatment. Biomedical Papers of the Medical Faculty of the University Palacky, Olomouc, Czech Republic, 159(1), 44-52.