The 3-Day Effect: How Reconnecting with Nature Can Aid Your Recovery
It's widely accepted that modern humans have existing for around 200,000 years. The digital age (internet, home computers, cell phones, etc.) has existed for around 30 years. While there's no turning back from technological progress, it's important to understand that – anthropologically speaking – the digital age constitutes roughly .015% of humanity's timeline: a hair-thin blip on our evolutionary highway.
For tens of thousands of years, our brains and bodies slowly developed to its surroundings. For example, we grow tired when it's dark and more alert when it's light (or used to) because of circadian rhythm, the internal clock in our brain that developed over millennia. In today's world of artificial lights and screens, disruptions in our circadian rhythm are common. In the evolutionary timeline, this very new dilemma is linked to depression, anxiety, cognitive decline, and behavioral health problems.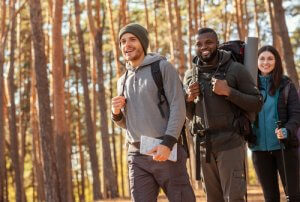 We're increasingly disengaged from our own biology, psychology, and the natural world that helped form us. For those in recovery, in particular, reconnecting with nature may be a crucial component to sustaining a healthy, balanced, and mindful lifestyle. The 3-Day Effect is a popular idea that an immersion in nature, even for a short time, provides a multitude of physical and mental benefits. Indeed, the 3-day effect and reconnecting with nature can aid your recovery.
Nature Helps Restore the Mind & Body
Intuitively, most of us understand that spending some time in nature is a good thing. However, it's not merely a philosophy or an opinion spouted by outdoorsy types. There is a growing amount of scientific evidence that supports the efficacy of the 3-Day Effect. David Sawyer, a cognitive psychologist at the University of Utah, coined the term. In a 2012 study, Sawyer led a novice backpacking group into nature for four to six days. The study roughly indicated a 50% increase in problem-solving skills among participates after the immersion. According to Sawyer, the third day is when many experienced the "cleaning of the mental windshield," thus the term, the 3-Day Effect.
However, multiple other studies have examined the correlation between nature and our mental and physical health. In 2015, Harvard-affiliated Cambridge Health Alliance conducted a study that compared the brain functioning of healthy individuals after they took a 90-minute walk in either an urban or natural setting. Those who walked in nature showed lower prefrontal cortex activity, a brain region that, when overstimulated, is responsible for stress, depression, and anxiety. Other documented benefits from exposure to nature include:
Lower Blood Pressure.
Improved Memory.
Elevated Mood.
Better Sleep Quality.
Increased Self-Esteem.
Better Vitamin Absorption.
Stronger Immune System.
Wilderness Immersion as a Treatment Method
While many treatment centers now incorporate some form of ecotherapy into its treatment plan, wilderness therapy has become increasingly popular in recent years. In short, wilderness therapy is a form of adventure-based therapy that blends traditional treatment methods with an immersion in nature. Although treatment approaches may differ among treatment programs, the natural setting is a shared, key element.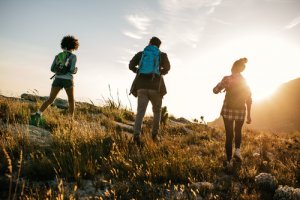 As indicated, an exposure to nature has scientifically shown to improve mental health. In the context of therapy sessions and early recovery, nature may be uniquely beneficial. Research has shown that nature sounds or even outdoor silence can lower cortisol, the stress hormone that activates our fight-or-flight response. In early recovery, as we confront negative thoughts and emotions through therapy and education, a natural setting may correlate to a likelier receptiveness to introspection, dialogue, and an overall treatment.
How to Incorporate Nature into Your Recovery
In a perfect world, the 3-Day Effect would be incorporated into recovery by, well, spending weekends camping once a month. For avid campers, this may be an option. And, if you've never tried camping, give it a try. Camping doesn't necessarily mean "roughing it," and a complete immersion in nature is a wonderful experience. Maybe consider planning a nature retreat with your support network. However, there are other ways to incorporate nature into your recovery.
Plant and maintain a garden.
Spend a full day at a city, state, or national park.
Take a mindful walk, preferably in greenways and parks.
Participate in outdoor recreation (hiking, kayaking, fishing, biking, etc.).
Join a nature group.
Explore outdoor hobbies (birdwatching, plant identification, etc.).
Join a nature club.
Meditate or simply relax outdoors.
Regardless of how you may reconnect with nature, evidence shows that nature improves our mental and physical health. Albert Einstein once said, "Look deep into nature, and then you will understand everything better." In recovery, it's definitely worth a glance.