Aftercare Support Groups
Last Updated:
June 13, 2019
With relapse rates for drug addiction around 40-60 percent, per the National Institute on Drug Abuse (NIDA) reports, aftercare services beyond a substance abuse treatment program are important. Aftercare services can help to reduce these rates or lessen the severity and duration of relapse.
A relapse is when someone starts using drugs or drinking alcohol again after they were sober for a period of time, often after participating in a treatment program or detox. It is imperative to stay in a treatment program for long enough to learn how to manage drug cravings and how to properly take on potential triggers in everyday life without turning to drugs or alcohol for relief. Addiction treatment helps people to learn new and healthy ways to handle life's ups and downs, and how to regulate emotions and deal with stress. These behavioral adaptations and new ways of thinking or acting take some time to become habit, and that's why support beyond treatment is so important.
Aftercare support services may include:
Continued therapy sessions
Family, group, or individual counseling sessions
Follow-up care with medical and mental health providers for any co-occurring disorders
Professional help managing or monitoring any medications or supplements prescribed
Educational opportunities and workforce training
Support group meetings
All of these aspects of aftercare are important. Support groups can be highly beneficial in aftercare and into recovery, as they can provide individuals with a strong network of similar individuals all striving for the same ultimate goal of sustained abstinence. Many support groups are based on the 12-Step program pioneered by Alcoholics Anonymous, or AA. While AA is mostly for people who have issues with alcohol, there are several offshoots of this peer-support group system for individuals battling addictions to other substances. Narcotics Anonymous (NA) is designed for individuals struggling with addiction to prescription pain pills, other opioid drugs like heroin, or any psychoactive substance, while Cocaine Anonymous (CA) caters to those suffering from a cocaine abuse or addiction issue, and Marijuana Anonymous (MA) is suited for individuals wishing to stop using marijuana.
The AA model is inherently spiritual in nature. Several other groups with less religious undertones also exist to support individuals in recovery, such as Secular Organizations for Sobriety (S.O.S) and Self Management for Addiction Recovery (SMART Recovery). Each support group will be slightly different, and individuals should find one that feels right for them. Regardless of the type of support group chosen, these groups can be very helpful in sustaining long-term recovery.
Specifics and Benefits of a 12-Step Program
A 12-Step program is molded around 12 basic steps that members are encouraged to work through
. Meetings are generally hosted weekly, although individuals may decide to attend more than one group or meeting each week as needed. In general, the 12 Steps, as taken from AA doctrine, are that individuals admit their inability to control their drug or alcohol use and therefore turn themselves over to a higher power. Members are asked to atone for their discretions, as related to their substance abuse, and make amends for them. Individuals who complete the steps may feel a kind of spiritual awakening and may then choose to pass their knowledge and experiences onto newer members. Nonspiritual support groups do not have this religious aspect and instead members are asked to look within themselves to find the motivation and strength to remain abstinent from drugs and alcohol.
Individuals may choose to seek out a sponsor within the program who is usually a long-time member with a significant amount of time being sober. This mentor can offer around-the-clock support and encouragement between meetings and help individuals to work through difficulties as they arise. The peer relationships that are built in 12-Step programs can be invaluable in helping to prevent or minimize relapse episodes. These support groups are made up of individuals who share like experiences and can therefore relate to each other on a deeper level than perhaps even a family member, therapist, or counselor can.
The Harvard Gazette published details on a study that reported on positive changes in a person's social network in response to regularly attending AA, meaning that members were more likely to spend time with people who were supportive of their sobriety. Those who regularly attended AA also exhibited stronger confidence in remaining abstinent even in social situations.
A study published in the American Journal on Addictions showed that individuals who worked through all 12 Steps of an AA program were more secure in themselves than those who didn't. A 12-Step program can help people to rebuild self-esteem and enhance self-image that may have been damaged by drug or alcohol abuse. The overarching goal of most 12-Step programs is complete and sustained abstinence from any mind-altering substances. Attendance in a program like AA seems to support this goal.
Studies evaluated in the Journal of Addictive Diseases published that individuals who attended AA regularly were twice as likely to remain abstinent than those who didn't. Those who attended more meetings for longer also had higher abstinence rates. All of these peer-based support groups expect complete abstinence as this is proven to predict long-term recovery. Studies published in Psychology Today show that individuals who remain drug- and alcohol-free for five years remain sober and do not relapse about 85 percent of the time.
AA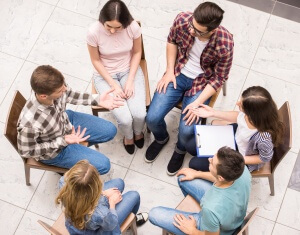 According to the National Institute on Alcohol Abuse and Alcoholism (NIAAA), most of the American adult population has consumed alcohol at least once, as 86.8 percent of individuals aged 18 and older in the United States drank alcohol in their lifetime as of 2013. The National Survey on Drug Use and Health (NSDUH) reports that in 2014 approximately 17 million Americans over the age of 11 struggled with an alcohol use disorder.
As an international organization with over 2 million members and 115,000 groups meeting in 175 countries, AA is a nonprofessional and self-supporting organization. What this means is that they accept anyone who wishes to remain sober from mind-altering substances, like alcohol, regardless of race, economic status, gender, or religious affiliation. Groups often meet in public spaces like at churches, although they are not part of a particular religion. Membership is free with the only stipulation being a desire to stay sober and free from alcohol. There are several "jobs" that AA members may take on from coffee serving to group treasurer or chairperson, and these jobs may help give individuals a sense of purpose and a feeling of belonging. AA is meant to be a fellowship of people encouraging positive social interactions and personal spiritual growth.
There are two forms of general AA meetings: open or closed. Open meetings are open to families or members of the public, while closed meetings are just for those struggling with alcohol abuse or addiction themselves. There may be specific AA meetings for women, teens, or other specialty populations as well.
Meetings typically last about an hour to 90 minutes and have a standard format. They may open with a prayer, like the Serenity Prayer, and then follow with a reading from the Alcoholics Anonymous Big Book and introductions. Meetings may have a speaker, be topic-specific, focus on AA text, or be more of a discussion format where members are encouraged to share their experiences. Anyone is invited to share, but no one is required to do so.
These meetings are confidential and whatever is shared is intended to stay within the group. There may be a coffee and refreshment break and usually a passing of a collection plate at some point. There is no cost to attend or join AA, although donations are encouraged in order for the group to be able to sustain itself. Meetings may close with another prayer and group announcements.
NA
Unlike AA, NA is open to individuals struggling with addiction to any mind-altering substance, be it drugs or alcohol, and who have a desire to become and remain drug-free. NSDUH reports that 21.5 million Americans (aged 12 and older) battled a substance use disorder in 2014, which equates to about 1 out of every 12 individuals. NA is a 12-Step program that is community-based and, like AA, completely self-sustaining. This means that they do not get their funding from any outside sources and therefore are not influenced by political, government, or religious agendas.
In a survey of members, NA attendance was self-reported to vastly improve family relationships and enhance social connections, helping to dispel the social isolation and breakdown in the family dynamic that often occur as the result of addiction. NA groups and meeting formats follow those of AA and use much of the same literature.
More About Recovery Support
CA and MA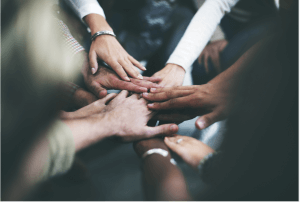 Founded in 1982, the sole purpose of CA is to help individuals to stop using cocaine and
remain sober long-term
. NSDUH estimates that almost a million American adults (older than age 11) suffered from a cocaine use disorder in 2014. Cocaine is considered a highly addictive drug with intense drug cravings and significant emotional disturbances reported after regular use. A support group like CA can help individuals learn how to cope with these difficulties and be motivated to remain drug-free through the encouragement of others who have "been there " and are also in recovery. CA also follows much of the same format, ideals, and structure as AA.
Traditionally thought of as a nonaddictive drug, marijuana is the most abused illicit substance in the United States, NIDA reports. Contrary to popular belief, marijuana is addictive. Over 4 million Americans who were at least 12 years old battled a marijuana use disorder in 2014, according to NSUDH.
MA is a 12-Step fellowship support group based on the concepts of AA, designed to help individuals refrain from abusing marijuana. Meetings for MA may be similar to AA meetings when conducted in person, although they have the added benefit of online and phone meetings, as well as an MA recovery app called MA Mobile for both iOS and Android devices.
S.O.S
For those interested in a secular approach and an alternative to traditional 12-Step programs and doctrine, S.O.S. may be a viable option. A support group that is also anonymous and self-sustaining, S.O.S. is open to anyone struggling with issues surrounding drug or alcohol abuse and/or addiction who wishes to seek and sustain sobriety.
S.O.S. asks members to recognize and admit that addiction has controlled them and that any alcohol or drug use constitutes a problem going forward. The general meeting format begins with an introduction, celebrates sobriety anniversaries, and continues with a reading of guidelines for sobriety. The group will then go around the room introducing themselves and sharing individual experiences, struggles, triumphs, etc., before closing. S.O.S. is a support group that offers a nonspiritual path toward long-term abstinence in recovery.
SMART Recovery
Another alternative to traditional 12-Step groups, SMART Recovery programs offer in-person meetings, online meetings, and an online chat room and message board for 24-hour support for all types of addictions. While AA and other 12-Step programs rely on turning control over to a higher power or spiritual being, SMART Recovery programs instead rely on self-empowerment and the enhancement of self-reliance. The SMART Recovery 4-Point Program provides methods and tools on four points, dealing with increasing motivation; controlling urges; managing thoughts, behaviors, and emotions; and living a life that is balanced.
SMART Recovery meetings are generally 90 minutes long and may include a pre-meeting as well that can help newcomers learn about the program and what to expect. Membership and attendance are free, and meetings are typically led by a facilitator. Meetings start with a welcome and then move on to a "check-in" where individuals are encouraged to speak about their progress. Then the group will decide on an agenda for the meeting and spend the bulk of the time working through one of the four points as well as whatever members feel they need to work on or talk about. A collection "hat" is passed around as the group is a nonprofit and requires donations to remain active, and then the meeting is closed. A more advanced meeting may exchange the "working time" with a chunk of time dedicated toward developing strategies for coping with "activating events." Homework may be suggested at the end of a meeting to help individuals practice their newly learned skills.Í
Last Updated on June 13, 2019