School Stress for College Students and Unhealthy Coping Mechanisms
College campuses are busier than ever. With midterms and finals fast approaching, college students' stress levels are skyrocketing. It isn't just during these weeks, though, that students experience high levels of stress. In 2017, 45 percent of college students reported high levels of stress and that is only considering students who sought help from counselors. Between 2010 and 2015, college campuses saw a 30 percent increase in students seeking appointments in counseling centers, despite enrollment only increasing by 5 percent. Students are not only turning to campus counselors to aide them through stressful times, however – some are turning to drugs and alcohol to power through long nights of studying.
How does the average college student cope with stress? How many are turning to study drugs? We surveyed 980 current students and students graduating within the past five years to gauge their college stress and the techniques they used to manage it. Continue reading to see what we learned.
Degree of Stress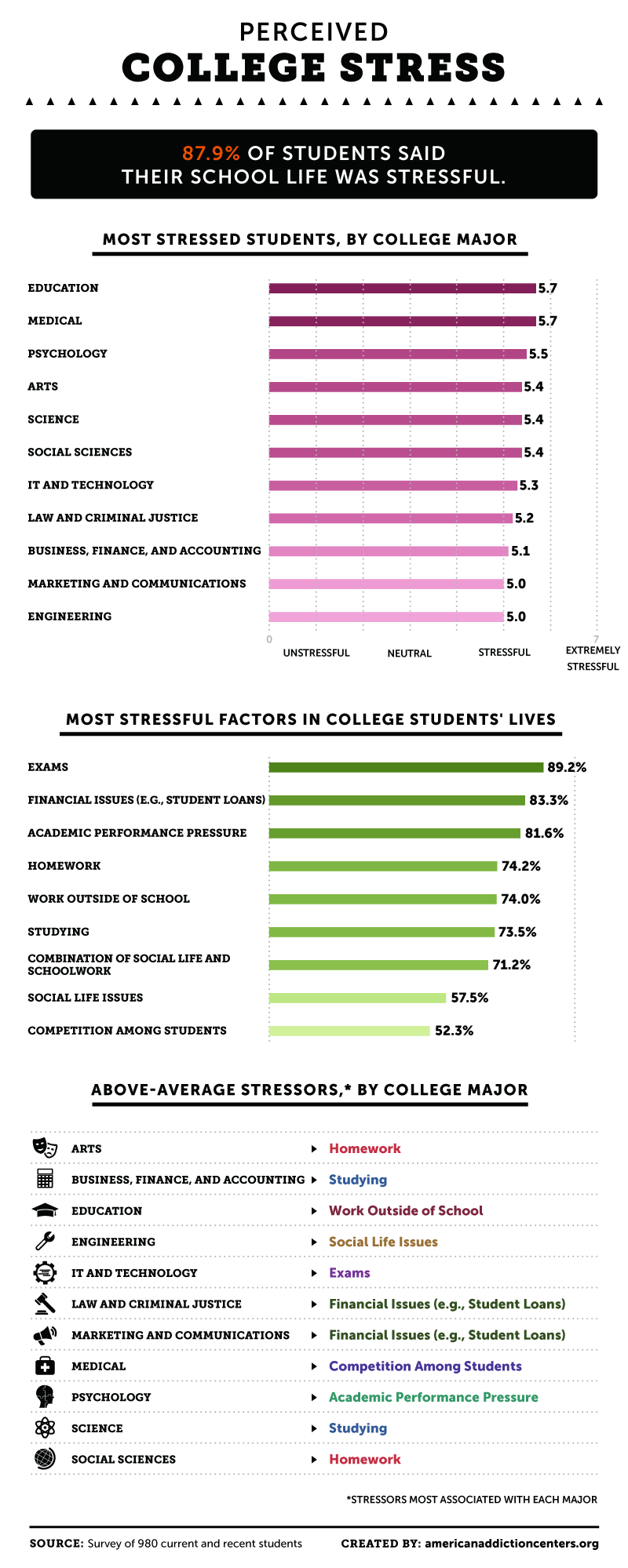 Overall, 88 percent of college students reported their school life to be stressful. Education and medical majors reported the highest levels of stress, though, followed by psychology, arts, and the sciences.
The biggest stressor for students was exams (89 percent). Financial issues weren't too far behind, though. The average student relying on school loans graduates with around $37,000 of student loan debt. Considering some majors make around $34,000 to $65,000 fresh out of college with a bachelor's degree, it's no wonder students are stressing about finances.
Only around half of students were stressed regarding competition among students, but for medical majors, that was their No. 1 stressor. Getting into medical school has always been competitive, but the number of applicants within the last 10 years has increased by over 35 percent, despite decreasing acceptance rates.
Stress Relievers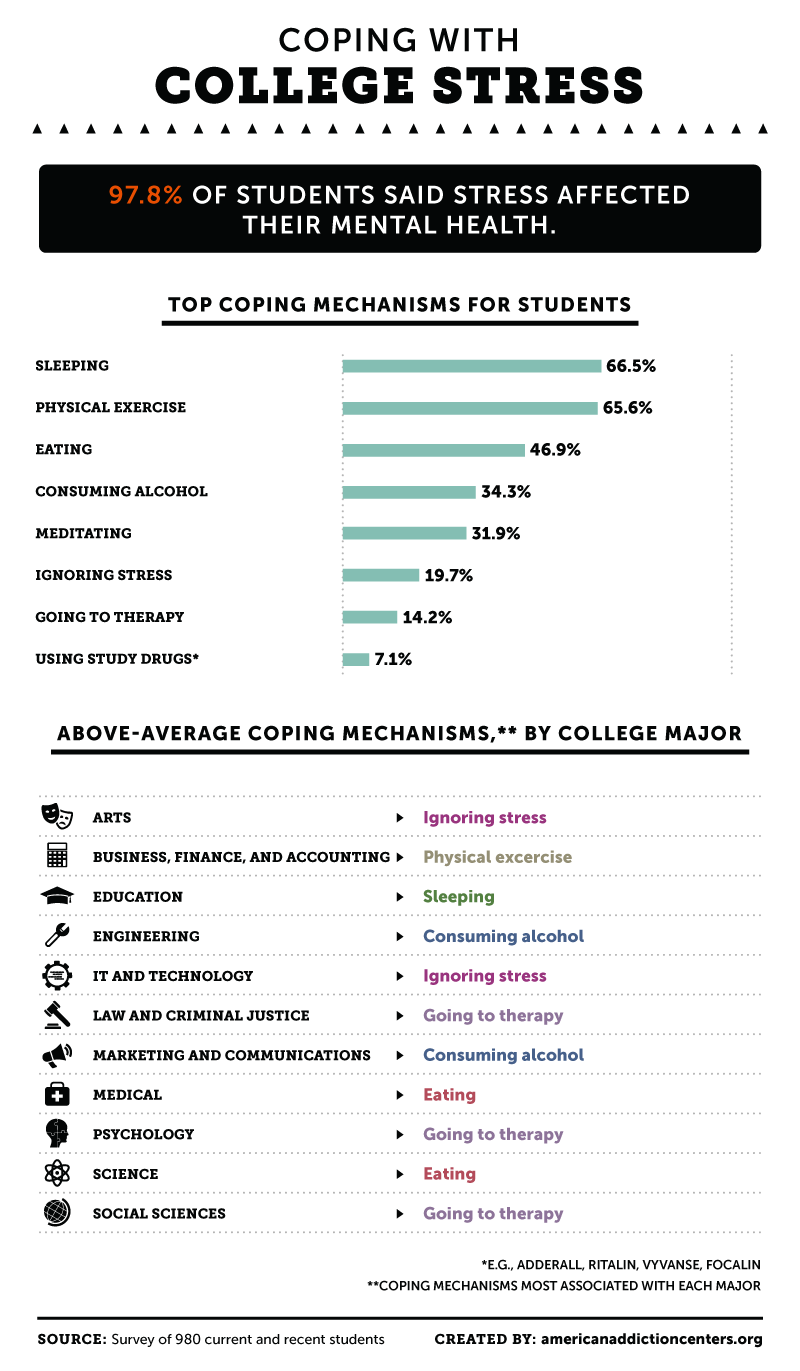 So how are students coping with the stressors of college? Nearly 98 percent of students said stress affected their mental health, but only around 14 percent sought out therapy. Over 66 percent of students simply shut their eyes to the stress and slept their worries away, with education majors being the most likely to do so. Engineering and marketing and communication majors seem to prefer a more risky route, using alcohol to cope with stress more than any other majors. Alcohol consumption is not only an unhealthy and dangerous coping mechanism, but is also associated with lower GPAs in college students.
Sippin' Stress Away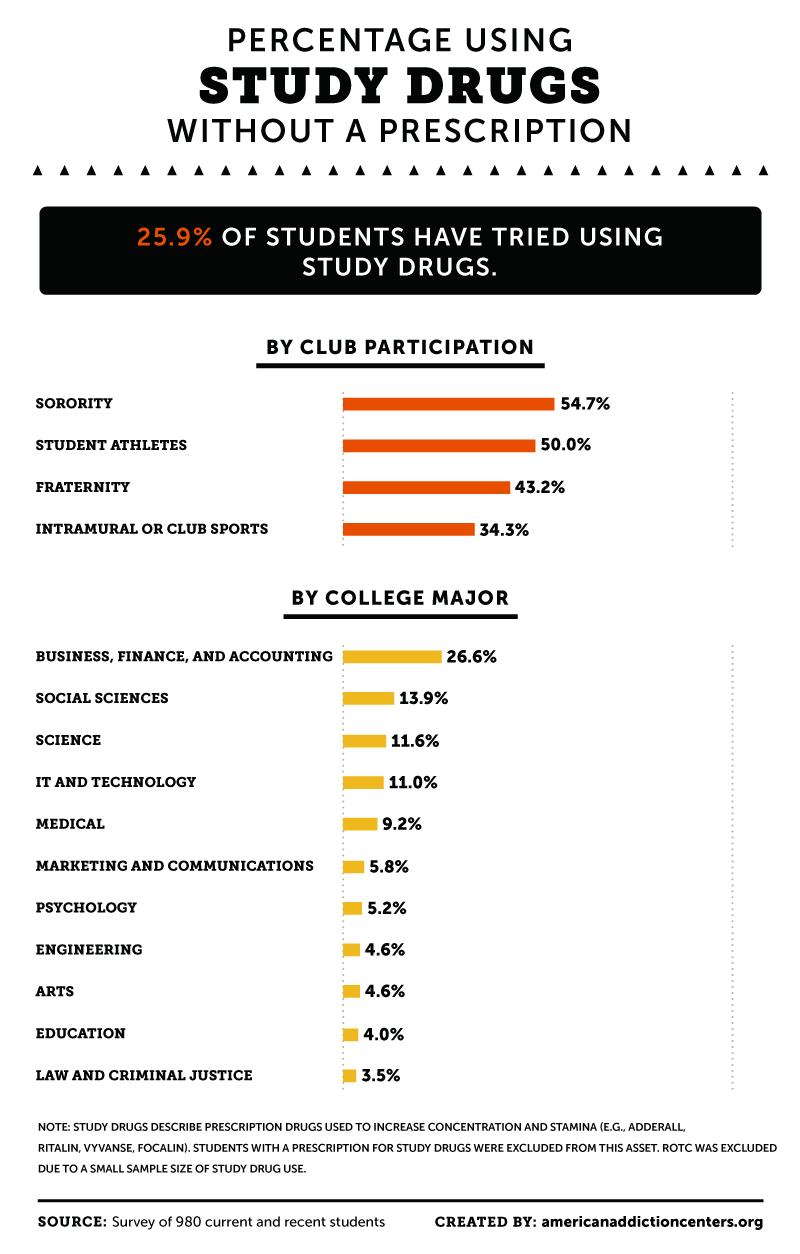 Sixty percent of students have used alcohol as a coping mechanism, with engineering and marketing and communications majors turning to alcohol more than any other major. Students in sororities were also among the biggest groups of students to drink to cope with stress (72 percent), along with seniors of a bachelor's program (60 percent). However, those in sororities are at an increased risk of carrying unhealthy drinking habits into early midlife compared to college students not affiliated with Greek life. Fifty-six percent of graduate students and 53 percent of Ph.D. students reported drinking to relieve stress.
Drinking Through Difficulty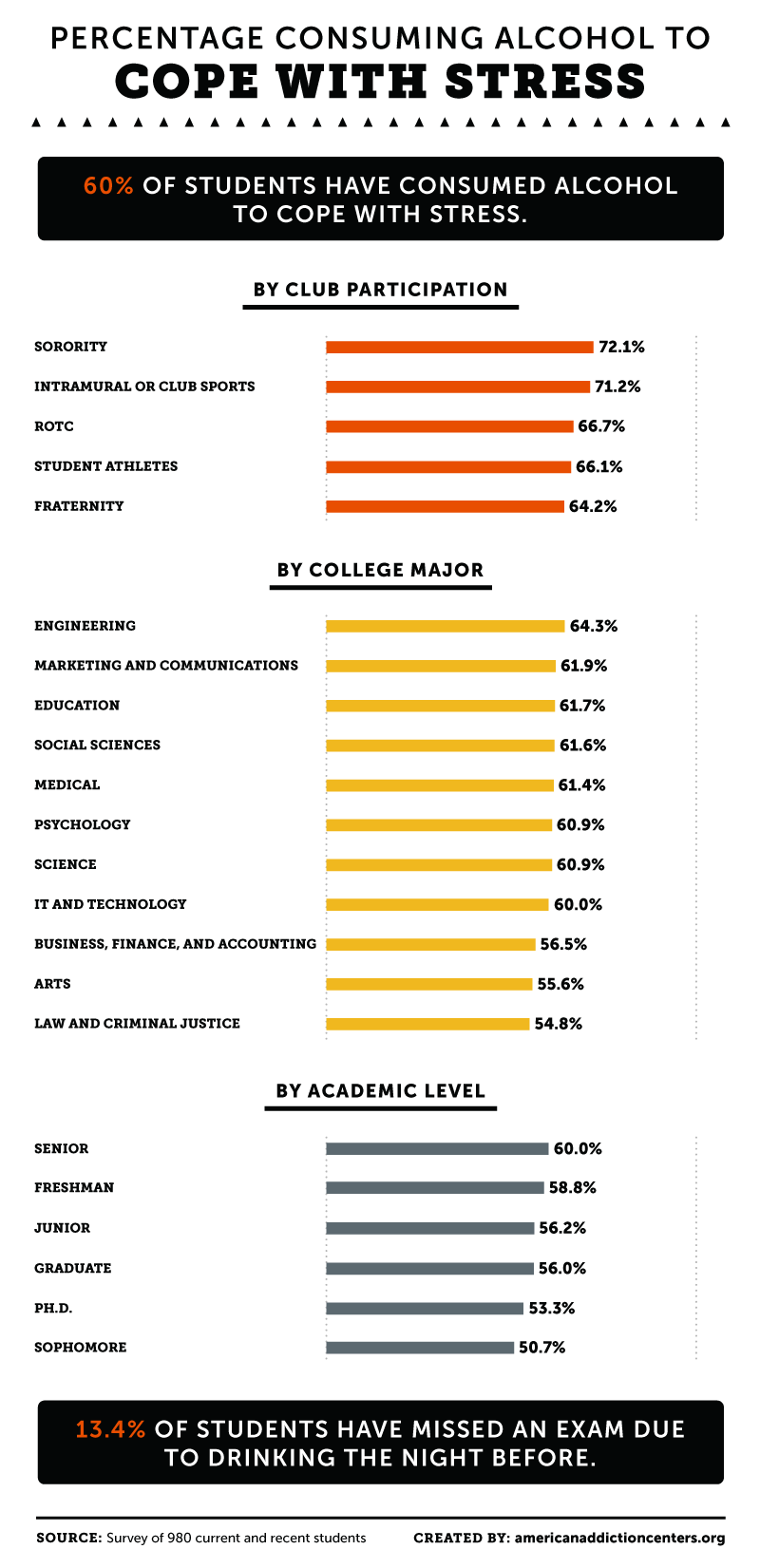 When asked about drinking after a stressful event, roughly 90 percent of students across all clubs said they turned to alcohol. Engineering majors were the most likely to drink (96 percent), but juniors in a bachelor's program took the top spot as the most likely to drink.
College students aren't the only ones to use alcohol as a way to "knock the edge off," but using alcohol in times of stress can actually compound the issue and even change the chemistry of your brain. Drinking while stressed can lead to heavier drinking and even carry on for weeks after. When there are healthier and more effective ways to relieve stress, imbibing alcohol just isn't worth the risk.
Stimulating Students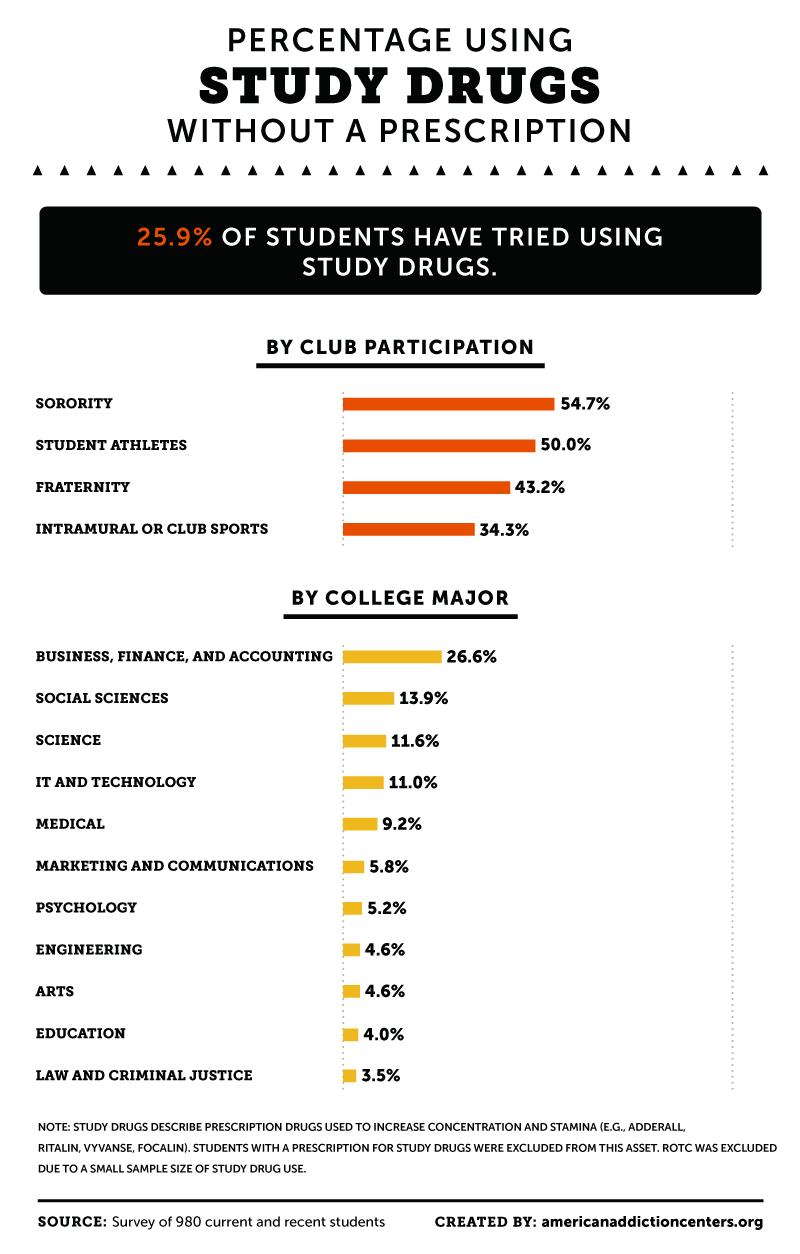 Alcohol isn't the only harmful substance students turn to in times of stress. Adderall, Ritalin, Vyvanse, and Focalin – drugs typically used to treat ADHD – are often used by students without a prescription to increase concentration and stamina, hence the term "study drugs." Around 26 percent of college students have tried using study drugs. Business, finance, and accounting majors used these drugs more than any other major (nearly 27 percent), followed by social sciences majors at 14 percent.
However, drug use spiked when looking at club participation. Almost 55 percent of students in sororities used study drugs compared to 43 percent of students in fraternities.
Reasons for Ritalin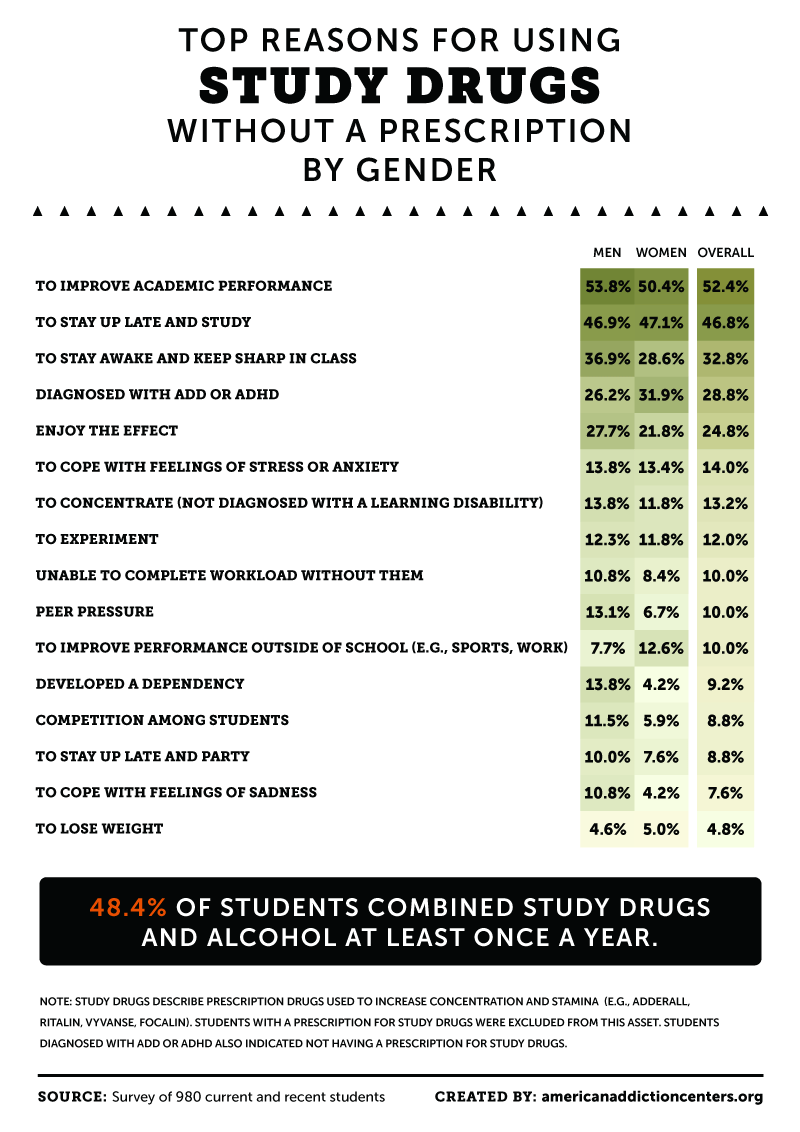 While prescription stimulants are meant to treat patients with ADD or ADHD, only around 29 percent of respondents used the drugs for their diagnosis. Over 50 percent of men and women use Adderall or similar drugs to improve their academic performance.
Using drugs without a prescription is dangerous, but mixing these drugs with alcohol can cause even more serious problems. Forty-eight percent of students combined study drugs and alcohol at least once a year. Unfortunately, mixing Adderall and alcohol can lead to overdrinking and alcohol poisoning due to Adderall's ability to dull the symptoms of drunkenness.
Staying Safe Through Stress
There's no denying that college is stressful. But learning how to cope with stress isn't often taught in school, leading students to outright ignore the stress or turn to drugs and alcohol. While these substances may seem to help at the moment, they do a lot more harm than good. Not only do drugs and alcohol cover and compound the stress but relying on substances to relieve stress can lead to bigger issues later on like addiction.
Educating yourself about the warning signs of addiction is the first step in identifying a developing problem. At American Addiction Centers, our goal is to educate you on everything you need to know about drugs, alcohol, and addiction, to provide resources for treatment, and to make sure those in recovery receive the continued support they need. Visit us to learn more.
Methodology
For this project, we surveyed 980 current college students and students who graduated within the past five years. It is possible that with more college students, we could have gained an even better insight into America's college student population. The data rely on self-reporting by the respondents, so no statistical testing was performed. Among the respondents, majors had the following distribution: business, finance, and accounting: 21.5 percent; social sciences: 13.5 percent; information technology: 12.9 percent; medical: 10.9 percent; science: 9.9 percent; psychology: 6.9 percent; arts: 5.8 percent; education: 5.1 percent; marketing and communications: 4.5 percent; law and criminal justice: 4.5 percent; and engineering: 4.5 percent. 502 respondents identified as women, and 471 identified as men. Six respondents identified as nonbinary and one as genderqueer. They had to be excluded from the data due to a small sample size. The respondents ranged in age from 18 to 82 with an average age of 29.4 and a standard deviation of 7.5. 323 of the 980 students were members of a social club or school organization. Membership was distributed as follows: 104 members of an intramural or club sport, 81 members of a fraternity, 62 members of a varsity sports team, 61 members of a sorority, and 15 members of ROTC. Of the responding ROTC members, only four said they had ever taken study drugs. Due to this small sample size, ROTC was excluded from data regarding study drug use.
Sources
Fair Use Statement
Are you a stressed college student, or do you want to share our findings on college stress and students' coping mechanisms? You're welcome to do so. The graphics and information found on this website are available for noncommercial reuse. You can share them as much as you like across the web, but please make sure to link back to this page. Thank you!