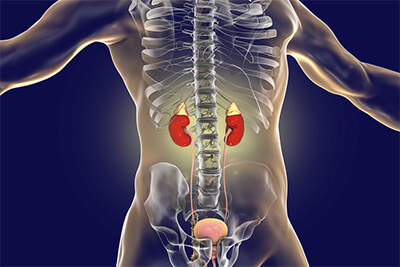 The information in this article is designed for educational purposes and should not be used for diagnostic purposes. If anyone believes they have a problem with the functioning of their kidneys or a substance use disorder, they should contact a licensed medical professional.
The Excretory System
Excretion refers to the process of the body eliminating toxins or waste products. The excretory system consists of numerous organs in the body that all contribute to the removal of waste products and toxins. The major parts of the excretory system include the sweat glands, the liver, the lungs, and the renal system or kidneys. This article will focus on substance abuse and renal functioning (kidney functioning).
The Function of the Kidneys
The majority of the metabolism of substances in the bloodstream occurs in the liver, but the majority of the elimination of waste products occurs through the kidneys (through urine). The job of the kidneys is to filter blood pumped throughout the body and to create urine.
Urine is composed primarily of excess fluid, waste products, and toxins. After it is formed in the kidneys, it is then transferred to the bladder where it is stored until it is excreted. The kidneys and the bladder work together to stabilize the amount of electrolytes in the blood and prevent fluid and waste buildup in the system. Thus, the majority of the drugs that individuals take are eventually excreted through this process.
The kidneys
can be affected by numerous factors that can influence their ability to expel waste products. These include:
The physical condition of kidneys, which can be affected by a person's age, physical or medical conditions, and other factors
How acidic one's urine is (Typically, the more acidic the urine is, the more difficult the burden on the kidneys is.)
Circulation through the kidneys
Exposure to numerous toxins can affect the function of the kidneys
Some of the significant health conditions that can affect the functioning of the kidneys include infections, diabetes, high blood pressure, and kidney stones (nephrolithiasis). Drug abuse can also impact the functioning of the kidneys. If the kidneys are not functioning properly, the effects of drug use can be amplified, and this can lead to further issues with the kidneys. For instance, individuals who develop tolerance to alcohol or drugs often significantly increase the amount of the substances they use, and this can contribute to problems with toxicity and kidney functioning over time.
Chronic abuse of drugs or alcohol can lead to severe kidney damage and even to kidney failure. Substance abuse may directly damage the kidneys or may indirectly damage them through some other process, such as increased body temperature or rhabdomyolysis (the breakdown of muscle tissue in the release of cells in the bloodstream).
Drugs That Can Affect Kidney Functioning
Numerous drugs of abuse can affect the function of the kidneys.