Aetna Texas Health Insurance Coverage for Drug & Alcohol Rehab
Check your insurance coverage
With the form below, we will confirm what benefits are available under your specific plan. Your information is confidential and protected under HIPAA privacy rules.

Check to see if your insurance is in-network at an American Addiction Centers location
We'll instantly check the coverage offered by your insurance provider.
You may receive treatment at one of our facilities at a reduced rate.
Do Rehabs in Texas Accept Aetna Health Insurance?
Rehabilitation centers in Texas may accept Aetna Health Insurance. Aetna Health Insurance of Texas is an insurance provider that may cover rehab for drug and alcohol addiction depending on your plan and individual needs. Aetna may be able to cover at least some of the cost of detoxification, inpatient or outpatient rehab, or more long-term residential treatment programs.
American Addictions Center's (AAC) Greenhouse Treatment Center, is a local Drug and Alcohol Rehab Center in Grand Prairie, TX that may be able to accept Aetna Health Insurance of Texas. From April 2020 to April 2021, there were 4,593 reported drug overdose deaths in Texas.1 If you or someone you love is struggling with substance abuse, it is important to get help from a treatment facility or rehab program. Before deciding which addiction treatment program is right for you, check the level of coverage you have with Aetna. Bear in mind, you may be fully or partially covered depending on your policy.
Check Aetna Coverage for Rehab in Texas
If you're looking for rehab in Texas and have Aetna Health Insurance, contact an admission advisor at in order to discuss your options, verify insurance coverage, and find treatment. You may also verify your insurance coverage instantly using the form below.
What Substance Abuse Treatment Will Aetna Health Insurance of Texas Cover?
Aetna Health Insurance of Texas may be able to cover a range of drug or alcohol rehab programs. The level of coverage you have will depend on your healthcare plan and other variables. Aetna may cover:
Does Aetna Health Insurance of Texas Cover Mental Health & Co-Occurring Disorder Treatment?
Aetna Health Insurance of Texas may cover co-occurring disorder treatment under mental or behavioral health services. Co-occurring disorder (dual diagnosis) is when a person has a mental illness like depression or PTSD, and a substance use disorder (SUD).
Greenhouse Treatment Center in Texas offers co-occurring disorder treatment. Find out your level of coverage with Aetna to determine exactly what you will and will not be covered for.
Not Sure if You Need Rehab?
Take our free, 5-minute substance abuse self-assessment below if you think you or someone you love might be struggling with substance abuse. The evaluation consists of 11 yes or no questions that are intended to be used as an informational tool to assess the severity and probability of a substance use disorder (SUD). The test is free, confidential, and no personal information is needed to receive the result. This assessment can be used by anyone in or outside the state of Texas.
Sources
Centers for Disease Control and Prevention. Drug Overdose Data. (subject to ongoing updates).
Rehabs That May Accept This Insurance
American Addiction Centers (AAC) owns and operates facilities at various locations nationwide to provide you or your loved one addiction and mental health care.
---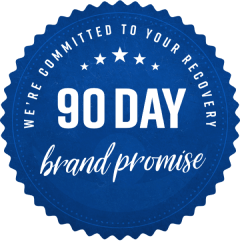 We're committed to your recovery
When you invest and successfully complete 90 consecutive days at an American Addiction Centers facility, we believe that you have created the most solid foundation for your long-term goals of sobriety.
In the event that you experience a relapse, you are welcome back for a complimentary 30 days of our treatment*
Learn about our brand promise
*Terms and conditions may apply, and results may vary.
---
---