Recuperarse de una adicción a las drogas o al alcohol no es fácil, y muchas personas necesitan ayuda adicional para manejar su adicción y mantener sobriedad duradera. Dependiendo de la gravedad de tus problemas de abuso de sustancias, puedes considerar asistir a un centro de rehabilitación con internado que te ayudará a dejar de consumir drogas o alcohol con el apoyo de profesionales de tratamiento de adicciones. Sin embargo, no todos los centros de tratamiento son iguales y algunos programas pueden ser mejores que otros para tus necesidades y situaciones particulares.
Así como cada persona que se recupera del abuso de drogas o alcohol es única, también lo es cada programa de recuperación de la adicción a drogas y alcohol. Si estás considerando la rehabilitación con internado, hay varias cosas en las que debes pensar y preguntas que deberás hacer antes de elegir la opción adecuada. En esta guía, te mostraremos cómo tomar una decisión informada al elegir un programa de rehabilitación de drogas y alcohol para ti o tu ser querido.
¿Qué es un programa de tratamiento de rehabilitación de adicciones con internado?
La rehabilitación con internado es un tipo de tratamiento contra la adicción en el que los pacientes residen en un centro de rehabilitación las 24 horas del día, los 7 días de la semana, mientras reciben atención supervisada y altamente estructurada para su abuso de drogas y alcohol.
Cuando una persona ingresa en el centro de rehabilitación por drogas o alcohol como paciente interno, se convierte en un residente de tiempo completo del programa elegido y recibe atención y apoyo específicos las 24 horas del día, los siete días de la semana. Pueden vivir solos en una habitación o tener un compañero de cuarto, comer en las instalaciones y asistir a sesiones estructuradas de terapia individual o grupal varias veces al día.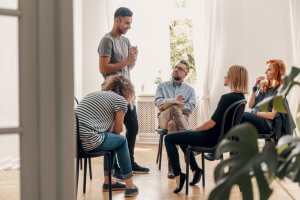 Para muchos, un beneficio del tratamiento con internado es que permite un distanciamiento entre los pacientes y sus entornos domésticos potencialmente problemáticos. Si se le quitan estas distracciones y factores estresantes, una persona puede estar mejor capacitada para concentrarse en los esfuerzos de recuperación, todo bajo la guía capacitada y la atención de apoyo de un equipo profesional de tratamiento de adicciones.
Existen diferentes formas de tratamiento en un continuo de atención; la forma más apropiada la determina un profesional del tratamiento de adicciones después de una cuidadosa consideración de las circunstancias únicas de una persona y las necesidades específicas de tratamiento.
About The Contributor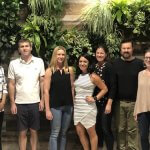 The editorial staff of American Addiction Centers is made up of credentialed clinical reviewers with hands-on experience in or expert knowledge of addiction treatment.
Read More