Top Reasons to Choose River Oaks Treatment Center Near Tampa, Florida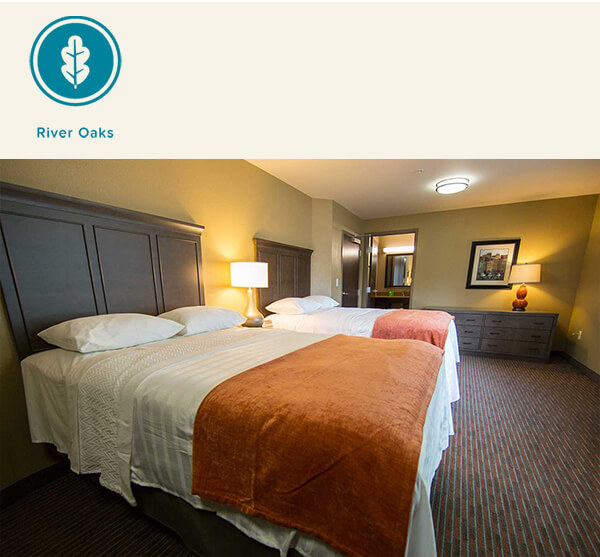 We offer a quality clinical program, conveniently located in Central Florida.

You can count on a qualified, experienced team of compassionate professionals to handle your treatment at River Oaks. In addition to our highly-qualified Addictionologist and Psychiatrist-led medical providers, we boast a high-quality clinical staff made up of master's-level licensed or license-eligible therapists.
Our clinical team includes our nationally certified Clinical Director, as well as clinicians trained in cognitive behavioral therapy (CBT), dialectical behavioral therapy (DBT), eye movement desensitization and reprocessing (EMDR), and motivational interviewing (MI). We also utilize the Biosound Therapy System to assist with self-regulation and mindfulness with the goal of treating all clients' emotional and mental health needs.
Our program is based on the 8 dimensions of wellness, and the Embracing Change: Recovery for Life dual diagnosis curriculum designed specifically for individuals receiving treatment with American Addiction Centers, our parent company.

We offer the full continuum of services to meet your individual needs.

At River Oaks, we provide a full continuum of dual diagnosis treatment to meet a very real and growing need: the need for quality, comprehensive care for those struggling with addiction/mental health disorders.
At the very forefront, we provide a medical detox and stabilization program followed by a strong residential treatment component.
We also provide day/night partial hospitalization programs (PHP) and intensive outpatient programming (IOP) including the ability to live in our licensed supportive housing program. And for those locally, we offer both community PHP and IOP services. These services are scheduled to meet your individual needs.
Community PHP available Sunday through Saturday from 8:30am-4:30pm
Community IOP available 6 days per week (Sunday through Friday for males; and Monday through Saturday for females) from 8:30am – 11:30am.

We know a one size fits all approach isn't perfect.

We offer a variety of dedicated treatment programs that focus on the needs and obstacles of the individual. We have a program for Veterans, First Responders, LGBTQ communities, professionals, and more.

Treatment is confidential.

Your patient information is protected by HIPAA and no one outside of your treatment team can access your information without your written consent. Learn more about your rights and confidentiality here.

We have an accomplished medical director.

River Oaks' Medical Director, Dr. Michael Murphy, is a nationally recognized expert in the assessment, diagnosis, and treatment of dual diagnosis clients. Educated and trained at Harvard University, Dr. Murphy is a published author who has written textbooks to teach future generations of psychiatrists.
He oversees a full team of Psychiatrists, an Addictionologist, and Advanced Nurse Practitioners to ensure all clients receive the proper diagnoses and medical care to meet their individualized needs.

We have a caring, experienced nursing team.

Our nursing staff consists of registered and licensed practical nurses with years of substance abuse and mental health experience and training.
During medical detox and residential treatment, our nursing team provides 24/7 medical oversight to our clients to ensure safety and comfort during the entire process. For added client safety, we also utilize EarlySense technology for detox, a vitals-monitoring system that provides continuous monitoring of key vitals indicators and immediate alerts to nursing staff for any issues that arise.

We offer a well-appointed and comfortable treatment campus.

In addition to our year-round temperate weather, the 26-acre wooded property River Oaks Treatment Center sits on is beautifully manicured with flowing fountains, serenity paths through mossy oaks, and numerous paved walking areas throughout the campus just outside historic Tampa Bay.
Our outdoor amenities include tennis courts, basketball courts, a softball field, and acres of maintained lawn. The resident living and treatment space is designed with modern accommodations for resident comfort and wellbeing.
Our Executive Chef and his culinary team provide restaurant quality food in a café bistro setting. Ultimately the goal is to provide a conducive atmosphere of peace and serenity that allows the residents to focus solely on their own course of treatment.
It is our belief that in this quiet, safe sanctuary, true healing can begin.

We know family is important in the recovery journey.

Family support is incredibly important to a person's recovery. To make sure we are doing everything we can to support our clients, we make a concerted effort to bring the family into the treatment process. Our licensed marriage and family therapist coordinates a family program engaging clients and their families to provide education on family systems and the overall impact addiction has on the family.
We host 2-day family program every other weekend for family members to engage fully in the recovery process with education and support.

We hold our facilities to the highest quality standards.

River Oaks is nationally accredited by The Joint Commission, the gold-standard in healthcare accreditation.

We are conveniently located just 15 miles east of Tampa, Florida.
Did you know your insurance provider may be able to cover all or part of the cost of rehab?

The cost of rehab may deter people from finding treatment, but many insurance providers may be able to help foot the bill. Find out if your insurance provider may be able to help you cover the cost below.
Get in contact with us today!

If you believe you or someone you love may be struggling with addiction, let us hear your story and help you determine a path to treatment. There are a variety of confidential, free, and no obligation ways to get in contact with us to learn more about treatment.