Miami Drug and Alcohol Rehab Treatment Centers
Instantly find your coverage information.
We'll be able to tell you if your insurance provider is in network with an American Addiction Centers treatment facility.
* These fields are required

Miami rehabs are a great option for those seeking an evidence based addiction treatment program with long term results. Miami is home to some of the nation's best drug and alcohol rehab and detox facilities, making it a popular destination for those seeking treatment for drug and alcohol addiction. Whether you or someone you love is looking for a compassionate, accredited, professional rehabilitation program, let American Addiction Centers be the first step on the road to recovery.
Where is Addiction Treatment Located in Miami?
Miami has over 70 rehab centers in its main city and surrounding suburbs. Whether you're looking for treatment in the heart of Miami or the more peaceful outskirts and suburbs, there are options for everyone's needs. American Addiction Center's (AAC's) Recovery First rehab center is located in beautiful, serene, and always-warm Hollywood, Florida, just 30 minutes outside of Miami's city center.
What is the Cost of Rehab in Miami?
The cost of drug and alcohol rehab varies between treatment centers, services required, and a client's individual needs. Most rehab centers in Miami accept some form of private or state-funded insurance to ensure everyone who desires treatment is able to access it. In the state of Florida, nearly 72% of rehab facilities accept private health insurance and 63% accept Medicare and Medicaid.1 Free rehab programs may also be available to you if you qualify.
AAC's Recovery First location accepts many private insurance plans through Kaiser Permanente, United Healthcare, and more. If you do not have insurance, private payments and payment plans are an option. We can work with you on a manageable payment plan. Call our admissions navigators to learn more and begin the process. For those who are uninsured and low-income, the state of Florida offers state-funded rehabs.
Do Rehab Centers in Miami Treat Alcohol and Drug Addiction?
Drug and alcohol addiction treatment centers in Miami treat all forms of addiction. Miami rehabs treat people addicted to substances such as alcohol, cocaine, prescription opioids, stimulants, heroin, and other illegal opioids. Some rehabs also treat those with behavioral addictions.
In the state of Florida, the top 5 addictions people seek treatment for are:2
Alcohol.
Opioids (such as prescription medications or heroin).
Cocaine.
Marijuana.
Methamphetamines.
Some treatment centers in Miami may focus on treating one type of addiction or a certain population of those struggling with addiction—such as veterans—but this typically isn't the case. More often than not, addiction treatment centers treat a wide range of populations and addictions to various types of drugs.
Many people who live with addiction also struggle with one or more mental health disorders, including depression, anxiety, and bipolar disorder. Many rehab centers in Miami—including Recovery First in Hollywood, FL—also treat co-occurring conditions with an evidence-based, integrated approach that addresses both disorders simultaneously to help you get and stay sober. Give us a call at There, an admissions advisor can help you to learn more about our substance abuse treatment program in Miami.
Take Our Substance Abuse Self-Assessment
Take our free, 5-minute substance abuse self-assessment below if you think you or someone you love might be struggling with substance abuse. The evaluation consists of 11 yes or no questions that are intended to be used as an informational tool to assess the severity and probability of a substance use disorder. The test is free, confidential, and no personal information is needed to receive the result.
Other Ways to Get Help and Miami Resources
In addition to rehab centers, there are many resources available both in-person and via telephone to those who are struggling with substance use disorder in Miami and throughout the state of Florida. These include:
Find Drug & Alcohol Rehab Treatment in Miami
American Addiction Centers boasts two drug and alcohol rehab centers in Florida: Recovery First and River Oaks Treatment Center. To find out more about these addiction treatment programs in Florida, or to access other free resources, be sure to call our admissions navigators today.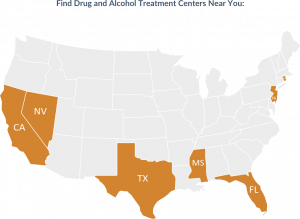 FAQ About Drug & Alcohol Rehab Treatment in Miami