A Veteran's Guide to Choosing a Recovery Center
When choosing a rehab program for veterans, there are a variety of options to consider.
American Addiction Centers has services for Veterans, Call .
What you will learn:
What specialized treatments are specific to veterans
The types of rehab programs and amenities offered to veterans
Military veterans face unique challenges when it comes to dealing with addiction and substance abuse1. For many, co-occurring disorders like anxiety, depression, and post-traumatic stress disorder (PTSD) complicate the recovery process2. Reintegrating back into civilian life and the family unit is often difficult, and it may feel like those around you just don't "get it."
These are all reasons why military veterans require a specialized approach to substance abuse treatment. While seeking help is a major step, choosing the right treatment facility is also critical. Below are some of the most important things to look for when choosing a recovery center for veterans.
Specialized Services for Veterans
Since it's clear that veterans have unique needs, you'll want to ensure that the treatment center you're considering is equipped to provide the right type of long-term care. Look for rehab centers that specialize in co-occurring disorders and have programs specifically geared towards veterans. These programs often take a more holistic approach and may include:3 
Exploring and strengthening a veteran's motivation for change.

Teaching coping skills for dealing with life's stressors. 

Explaining

the correlation between substance abuse and PTSD

.

Learning how to recognize and handle relapse triggers. 

Providing family and couples counseling to help repair damaged relationships.

Recommending ongoing outside support options (such as Alcoholics Anonymous) 
Veterans battling addiction to a certain substance, such as alcohol or narcotics, may also want to seek out a treatment center that specializes in that specific type of addiction rehabilitation. 
Videos About Treatment for Veterans
The Salute to Recovery Program

Navigating Veteran & VA Benefits

A Veteran's Treatment Testimonial

Inpatient vs. Outpatient Programs
There are benefits and drawbacks to both inpatient and outpatient recovery programs. Deciding which is right for you will depend on a variety of factors. These include, but aren't limited to, the severity of your addiction, the amount of support you have at home, cost considerations, and personal preferences.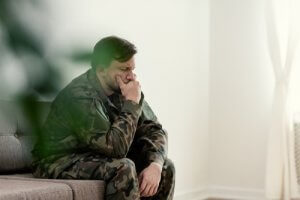 Some common treatment options to consider include:
Outpatient counseling

Intensive outpatient treatment

Residential inpatient treatment

Evening and weekend programs

Self-help groups. 
Treatments and Therapies for Veterans
Depending on your needs, you may want to seek out a facility that provides programs and treatment therapies such as medically assisted detox, drug substitution therapies, and continuing care with a focus on relapse prevention. 
There are many different therapy options available to help you with your recovery. It is therefore a good idea to do your research and ensure that the facility you're considering offers the specific treatment that best suits your needs. 
Amenities
If you're considering an inpatient program, you may want to explore the amenities available before choosing a treatment center. While some rehab facilities provide only the basics, others offer luxurious amenities that can rival a five-star hotel. 
VA vs. Other Options
Military veterans enrolled in the Department of Veteran Affairs (VA) health care system who have not been dishonorably discharged are eligible for free substance abuse treatment through the Veterans Alcohol and Drug Dependence Rehabilitation Program.4 In addition to the financial incentive, many veterans benefit from seeking treatment through programs created specifically for their needs and provided by professionals who are uniquely qualified to help them.  
However, there are a variety of reasons why some veterans don't feel comfortable using these benefits. The need for anonymity and a "fresh start" are often cited, as are the VA's long wait times and concerns over the quality of care. 
For veterans who don't feel comfortable seeking treatment through the VA, there are many other non-profit and private facilities to choose from. Learn more about how AAC works with the VA to bring treatment to veterans through the VA Community Care Network. Additionally, explore how VA benefits can help make rehab more affordable.
Reviews for Veteran Rehab at American Addiction Centers