Challenges of Transitioning from Active Duty to Civilian Life
Service members face many challenges as they transition from active duty to civilian life. Some of the challenges may include mental illness and substance abuse. Treatment for service members and veterans is available through veteran helplines and treatment facilities like American Addiction Centers (AAC). Call us today at to discuss your options.
Transition Challenges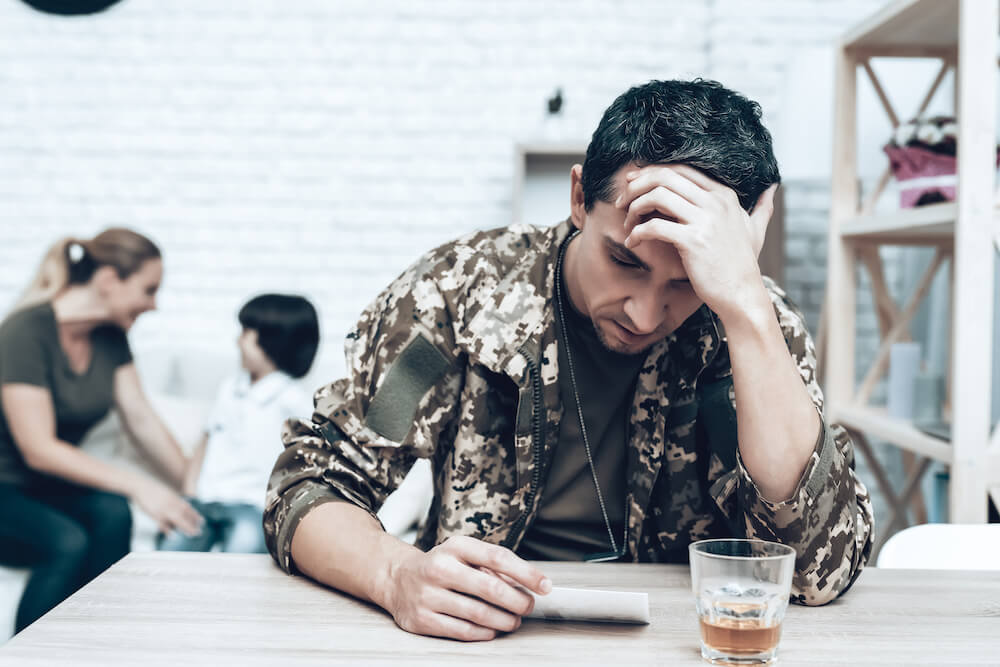 Service members transitioning from active duty to civilian life can have challenges that affect many areas of their lives. For example, while veterans are often excited and thankful to be returning home to their loved ones, they may find it difficult to relate and connect to others who have not experienced life in the military.1 Furthermore, veterans may find that their family have created new routines and traditions during their time away, which can take time to process and adjust to.1
Career changes can be difficult for veterans as well. Service members might have a hard time determining how the skills and job duties they carried out in the military translate to jobs in civilian life.1
Lastly, adjusting to everyday life and activities that most people do not think twice about can be challenging for service members as well. Service members experience rigid schedules within the military, they can struggle with creating personal routines and schedule.1 Furthermore, they may feel overwhelmed with the number of choices they have in civilian. 1
Mental Health and Transitional Stress
Transitional stress is the heightened amount of stress that service members experience when they transition from active duty to civilian life.2 Symptoms of transitional stress may include fear and worry about:2
Adjusting to a new routine and lifestyle.
Connecting with family and friends.
Finding employment upon return.
Transitional stress occurs in the initial period when the service member returns home, whereas mental health disorders such as post-traumatic stress disorder (PTSD), depression, and anxiety persist after the initial transitional period, and may include more severe symptoms.2 However, the symptoms of transitional stress and these mental health disorders can overlap and be difficult to separate, therefore transitional stress is often misdiagnosed.2
Between 4.7% and 19.9% of veterans experience PTSD, while 44% to 72% experience high levels of stress when returning home from active duty.2 However, these numbers may be inaccurate due to overlapping symptoms and misdiagnoses.2 Experiencing the symptoms of transitional stress, PTSD, other mental health disorders such as depression, as well as pain and physical injuries, contribute to service members' high risk of tobacco use, alcohol abuse, and other substance use, and this risk can extend well beyond active duty.3
Transitioning and Substance Abuse
Service members transition from active duty to civilian life are at high risk of substance abuse.3 Veterans may turn to alcohol and drug use as unhealthy ways of coping with trauma, anxiety, depression, physical pain, injury, and other lasting effects from combat.3
It is important to get help as soon as these unhealthy coping skills are recognized so that these patterns can be stopped and are less likely to worsen or persist. This is a serious concern within the military population, as research has found that 46% of veterans report alcohol or substance abuse during active duty and 42% reported alcohol or drug use after transitioning to civilian life.3
Furthermore, the more stress a service member experiences while they transition from active duty to civilian life, the more likely they are to use alcohol or other substances.3 It is essential that veterans get the support they need, especially as they return home.
Assistance, Resources, and Support for Veterans
A wide variety of services and programs are available to support veterans. These can be accessed directly at Department of Veteran Affairs (VA) facilities and MISSION Act community care providers.4 Transitional assistance programs are especially helpful for those service members who are in the process of returning to civilian life.5
The MISSION Act and community care gives veterans more options and a great range of health care providers to see. The program provides veterans the to receive healthcare from community providers in specific situations. For example, veterans diagnosed with a substance abuse disorder (SUD) or mental illness can seek treatment from specialist in their area though community care providers like (AAC). AAC offers the Salute to Recovery program that is tailored for veterans that have substance use and co-occurring mental health issues.

Reviews for Salute to Recovery Program
Learn More About:
What are Transitional Assistance Programs?
Transitional assistance programs (TAPs) provide resources and education to help service members and their families be more prepared for their transition back to civilian life.5 TAPs being within the last year a service member is in service before transitions back to civilian life.5
The first step in the process is individualized counseling and pre-separation counseling.5 During this part of the process, service members learn about the benefits and resources that are available to them.
Family members are welcome to attend these sessions with the service member for support.5 After the initial counseling services take place, service members attend intensive courses and training on a variety of topics including concerns related to reconnecting with family, financial concerns, transitioning into a new school or education, and further information on benefits and services they are eligible to take part in.5 While TAPs are offered to all service members, variations exist between military branches.5
Substance Use and Mental Health Resources for Veterans
The VA offers many services and programs that veterans with substance use and mental health disorders can use as needed.6 Some of these services and programs include: 6
Individual therapy.
Family therapy.
Outpatient treatment.
Inpatient residential treatment.
Support groups.
Relapse prevention.
Prescribed medications.
These services may be found directly at VA facilities, but can also be provided by approved community care providers.4
While the VA offers many essential programs and services to veterans, another key aspect is support from family and friends.
Family Support
Support from family is vital as service members transition from active duty to civilian life. Family members are welcome to accompany veterans to TAPs to assist with learning about transitioning back to civilian life, and how they can be supportive of the service member.5 In addition, some family members might engage in marriage or family counseling if it is part of a service member's substance use or mental illness treatment.6
While returning home from active duty brings about many challenges and concerns, there is hope. Many programs for service members provide the much-needed resources and support veterans need to get through this difficult transition and help to ensure that they can move forward with their lives in healthy ways.
Sources