Residential Alcohol Rehab: Program Benefits & What to Look For
Treatment for a substance use disorder such as alcohol use disorder can help you create a fulfilling future in recovery. There are many different types of treatment interventions involved in the treatment and rehabilitation process. Addiction treatment usually starts with the most intensive interventions (levels of care) in the beginning of the rehabilitation process. For many people, that first step involves residential rehab.
American Addiction offers integrative residential rehabilitation at each of our addiction treatment centers across the country. Learn more about your treatment options at AAC by calling .
What is Residential Alcohol Rehab?
Residential alcohol rehab is an inpatient treatment program that is appropriate for people who are struggling with severe substance use disorders, mental health disorders or both.1) Residential alcohol rehab is important to maintain long-term sobriety and provides you with continuing care options upon discharge to promote long-lasting recovery.
Residential rehab:1
Offers care 24 hours a day, 7 days a week.
Provides structured and scheduled therapy sessions and activities in a supervised therapeutic environment.
Provides safe and secure housing.
Offers medical care.
Implements therapeutic interventions aimed at helping you live an alcohol- and drug-free life.
Can help you identify additional services such as case management, therapy, housing, and assistance with legal issues upon discharge.
The ultimate goal of residential alcohol rehab is to help you learn strategies to live a life without alcohol and other drugs and create a lifestyle that is free from crime.1 Residential rehab, due to its structured nature, can help you focus on your recovery in a safe, controlled environment without the distractions and triggers of your everyday life.
Residential rehab provides the 24-hour, seven-day focus that can help people detox safely under medical supervision, learn to manage their addiction without distraction or temptation, and build a toolbox to support their new skills once they leave rehab. For a residential rehab to be able to provide this level of treatment, there are certain elements that should be included in the program. These are the elements to look for when selecting a residential alcohol rehab.
How Long Are Residential Alcohol Treatment Programs?
Residential treatment, as previously outlined, can last anywhere from several weeks to a year. Your length of residential alcohol treatment can vary depending on many factors, such as your insurance coverage and the severity of your condition. It is important to note that regardless of the length of your stay in a residential facility, it can have a significantly positive impact on your overall health and wellbeing.
Your duration in residential treatment is going to be based on your needs, substance abuse history, and treatment plan goals. You and your addiction specialist/clinician will work together to create an effective treatment plan that includes a recommended length of stay in residential treatment. It is important to adhere to your clinician's recommendations as they are trained and educated on the specifics of addiction and how to reduce your risk of relapse.
Take Our "Am I an Alcoholic?" Self-Assessment
Take our free, 5-minute "Am I an Alcoholic?" self-assessment below if you think you or someone you love might be struggling with an alcohol use disorder (AUD). The evaluation consists of 11 yes or no questions that are intended to be used as an informational tool to assess the severity and probability of an AUD. The test is free, confidential, and no personal information is needed to receive the result.
How Much Do Residential Alcohol Programs Cost?
The cost of residential alcohol programs vary and are determined by a number of factors. Factors that can influence the cost of treatment include your insurance coverage, services rendered, and length of stay. Your insurance coverage can help offset the cost of treatment, whether you have private insurance or Medicaid/Medicare. Call the number on the back of your insurance card to obtain more information on your residential treatment coverage and to identify treatment facilities that accept your insurance. If you have a residential treatment facility in mind, they may be able to work with you and your insurance provider.
To check your insurance coverage and behavioral health benefits, fill out the form below.
How Effective is Residential Treatment?
Research shows a direct connection between length of stay in residential treatment and successful treatment outcomes. Three national studies assessed the effectiveness of residential treatment among women; specifically, if length of stay in residential treatment impacted recovery outcomes after treatment ended. The 3 studies showed high treatment success rates among the women who stayed in residential treatment for 6 months or more; suggesting that length of stay among women in residential treatment is a major factor in treatment effectiveness.3
Treatment for alcohol and other substances is a process that needs to be continually monitored and evaluated; treatment doesn't have an end point. Research shows that most individuals who enter and stay in treatment stop using alcohol and other drugs, improve their social, occupational, and mental functioning, and stop criminal activity.4 Residential treatment can be an integral part of a successful recovery by providing a safe space for you to focus on yourself and your recovery needs without the distractions and demands of everyday life.
What is the Difference Between Inpatient and Residential Treatment?
Inpatient and residential rehab are often used interchangeably. That is because both types of treatment involve highly structured and intensive treatment in a controlled environment. However, differences between the two include length of time, focus, and intensity of services. Residential treatment requires living day-to-day life in a designated community facility; in residential treatment the focus is on learning how to live a life free from substances and addressing underlying contributors to addiction.2
Inpatient treatment refers to a medically managed level of care including the services of doctors and nurses to treat severe medical and psychological problems that arise; counseling is available but the goal is medical stabilization and assessment for substance abuse treatment.5
Post-Treatment Preparation and Support
A residential rehab center that provides medical and behavioral therapies and then gives no further support after the program is complete may, in effect, be undoing all the work done during treatment. Without tools and support post treatment, the individual may lose motivation and relapse faster than someone who has resources to stay invested in the treatment results after returning home.
A study in Alcohol and Alcoholism demonstrates that something as simple as a brief motivational interview – a call to the individual to check in, and provide support and guidance – can lead to longer recovery periods and fewer incidents of relapse.
Another form of post-treatment support is training in strategies, skills, and resources that the person can use and refer to after treatment. This includes encouragement to join a 12-Step or similar support group.
Find Residential Rehab for Alcohol Near You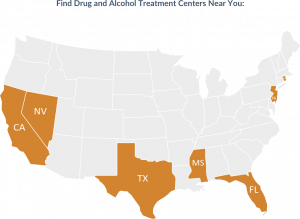 Sources