Anxiety and Addiction: How to Stay Sober When Your Head Is Full of Worry
If you struggle with anxiety, you're not alone. It's one of the most common mental illness in the U.S., affecting more than 40 million adults. Unfortunately, only about 37 percent of those suffering from anxiety receive professional treatment, and as a result, many people—including myself—turn to alcohol or drugs to self-medicate. While substances may temporality relieve the crippling discomfort of anxiety, they actually aggravate the condition in the long run. This is one of the main reasons why anxiety and addiction so often go and in hand.
But it is possible to manage your anxiety and stay sober at the same time. Here are some tips for coping with the discomfort.
1: Exercise Regularly
Research shows that regular exercise eases anxiety symptoms for multiple reasons. To begin with, rigorous activities like running and spinning can help divert your attention away from problems that may be causing you to have anxious thoughts. It's also been proven that getting your heart rate up boosts the production of important anti-anxiety neurochemicals in the brain, including serotonin, gamma aminobutyric acid (GABA), and brain-derived neurotrophic factor (BDNF). Finally, exercise has been found to activate regions of the brain that help control an overactive amygdala, which is believed to cause exaggerated anxiety.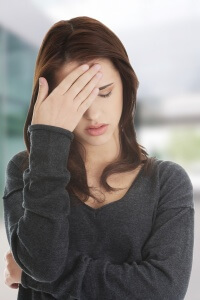 2: Practice Deep Breathing Exercises
Do you ever notice that you take shallow, rapid breaths when you're anxious? This type of breathing, called thoracic or chest breathing, creates an imbalance in the levels of oxygen and carbon dioxide that are in your body. You may experience uncomfortable physical sensations as a result, including dizziness, increased heart rate, and muscle tension.
The antidote to thoracic breathing is called diaphragmatic breathing, and practicing this technique can help ease physical anxiety symptoms both in the short and long term. To try it, put one hand on your chest and the other on your lower abdomen. Take a large breath and push your abdomen out as much as possible while pulling air into your lungs. Once you have no more air to inhale, begin to exhale slowly, expelling all of the air out of your body while your abdomen retracts.
3: See a Professional
Recovery is hard enough on its own. If you also have co-occurring disorder like anxiety, it can feel almost impossible to resist the short-term relief alcohol and other substances can provide. But the struggle doesn't have to be this difficult, as there are many non-addictive medications that can help ease the severity of common anxiety symptoms. Just make sure you see a doctor or psychiatrist with experience in the field of addiction—and be completely honest with them about your use.