How Does Cognitive-Behavioral Therapy Help with Addiction?
If you are dealing with addiction, detox and therapy are the foundations of recovery. Detox helps you begin to heal by ridding your body of the substance you were taking. After, therapy works to root out the core cause of addiction and build healthy coping mechanism. Cognitive-behavioral therapy (CBT) is a therapy used regularly in the treatment of substance abuse. But why is CBT a mainstay of addiction treatment? And what part will it play in your addiction recovery?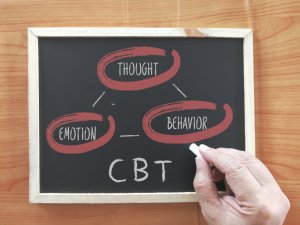 What is Cognitive-Behavioral Therapy?
Cognitive-behavioral therapy is based on the premise that your actions stem from how you think and feel. It follows that wrong choices can often be traced to wrong thinking. In other words, the mind, emotions, and behavior are closely interrelated, and negative behaviors originate from negative thought patterns. These negative thought patterns affect the emotions and, in turn, lead to wrong behaviors.
Negative thought patterns can begin in childhood or adolescence and are mostly inaccuracies about yourself, others, or the world. However, as time goes on, situations may reinforce these false beliefs and negative thinking. For example, you may experience rejection as a child. As you become a teen, there may be a situation at school that involves being teased or snubbed. This is another rejection.
Over time, you may begin to "see" rejection even when it's not there. Consequently, your internal voice can begin to create negative narratives and negative patterns such as thinking that you're not loved, that you don't fit in, you'll never have friends, and so on. The constant negativity drags your emotions down and can lead to unhealthy behavior.
Cognitive-behavioral therapy works to undo these negative thought patterns and correct the false belief system that pervades the thinking.
Negative Thinking and Addiction
Many of the negative thought patterns you may have are subconscious. People are not normally aware of the constant stream of thoughts flooding the mind. During CBT and addiction counseling, the therapist will first identify what false beliefs or negative thinking you're having, and then help you counteract these thoughts by replacing them with positive, true statements. The therapist helps you reassess your viewpoint and create new thought patterns.
It will require delving into past traumas and experiences you may have experienced, but this enables you to look at things from a fresh, adult perspective. Sometimes people are not even aware how of much their thinking is affecting their emotions and behavior.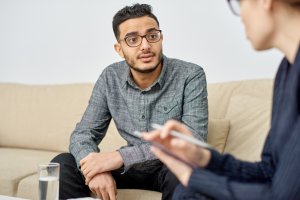 CBT and Addiction Treatment
CBT and addiction treatment work together to bring about healing. As you uncover the core negative thinking patterns that shape your actions and learn to change these thoughts, you can also change the resulting behavior. Treatment focuses on counseling sessions with you and a certified therapist where you explore your history to find out what has influenced your thinking. The therapist will be listening for negative thoughts you may express, and will challenge those ideas, helping you replace them with accurate ones.
Seeking CBT Treatment
At American Addiction Centers, you can find qualified therapists experienced in using cognitive-behavioral treatment who can help you move forward on the pathway of discovery and healing. Get in touch with our 24/7 hotline by calling (866) 853-7935.