What Does the Life of A Heroin Addict Look Like?
For a person with a heroin addiction, life revolves around use of the drug. A person like this might become secretive, concerned about money, and willing to skip work and family obligations in order to get drugs. Physical signs include track marks, frequent sedation, clouded thinking, and flu-like symptoms between drug doses.
Table of Contents
---
There is a high addiction potential associated with heroin. For this reason, it can be a very slippery slope between use, abuse, and addiction. At the outset, however, it is important to understand the important distinction between physical dependence and addiction to heroin. After a sufficient period of regular use, a person will become physically dependent on heroin. Physical dependence on heroin develops when, over time, a person requires a greater amount of this opiate to experience the desired pleasurable effects.
---
Withdrawal is an additional hallmark of physical dependence. When a person ceases to use heroin or significantly reduces the familiar amount, uncomfortable symptoms can set in.
---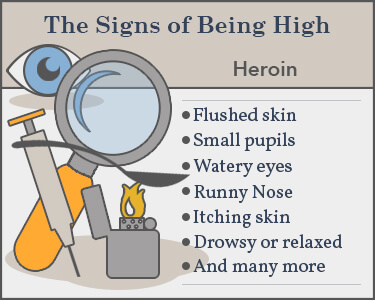 The withdrawal symptoms associated with heroin can be so painful that some users will want to quit heroin but then continue to use it just to avoid those symptoms. There is no absolute timeline to follow as the onset of physical dependence depends on numerous factors, including the person's physiology and the amount of heroin consumed over time. A person who becomes dependent on heroin is
6-20 times more likely to die
compared to a person in the general population.
Physical and Psychological Signs of Heroin Addiction
The physical and psychological signs of heroin addiction are synonymous with its side effects. There are different types of side effects related to heroin use, including common side effects, severe (atypical) side effects, and overdose symptoms.
When heroin use becomes a priority, a person's entire universe shifts to revolve around this drug. For this reason, there are bound to be observable changes in the person's life. Often, despite the many problems heroin use causes, a person who is in the grip of addiction will continue to prioritize the drug over important obligations and relationships.The following are some typical behavioral signs related to heroin abuse that can alert concerned individuals that there is a need for treatment:
Presence of drug paraphernalia
Changes in behavior
Use of street slang related to heroin
Missing valuables or money
"Track marks"on the body
Legal troubles
Lying and secretiveness
Chipping (intermittent heroin use)
There are numerous ways that people who abuse heroin will change their behavior. Mood changes include erratic and/or aggressive behavior, depression, and withdrawal from friends and social events. New friends may emerge—ones who may show the physical signs of heroin abuse (including track marks) as well as a tendency to use street slang associated with heroin use.
There are numerous nicknames for heroin, including junk, smack, dope, H, black tar, and white. The use of heroin is sometimes referred to as skin-popping (injecting), chasing the dragon (trying to get a heroin high), and speed-balling (using a combination of heroin and cocaine). Heroin users tend to interact with other heroin users or illicit drug users.
The cost of heroin abuse tends to rise as the ability to pay for this drug tends to decrease (as, for example, the heroin user is unable to work). As a result, individuals who are addicted to heroin may turn to stealing from others, drug dealing, or other activities that expose them to legal troubles. Individuals who are around those who abuse heroin may notice items of value go missing. The person abusing heroin may apologize or deny the theft or other illegal activities as a way of protecting the heroin use. Although theft is a legal matter, family member and friends who are victims of heroin-involved theft often will not contact authorities. During an intervention, a family member or friend could use the theft as an example of why rehab is necessary.
At the outset, it is important to know what heroin looks like. Heroin, in pure form, is a fine white powder. When heroin gets to the level of street sales, it is usually black, rose gray, or brown (due to chemicals that have been added).There are different ways to use heroin, including by injection, smoking, or sniffing. The type of paraphernalia associated with heroin depends on the way it is used. Paraphernalia can include the containers used to carry the heroin as well as the implements involved in its use. Examples of heroin paraphernalia include baggies, balloons, glass or metal pipes, aluminum foil, and/or syringes.
The Path to Recovery
---
The physical and behavioral signs of heroin addiction can motivate concerned individuals to stage an intervention or find another effective way to lead the addicted person to a rehab program.
In some cases, legal troubles can lead to rehab as an alternative to a prison sentence or as a condition of probation post-incarceration. Regardless of the path to rehab, there is an exceptional need for recovery services when heroin abuse is concerned.