Heroin, Cocaine, & Meth Addiction Treatment & Insurance Coverage
Typically, yes. Insurance plans generally cover the cost of addiction treatment programs for heroin, cocaine, and meth addiction.
How to Check Heroin, Cocaine, and Meth Addiction Treatment Coverage
American Addition Centers maintains a strong partnership with a large group of insurance companies at our addiction treatment facilities. Call Our admissions navigators are on the line and ready to help you create a treatment plan and verify your insurance coverage over the phone. Or you can fill out our online insurance verification form below.
More and more insurance companies are jumping in line to offer substance abuse treatment coverage to 22.7 million who need it.
Depending on the insurance company and individual policies, specific treatment options may be covered or partially covered, or the entire stint in rehab could come at little cost to the individual in need of care. Treatment coverage often varies depending on the type of addiction being treated as well as other variables, such as prior attempts at rehabilitation.

Check to see if your insurance is in-network at an American Addiction Centers location
We'll instantly check the coverage offered by your insurance provider.
You may receive treatment at one of our facilities at a reduced rate.
Rehabs That May Accept This Insurance
American Addiction Centers (AAC) owns and operates facilities at various locations nationwide to provide you or your loved one addiction and mental health care.
---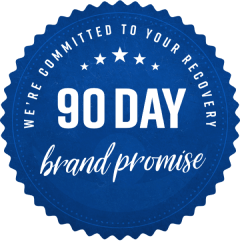 We're committed to your recovery
When you invest and successfully complete 90 consecutive days at an American Addiction Centers facility, we believe that you have created the most solid foundation for your long-term goals of sobriety.
In the event that you experience a relapse, you are welcome back for a complimentary 30 days of our treatment*
Learn about our brand promise
*Terms and conditions may apply, and results may vary.
---
---