Empire Blue Cross Blue Shield Drug & Alcohol Rehab Coverage
Empire Blue Cross Blue Shield (BCBS) is a health insurance provider in the United States. Empire BCBS members have access to a large network of healthcare providers throughout the state of New York, including substance abuse treatment and mental health treatment.
If you are seeking addiction treatment for yourself or a loved one and Empire Blue Cross Blue Shield (BCBS) is your insurance provider, at least some of your treatment will be covered by your insurance plan.
American Addiction Centers (AAC) is in-network with Empire Blue Cross Blue Shield, and we're here to help. Call You can speak to one of our admissions navigators about whether your insurance may cover treatment.
Does Empire Blue Cross Blue Shield Cover Rehab?
Empire Blue Cross Blue Shield does provide some coverage for drug and alcohol treatment, including rehabilitation for substance abuse issues. The amount that your insurance will cover for rehab, however, depends on your specific Empire BCBS plan and various other factors. In fact, the cost of addiction treatment varies widely and will depend on your specific plan, your provider, your medical and psychological needs, and more.
In addition to providing coverage for addiction treatment, Empire BCBS offers a care management program for substance use disorder (SUD).1 The program is aimed to help members with addiction better understand and manage their SUD. Empire Blue Cross Blue Shield will provide support and help you create a care plan that fits your needs and lifestyle.
Verify Empire BCBS Insurance Coverage
If you have Blue Cross Blue Shield Insurance Coverage, you can easily verify your benefits with our admissions navigators below. Simply fill out the form, and an admissions navigator will contact you shortly with a comprehensive breakdown of your plan, your coverage, and your treatment options.
What is Empire Blue Cross Blue Shield Insurance?
Empire BCBS is the largest health insurance provider in New York State, serving over 4 million members in 28 counties in the eastern and southeastern parts of the state.2,3, In October 2015, HealthPlus Amerigroup and Empire BlueCross BlueShield merged and became Empire BlueCross BlueShield HealthPlus. The merger created a more streamlined experience for members, regulators, and healthcare providers offering care to New York state residents.4
The Blue Cross Blue Shield Association is a federation of 35 independent and locally run health insurance companies that provide coverage to millions of Americans across the country.5 Empire Blue Cross Blue Shield is an independent licensee of the Blue Cross and Blue Shield Association that serves members in New York State.5
Plans & Coverage Levels
Empire BCBS offers a variety of different plans for its members. The company offers individual and family plans, Medicare plans, Medicaid plans, and small business plans for employers.6 For individuals and families, health insurance plans are offered in four categories:7
Bronze: Bronze plans offer the lowest monthly premiums but have a high deductible. Bronze plans are best for those who do not see the doctor often but want protection and coverage for medical emergencies. Plans cover approximately 60% of your healthcare costs.
Silver: Silver plans offer an average monthly premium and lower deductibles than bronze plans. Silver plans cover 70% of your healthcare costs.
Gold: Gold plans have higher monthly premiums and a lower deductible. These are excellent plans for those who require a lot of healthcare, as almost all of your routine care will be covered by your plan. Gold plans cover 80% of your healthcare costs.
Platinum: Platinum plans have the highest monthly premiums but the lowest deductible. These are good plans for those who require routine medical care. Platinum plans cover 90% of your healthcare costs.
Is Substance Abuse Treatment Covered by Insurance?
Under the Affordable Care Act (ACA), insurance providers—including Empire Blue Cross Blue Shield—are required to provide coverage for mental health care and treatment. This includes treatments for substance use disorder and co-occurring mental health disorders, as this is an essential service that must be accessible to all who need it.8
What Addiction Treatment Does Empire BCBS Cover?
If you have Empire Blue Cross Blue Shield, there are a range of drug and alcohol rehab programs that may be covered depending on your plan:
Is Mental Health Treatment Covered?
Thanks to the ACA, mental health treatment must be covered by insurance providers.8 The extent to which mental health treatment is covered depends on the particular plan you have. If you are an Empire BCBS member and need to access mental health care, you can take comfort in the knowledge that the company is fully committed to caring for members with mental health conditions. The National Alliance Health Purchaser Group named Empire's behavioral health value-based payment program an industry leader among healthcare plans. This includes their coverage and support for substance use disorder (SUD), behavioral health outpatient care, and medical/behavioral health integration.9
Not Sure if You Need Rehab?
Take our free, 5-minute substance abuse self-assessment below if you think you or someone you love might be struggling with substance abuse. The evaluation consists of 11 yes or no questions that are intended to be used as an informational tool to assess the severity and probability of a substance use disorder. The test is free, confidential, and no personal information is needed to receive the result.
Find Rehab Near You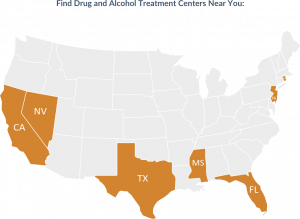 You Might Also Be Interested In
Sources
Last Updated on December 21, 2021
Start your recovery today.
American Addiction Centers can help you get the care you deserve.