Addiction & Violence: How Drugs & Alcohol Can Fuel Violent Behaviors
What you will learn:
Violence and domestic abuse that can be caused by addiction.
How to separate yourself from an abusive home.
Statistics on violent crimes, driving while intoxicated, and drug-induced violence on college campuses.
Drug and alcohol abuse have complicated effects on the human mind and human behavior; as far back as 1995, the Journal of Health Care for the Poor and Underserved described the relationship between substance abuse and violence as a case of "cause and consequence." The connection between drug addiction, alcoholism, and violence crosses many thresholds (individual psychology, public health, and domestic violence, to name a few), and is vitally important in understanding the scope of how controlled substances can affect people.
American Addiction Centers offers free and confidential guidance to those suffering from addiction. If you or someone you love is struggling with an addiction to drugs or alcohol, call our addiction hotline today at .
The cost of treatment should not be a barrier to treatment. Insurance can frequently cover all or at least part of the cost of treatment. Find out if your insurance provider is in-network today.
Drugs and Violent Behavior
The correlation between substance abuse and violent behavior has been well documented. For example, the Journal of Substance Abuse Treatment noted that more than 75 percent of people who begin treatment for drug addiction report having performed various acts of violence, including (but not limited to) mugging, physical assault, and using a weapon to attack another person.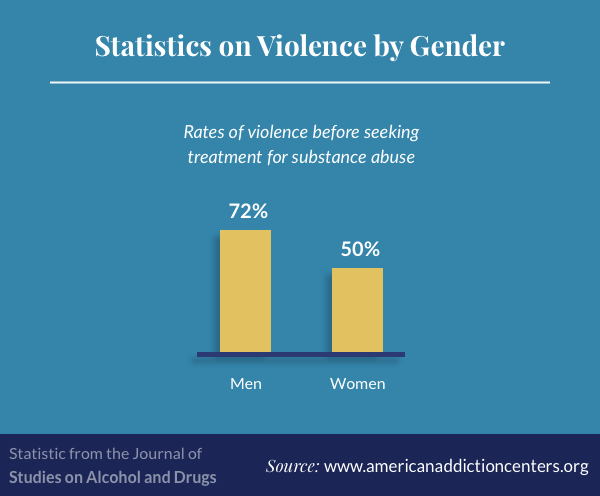 Examining gender differences, the Journal of Studies on Alcohol and Drugs found that before seeking treatment for substance abuse, the rate of violent acts was as high as 72 percent among men and 50 percent among women. People enrolling in treatment were referred by family members because of violent behavior carried out while under the influence. Furthermore, researchers found that aggression between two people in a romantic or sexual relationship was "associated with heavy drinking episodes and cocaine use."
Why is there a link between alcohol abuse and violence? In 2010, Live Science reported the results of a Scandinavian study that found the risk for violent behavior increases with intoxication, but only among individuals who are prone to suppressing their feelings of anger while they are sober. Testing people who reported that they were prone to burying their angry feelings, researchers observed a 5 percent increase in violent behavior that followed a 10 percent increase in drinking to the point of getting drunk. People who didn't work their anger out were more likely to get drunk, and that state of drunkenness was connected to a rise in the chance of engaging in violent behavior. People who did not suppress their angry feelings did not show a similar association.
The researchers noted that "only a tiny fraction of all drinking events involve violence," but the likelihood of being violent while drinking appeared to be based on how well people who drink can deal with their anger while they're sober. Since drinking alcohol can lower inhibitions, compel risky behavior, and rob people of their self-control, an individual with unreleased rage can act out when sufficiently intoxicated.
AAC is in-network with many insurance companies. Your addiction treatment can be covered depending on your policy.
Drug Addiction and Suicide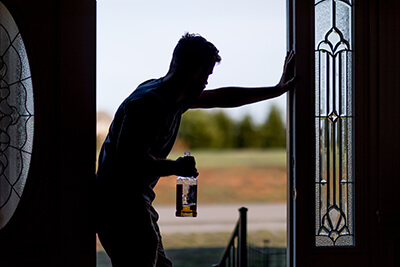 The compulsion toward risky behavior accounts for the connection between alcohol abuse and the risk of suicide, which also overlaps with the propensity for violence. Alcoholism, Clinical and Experimental Research noted a perception among people who seek treatment for substance abuse problems that the inability to control their violent behavior was connected with an increased chance of a past suicide attempt. Researchers writing in that journal theorized that people who struggle to control their anger are more likely to act on impulse and may thus be more violent to themselves than to others.
To that point, the World Health Organization defines suicide as a form of "self-directed violence," and studies on the topic of how substance abuse influences violence have found a strong connection between addiction and "self-directed violence." The European Archives of Psychiatry and Clinical Neuroscience journal wrote of how people with histories of alcoholism and past aggressive behavior "are more likely to report suicidal thoughts or past suicide attempts." People who had attempted to commit suicide tended to report higher instances of depressive disorders, which they may have tried to cope with by abusing alcohol or drugs as a form of self-medication, thereby deepening the spiral.
In 2010, scientists writing in the Addictive Behaviors journal noted that people who had a psychological dependence on alcohol, and also had a history of suicide attempts, showed "higher impulsive and aggressive behavior." In a study of over 6,000 people enrolled in treatment for their addiction, participants who had committed acts of serious violence (such as rape, murder, or assault that resulted in serious injury) were more than 50 percent more likely to report multiple suicide attempts. The statistic was unaffected even when demographics, mental health, and past instances of victimization were taken into account.
Drug and Alcohol Dependence simply noted the "large empirical literature" that connects alcohol abuse to suicide, while also mentioning that other research has determined a link exists between opioid abuse, intravenous drug abuse, and self-directed violence.
Suicide Attempts
According to the Archives of General Psychiatry, people who have a diagnosis of abuse of or dependence on drugs, alcohol, or both are six times more likely to have attempted suicide when compared to those who have no such diagnosis.
Domestic Violence and Substance Abuse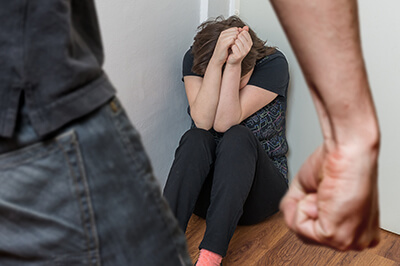 Of all the forms of violence influenced by drug addiction or alcoholism, violence toward a domestic partner may be one of the most concerning and serious. The U.S. Department of Justice explains that the abuse in a domestic arrangement is not limited to physical acts, such as hitting, punching, slapping or pulling hair; "domestic violence," as a legal term, can also cover sexual abuse (rape, marital rape, treating a partner in a sexually abusive and demeaning way, and molestation), emotional abuse (intentional and malicious attacks on a partner's self-worth), and psychological abuse (controlling the partner, blackmail, threatening harm to children, violence toward pets, and intimidation).
As explained by the American Society of Addiction Medicine, violence against an intimate partner can also include stalking, social isolation (not letting an intimate partner leave the house, for example), and depriving resources and necessities. Various studies have identified substance abuse as a factor in 40-60 percent of incidents of domestic violence, either in precipitating the abuse or exacerbating it.
Some research has indicated that spousal abuse could be a predictor of the development of a drug addiction. Further to that point, women in abusive relationships often report that their abusive partner coerced them into engaging in alcohol and drug consumption. The American Journal of Public Health noted that substance abuse tends to be more prevalent among women who suffer domestic abuse, even among pregnant women who were victims of violence. Such is the extent of the influence of drugs and alcohol on violence that on days when abuse occurs, physical violence was 11 times more likely to take place.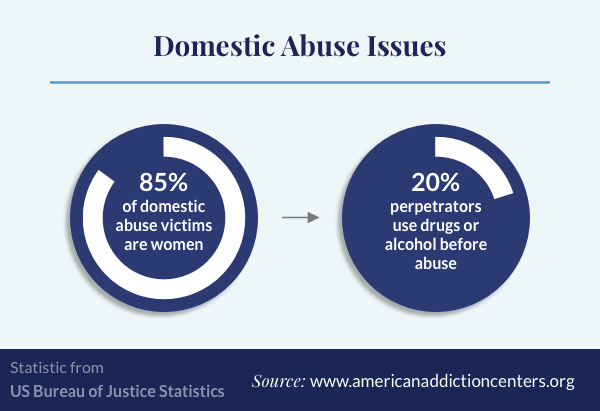 More than 20 percent of male perpetrators of intimate partner abuse use alcohol or drugs immediately before the most recent and severe incidents of violence. Many studies have found a strong connection between excessive alcohol use and the action of partner violence, although there is not yet a consensus on the cause and effect – whether the drinking causes such men to be violent or whether the alcohol abuse is used as a way to excuse (or justify) the violence.
Unsurprisingly, the victims of intimate partner violence tend to be mostly female – 85 percent, according to the United States Bureau of Justice Statistics. Compared to men, women have a 5-8 times higher chance of being abused by an intimate partner. Most of the partner abuse takes place in the home.
Violence fueled by drug and alcohol consumption also takes place in same-sex relationships. Lesbian, gay, bisexual, and transgendered individuals have higher rates of substance abuse than the general population, often due to the prejudice that many of them face in their lives, and this may manifest in violence carried out within their domestic unions.
Among Native American communities (where rates of substance abuse are "worse than we thought," according to the National Institute of Drug Abuse), almost 50 percent of women experience intimate partner violence in their lifetimes. This is the highest rate of domestic violence among US population groups.
Unhealthy Coping Mechanisms
Substance Abuse and Intimate Partner Violence
Effects on Children
Growing up in an Abusive Home
Running away from Violence
Socioeconomic Factors
Drug Addiction and Violent Crime
Driving while Impaired
Drug-Induced Violence on College Campuses