How to Find the Best Drug Rehab Centers
The best rehab program for one person might not be the same for another. That's why it is important to find the best option for you.
What you will learn:
What to look for in a rehab program
Questions to ask when you are ready to find treatment
What kind of rehab program should I be looking for?
Despite the widespread availability of such treatment across the country, SAMHSA reports just 2.5 million of those
people sought help.
When seeking a drug rehab program that can treat the full scope of all potential problems, look for:
Those that treat mental health disorders
Rehab programs specifically tailored to
treat the substances being abused
Programs that do not rely on risky forms of withdrawal, like rapid detox
Facilities that go beyond detox and treat the emotional, lifestyle, and psychological factors that contribute to addiction
AAC is in-network with many insurance companies and your addiction treatment could be free depending on your policy and co-pay.
Mental Illness
The best rehab program begin with a thorough intake interview that screens clients for all traces of substance abuse,
as well as mental health issues. According to the
Helpguide, 53 percent of people who abuse drugs and 37 percent who abuse alcohol are also suffering from mental
health disorders. It is imperative that individuals and treatment professionals are aware of co-occurring disorders
so that all issues can be treated simultaneously. Despite its prevalence, many facilities in the nation still don't
offer rehabilitation services for mental illness. Nationwide, just 5,312 facilities treat both conditions, per
SAMHSA.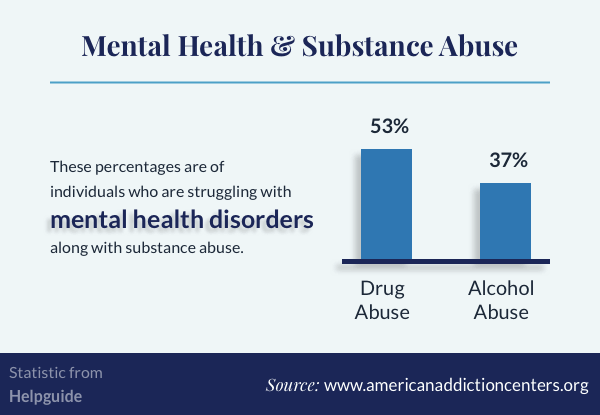 Treating mental illness on top of substance abuse requires the facility to have quality therapists on staff, as well
as licensed physicians who can prescribe medication. Individuals who suffer from mental illnesses like schizophrenia
and bipolar disorder often require medications in addition to other forms of therapy. While many facilities claim to
treat mental illness, they cannot do so effectively if they can't prescribe these sometimes necessary medications. As
a result, it is important to verify what kinds of doctors are on staff at the treatment center.

Specific Substances
Ensure that the treatment facility has experience treating the specific type of addiction in question. Specific experience ensures the treatment team is familiar with the issues that come up in detox from this particular substance, as well as related issues to address in therapy.
In addition, many people who abuse drugs are abusing more than one substance. Alcohol is a common factor in cases of poly-drug abuse. In 2012, SAMHSA noted that 18 percent of all people over the age of 11 who were admitted for treatment cited alcohol as their primary substance of abuse in addition to secondary drugs.
The detox process varies among different substances of abuse. A client battling alcoholism needs a different treatment plan than one who is struggling with prescription painkiller abuse.
What to Avoid
Avoid rehab programs that promise a cure or quick-fix for addiction. While addiction can certainly be treated and managed, there is no cure for it.
Be wary of facilities that offer rapid detox treatments. Rapid detox comes with many risks, and it hasn't been found to be more effective than traditional detox.
To fully recover from addiction, the psychological aspect must be treated as well as the physical side. Rapid detox focuses only on the physical aspects of withdrawal, and there is something to be said for allowing a person to experience – not sleep through – the withdrawal process. The fast-paced, in-and-out process of rapid detox doesn't afford clients this option.
In addition, rapid detox is far from safe. The process has been promoted by several facilities — that have vested financial interests in its applicability — as being more effective than traditional treatment modalities. These claims are unfounded though, and the risks clearly outweigh any benefit that can be gained from consciously experiencing withdrawal. Medpage Today reports the New York City Poison Control Center was alerted to three adverse reactions in individuals treated with rapid detox at one facility over a two-month span, and one of the clients died as a result.
Comprehensive Therapy
Many individuals opt for detox only and fail to follow up with other treatments that are necessary to fully rehabilitate anyone struggling with substance dependency.
Addiction occurs as a result of more than just substance abuse. There are psychological factors that influence the development of addiction in almost every person who ends up hooked on drugs or alcohol. Comprehensive therapy ensures underlying issues are addressed so the person is ready to return to life with a strong foundation in recovery.
Questions to Ask
When you decide it's time for treatment, the first step is making contact with several rehab facilities that appeal to you and asking some standard questions, such as:
When can treatment begin?
Why is your facility better than others?
What are the costs involved with the type of treatment needed?
How long do individuals stay in treatment?
Are visitors permitted?
What is the treatment approach at the facility?
Are there therapists and physicians on staff to handle the tandem treatment of co-occurring disorders?
What kind of interventions can be employed to limit cravings and discomfort during withdrawal?
Are medications used during treatment?
What kind of accreditation and licensing does the program maintain?
Does the program practice evidence-based treatment? Is there research to back this up?
What is the staff-to-client ratio?
Does the facility offer medical detox?
Are there any services available to help family members during the treatment process?
What kind of support is available to clients after treatment has been completed?
Is insurance accepted?
Overall, the best drug rehab programs should support clients from intake through aftercare. The goal isn't just to help a client get through withdrawal or to reach a month, or even three months, of sobriety.