How to Find an In-Network Drug Rehab Center
What you will learn:
The difference between in-network and out-of-network insurance
Examples of in-network providers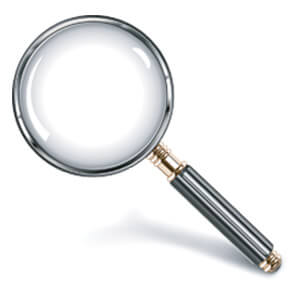 When a provider of medical, mental health, or substance abuse services, such as a drug rehab center, is considered to be "in-network" that means that they have an agreement with an insurance company to offer care for prearranged, and usually lower, rates than other providers.
It is an agreement between a particular rehab center and an insurance company that allows members with specific insurance pans to get discounted rates.
The alternative to in-network coverage is insurance providers or plans that are out-of-network, which can have higher out-of-pocket costs for individuals than using an in-network provider. Out-of-pocket fees refer to the costs individuals will pay for services themselves beyond monthly premiums and what insurance will cover. In-network drug rehab providers generally provide covered individuals with the lowest out-of-pocket costs for services.
Difference between Being In-Network and Out-of-Network
The difference in cost between in-network providers and those who are out-of-network may vary. For example, one insurance provider may cover 100 percent of the services at an in-network drug rehab center, while only covering 75 percent for a facility that is not considered to be in-network. Other times, insurance companies may not provide any coverage for facilities that are not in-network, and individuals may be expected to cover all costs at these drug rehab centers.
The difference in coverage type may depend on an individual's plan as well. For instance, a Preferred Provider Organization (PPO) plan usually does not require a referral from a primary care provider for services; however, for the best rates, individuals need to receive care from an in-network provider, while those with a Health Maintenance Organization (HMO) generally require a referral and must remain in-network in order to receive coverage for care, U.S. News explains.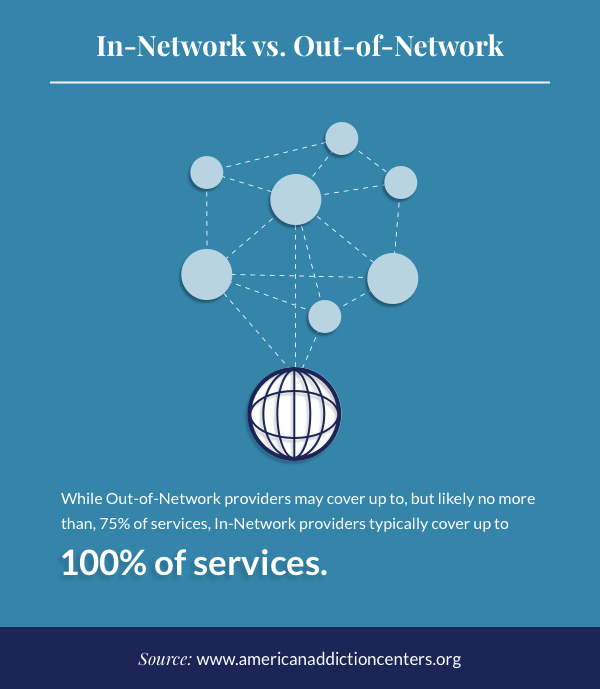 Steps for Determining In-Network Coverage for Rehab
Finding and using insurance to help pay for services can defray rehab costs. Below are some tips on how to find an in-network drug rehab center:
Check your insurance plan, by calling the number on your insurance card or login into your insurance provider's website.
Check with the drug rehab center, at AAC we can verify your insurance to see your insurance is in-network with us.
Determine if there will be copays (small amounts individuals are expected to cover at time of service), and if a deductible is expected to be reached before coverage kicks in. A deductible is the amount an individual must personally pay before the insurance company pays for coverage.
Fill in our online insurance form below to find out if your insurance provider is in-network with our rehab centers.
Find In-Network Rehab Centers Near You
Many of our rehab centers are in-network with a variety of the big name insurance providers. Learn more about our treatment centers below.
Cigna In-Network Drug Rehab
Cigna serves more than 95 million people around the globe. Providing coverage for a range of treatments that help people recover from substance use disorders. Cigna also provides coverage for mental health services such as anxiety and depression.
Cigna is in-network with AAC and depending on your coverage plan Cigna may cover a range of treatments and services for substance use disorders, including inpatient and outpatient rehab programs.
United Healthcare In-Network Drug Rehab
UnitedHealth Group Insurance benefits may cover some form of substance abuse treatment depending on your coverage. UnitedHealth Group is comprised of 2 companies – ­UnitedHealthcare and Optum – and offers healthcare plans in all 50 states and 130 countries.
AAC is in-network with UnitedHealth Group covering alcohol and drug abuse treatments. Most plans with UnitedHealth Group typically cover inpatient treatment such as  detox for alcohol or benzodiazepine dependence.
Blue Cross Blue Shield In-Network Drug Rehab
Blue Cross Blue Shield, also referred as BCBS, is in-network with AAC; your coverage may vary depending on location and coverage plan.
Anthem In-Network Drug Rehab
Anthem provides coverage in 14 states, but it is associated with Blue Cross Blue Shield which allows members of Anthem to access benefits in other states. Anthem does offer coverage for substance abuse and mental health treatments.
More About Our Insurance Providers