Suboxone Treatment Clinics & Rehab Centers Near Me
Finding a Suboxone clinic near you may help you put your substance abuse issues behind you with more ease. Suboxone is an FDA-approved medication used to treat people with opioid use disorders. When you take your prescribed daily dose of Suboxone, it helps minimize any of your opioid withdrawal symptoms and reduce your cravings for opioids during recovery.1
Suboxone is commonly used as part of a medication assisted treatment (MAT) regimen alongside of various behavioral therapeutic interventions. Suboxone treatment outcomes may vary between patients, but finding Suboxone treatment near you and beginning treatment may result in a reduction in your opioid use frequency, less severe cravings, and milder withdrawal symptoms.2
Although Suboxone is not a cure-all medication, it can prove highly beneficial for those suffering from opioid addiction when combined with other forms of therapy, such as behavioral therapy and addiction counseling.
Where Can I Find Suboxone Treatment Centers Near Me?
American Addiction Centers (AAC) is the leading provider of addiction treatment in the United States. Our facilities across the country offer varying levels of addiction treatment, including inpatient rehab and outpatient treatment, for people struggling with an opioid use disorder.
Suboxone Treatment Centers Near Me:
Explore our nationwide treatment facilities.
Laguna Treatment Hospital in Aliso Viejo, California, provides MAT and combines behavioral therapies with medications to treat opioid use disorders and alcohol use disorders.
Recovery First Treatment Center in Hollywood, Florida offers naltrexone and other pharmacotherapies alongside of counseling and behavioral therapy.
AdCare Treatment Centers in Rhode Island not only offers standard alcohol and opioid detox protocols, but they also offer enhanced MAT protocols for individuals struggling with opioid use disorder. MAT protocols may include treatment with naltrexone/Vivitrol, Suboxone maintenance therapy, and methadone maintenance treatment. These MAT protocols can be initiated during inpatient treatment.
Oxford Treatment Center, located in Etta, Mississippi, Oxford Treatment Center utilizes a combination of therapy and medications to treat substance use disorders, in particular, alcohol and opioid use disorders. Oxford offers Vivitrol (extended release naltrexone), which helps to prevent relapses in individuals struggling with these disorders.
Desert Hope Las Vegas Treatment Center in Nevada offers a combination of medication treatment and therapy for people who meet the following MAT program requirements:
Must involve a loved one in their treatment with full open release of information (ROI).
At least a one year history of high-dose opioid use.
Commitment to a lengthier treatment stay (45-90 days of care).
Sunrise House Treatment Center located in Lafayette Township, New Jersey provides MAT treatment for both opioid use disorders and alcohol use disorders. The generic Suboxone equivalent (buprenorphine and naloxone) in film form is one of the options used to treat opioid use disorders. Sunrise does not offer methadone or Sublocade as treatment options.
Greenhouse Treatment Center, located in Grand Prairie, Texas, treats alcohol use disorders and opioid use disorders using therapy and medications through MAT.
What is Suboxone Addiction Treatment?
Suboxone is typically prescribed as part of an MAT regimen for the treatment of opioid dependence. This medication may be used both during detox to manage your withdrawal and as a longer-term maintenance regimen while you're in recovery from an opioid use disorder.
Suboxone is administered as a thin film that you may dissolve either under your tongue or on the inside of your cheek. This medication consists of two primary active ingredients—the opioid agonist buprenorphine and the opioid receptor antagonist naloxone, a combination intended to deter abuse of the treatment drug itself.3
Suboxone is not only effective in decreasing problematic opioid use, but also boasts ancillary benefits in those treated with it, including a decrease in HIV risk behaviors. Though you may be on Suboxone treatment for varying lengths of time, discontinue such treatment medications may prompt you to return to illicit opioid use.3,4
When compared with methadone, another MAT medication, Suboxone may offer some safety advantages. As a full opioid agonist, methadone is associated with a significantly greater risk of overdose than buprenorphine.5 Though buprenorphine overdose is possible, it is much more likely in the context of concurrent alcohol or sedative abuse.2,3
If you've remained stable for a significant amount of time and have completed at least one week of transmucosal Suboxone treatment, you may opt to get the Sublocade shot, an extended-release form of buprenorphine, in certain clinical environments.4
Due to the pharmacologic effects of the buprenorphine component of Suboxone, the misuse of additional opioid drugs while taking Suboxone should not result in substantial intoxication. Additionally, the naloxone component of the drug is likely to give rise to opioid withdrawal symptoms should the medication be misused via parenteral routes (such as when it is dissolved for injection or intranasal use).3
How Does Suboxone Treatment Work?
As with any type of substance abuse treatment, there is a general process to receiving Suboxone treatment. First and foremost, you must receive a screening by a physician to determine whether you are the right fit for a Suboxone treatment regimen.
Physician screenings may consist of interviews, laboratory evaluations, and the use of screening instruments, such as a Clinical Opiate Withdrawal Scale (COWS). If a screening indicates that you have an opioid use disorder, your physician may complete further assessments consisting of standardized tests and in-depth interviews. These evaluations will determine your individual diagnoses, identify the presence of any co-occurring mental health conditions, and help the physician determine your ideal form of treatment.5,6
How to Find the Best Suboxone Treatment Center Near Me
To find the best Suboxone treatment provider near you, be sure to assess your personal needs and seek the counsel of a professional healthcare provider, such as a family care physician or rehabilitation center. Part of long-term recovery is finding a treatment program that is the right fit. To find the best Suboxone treatment provider, it may be best to apply your best research skills and ask questions about a facility's treatment process.
We're here to help 24/7, give us a call today at
Research Suboxone Treatment Centers
Gathering all of the information that you need before seeking Suboxone treatment will allow you to make an informed decision for your care. First, be sure to consider whether you'll want inpatient or outpatient addiction treatment. Find out if the facilities offer medical detox, co-occurring disorder treatment, telehealth services, inpatient, outpatient, partial hospitalization (PHP) treatment, or intensive outpatient treatment (IOP) to decide what you believe may work best for you.
You may also research patient testimonials and credible online reviews, ensure that the facility is accredited and licensed through the appropriate licensing bodies, learn about the staff that you will be working with, and look for general guidelines about what you can expect from the overall treatment experience.

How Do I pay for Suboxone Treatment?
The cost of Suboxone varies, depending on whether you have an insurance policy, your particular insurance plan, and whether you've been prescribed the generic or the name brand version of Suboxone.
Suboxone treatment is usually either fully or partially covered by many major health insurance companies, including (but not limited to):
It may be best to speak with your health insurance provider directly to find out what your Suboxone coverage is and if there are any out-of-pocket expenses associated with MAT. This way, you can plan accordingly.
Suboxone Rehabilitation Centers Near Me
American Addiction Centers is the nation's leader in addiction treatment. With accredited facilities across the country, we have several options to accommodate a variety of treatment needs. We provide quality care in a safe and supportive environment with licensed physicians and a professional staff.
Find Drug Addiction Treatment Centers Near You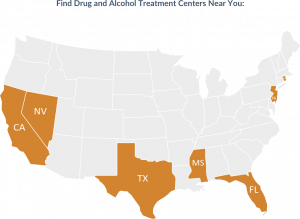 If you're struggling with an opioid use disorder, help is readily available to you. Treatment with Suboxone may be the solution that you've been looking for that will help you cease or dramatically decrease your opioid use. Please reach out to one of our admissions navigators at