Veteran Drug & Alcohol Rehab in Nevada (VA Community Care Partner)
Instantly find your coverage information.
We'll be able to tell you if your insurance provider is in network with an American Addiction Centers treatment facility.

Rehab for Veterans in Nevada is easy to find with veteran benefits. You can connect with affordable, evidence-based treatment programs by using your veteran benefits in the Las Vegas area. Whether you need inpatient or outpatient treatment services, they are available throughout the Las Vegas, Nevada area.
American Addiction offers veteran-specific rehabilitation in Texas. Call our admissions navigators at or visit our treatment centers hub to find out more.
Where Are Veteran Rehabs in Nevada?
Veteran substance abuse programs in Nevada are located throughout the state, including the Las Vegas area. Usually, larger cities such as Las Vegas will have plenty of options for veteran detox treatment. The number of substance abuse treatment centers in Nevada is 77, with 68 outpatient treatment centers, 23 non-hospital, residential centers, and 8 inpatient hospital facilities.1
AAC's Desert Hope Treatment Center offers a specialized veterans program. Desert Hope is conveniently located 10 minutes from McCarran International Airport in Las Vegas, NV for all people struggling with substance use and other co-occurring disorders.
Desert Hope Treatment Center in Las Vegas, Nevada
Desert Hope Treatment Center is a Joint Commission-accredited addiction treatment facility offering a medically supervised detox program, inpatient rehab center, outpatient care, and sober living residences. Located in Las Vegas, this rehab center offers a destination treatment center with comprehensive detox and inpatient rehab center programs to fit your personal needs. Desert Hope is also in-network with TRICARE and works with the VA directly as a VA Community Care Network Provider.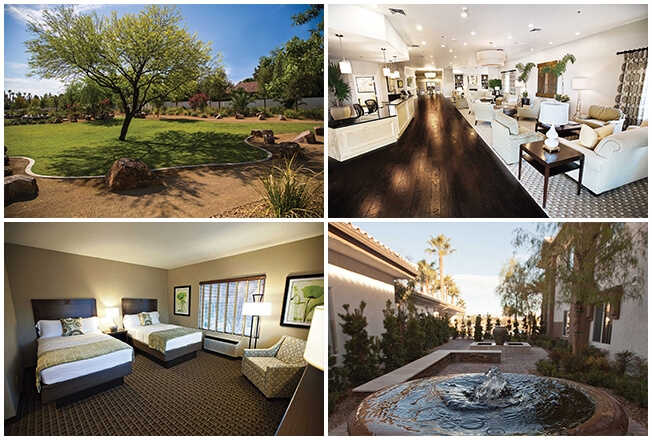 During the COVID-19 (aka coronavirus) pandemic AAC is available to answer questions about addiction and treatment options. Our Nevada facility, Desert Hope Treatment Center, is open and accepting patients and has medical experts and a caring staff who will stand by you on your journey to recovery.
How Much Does Rehab in Nevada Cost for Veterans?
The cost of veterans drug rehab in Nevada is often a question on people's minds. The amount you may have to pay out-of-pocket varies depending on what type of insurance you have, your co-pay amount, the deductible amount, and your length of stay. Another factor that could determine the cost of rehab is the level of treatment you receive. The more intense the services are, the higher the cost might be.
How Long Will the VA Cover?
The length of VA coverage for veteran rehab programs in Nevada will vary depending on several factors. Some people have more than one type of insurance, which will play a part in the coverage (discussed below). However, if you have VA benefits, they do understand that substance use disorder is a continuing issue, and they will assist you with your needs.3
Do Other Insurance Providers Cover the Cost of Rehab?
Using other insurances that you may have in addition to your VA benefits will help cover the cost of drug rehab programs for veterans in Nevada. Let the admissions navigator know the insurance provider name and your card number for each insurance you have, so they can bill appropriately. If you don't have any other insurance or none at all, keep in mind that free state- and government-funded options such as Medicaid and Medicare exist. You can try to apply for these to help you out.
What Types of Addiction Therapies Are Available to Veterans?
When entering a veterans rehab center in Nevada, you have options for treatment programs. These include:
Inpatient residential treatment programs
Partial hospitalization programs
Intensive outpatient programs
Outpatient therapy
Aftercare sober living
Some of the veteran-specific treatments that may be offered include:
Cognitive-behavioral therapy
Dialectical-behavioral therapy
Eye movement desensitization and reprocessing and sound therapy
Trauma-based therapy (particularly PTSD therapy)
Relapse prevention treatment
Statistics on Veterans & Addiction in Nevada
National survey results illustrate the following rates of substance use among Nevada residents:4
17% of the population reported illicit drug use.
9% reported marijuana use.
3% reported non-medical prescription drug use.
3% were estimated to have substance use disorder.
4% reported binge alcohol use.
How Do I Choose the Best Veteran Rehab in Nevada?
Choosing the best veterans drug treatment centers in Nevada is the first step to recovery. Be sure to look for the qualities that will make it a quality rehab, such as:
Flexibility in the length of stay.
Customized treatment programs.
Different levels of treatment programs.
Treatments for specific groups of people like veterans.
Certified therapists.
Variety of therapy for differing styles.
Treatment for co-occurring disorders, such as anxiety and substance use or depression and substance use.
Does Nevada Have Special Addiction Laws & Programs for Veterans?
Nevada has 19 adult drug courts.5 These courts provide resources for people who have gotten in trouble with the law by the use of a substance.5 These specialty courts help people break the cycle of addiction, and it creates a safer environment for everyone by reducing criminal activity in a more productive way. If the offense was non-violent, the offender has an opportunity to get substance use treatment and avoid incarceration.5
Other Resources for Veterans in Nevada
By using the free resources below, veterans can make strides toward a better future:
Sources: