Addiction Treatment in New York
Do Rehabs in New York Treat My Addiction?
Where Can I Find Rehab Treatment in New York?
What If I Want to Travel Out of State for Treatment?
Traveling to NY for Rehab
Additional Resources
Do Rehabs in New York Treat My Addiction?
Where Can I Find Rehab Treatment in New York?
What If I Want to Travel Out of State for Treatment?
Traveling to NY for Rehab
Additional Resources
If you're looking for addiction treatment in New York, options are available. New York has so much to offer its residents, as well as welcomed visitors. Whether you are in need of rehab for yourself or a loved one who does, the Empire State and surrounding Tri-State area will keep you intrigued with history and culture while you recover from substance abuse.
From determining which rehabs treat your addiction, to finding out where facilities are located, from museums and Broadway theaters down to the bare necessities of transportation and what to pack, we have answers to share.
Do Rehabs in New York Treat My Addiction?
New York has rehab centers that treat both substance use disorders (SUD) and co-occurring mental health disorders. This includes facilities that treat specifically for alcoholism as well as addictions to methamphetamine, cocaine, marijuana, opioids, tranquilizers, sedatives, hallucinogens, inhalants, PCP, and others.1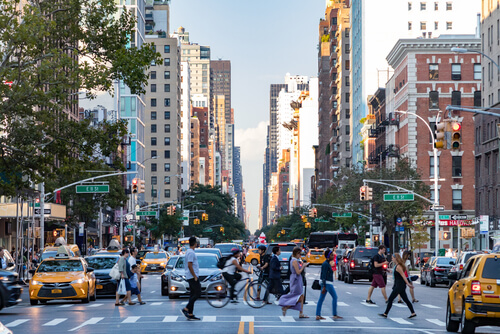 There were more than 281,000 people admitted into treatment in New York alone in 2015, according to data collected by the Substance Abuse and Mental Health Services Administration (SAMHSA).1
The most commonly treated substances in New York are:1
Heroin – 86,019 admissions.
Alcohol (with a secondary drug) – 57,184 admissions.
Alcohol only – 49,993 admissions.
Marijuana/hashish – 39,188 admissions.
Mental health disorders are frequently seen alongside substance use and abuse in patients who seek rehab treatment. These are called co-occurring mental health disorders and they are not always easy to diagnose because they take many different forms. For instance, someone with a severe anxiety disorder may be prescribed Xanax, a benzodiazepine, to manage their anxiety symptoms, and in turn become physically dependent on the Xanax and unable to stop usage without rehab treatment. As another example, someone with major depression may be self-medicating their symptoms by abusing alcohol.
Whatever the combination of substance and co-occurring mental illness, it's essential for individuals to get treated for both. By treating addiction and the underlying conditions that contribute to it, New York rehab centers are able to help patients find the relief and recovery they need.
Where Can I Find Rehab Treatment in New York?
There are numerous support groups, counseling, and rehab centers across New York State. Finding a treatment program is not a challenge. You just want to make sure you find one that's the right fit for you.
As of 2017, New York has a total of 842 facilities.2 These include:2
596 private non-profit.
138 private for-profit.
53 local, county, and community facilities.
42 state government.
8 federal government.
5 tribal government.
The majority of the facilities are outpatient (579) and non-hospital residential (214).2  Outpatient facilities allow patients to attend treatment for a specific number of days each week for the length of the program. They attend treatment during the day and return home in the evening (or at the end of the treatment) for each day.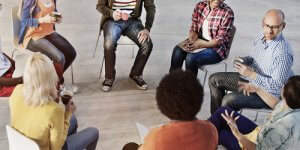 Residential treatment that is a non-hospital setting in which patients remain at the facility 24 hours a day for the duration of treatment. Although the environment although isn't clinical, it does provide medical care and structure.
There are treatment facilities located around Kipps Bay in Lower Manhattan and around the tree-lined streets of Greenwich Village. The movie-famous Central Park and the Metropolitan Museum of Art walking distance to several addiction treatment centers, including ones near Carnegie Hall and the Lincoln Center for the Performing Arts.
If going to treatment in "the city that never sleeps" doesn't interest you, there are several rehabs upstate in Rochester, near E. Main Street and N. Chestnut Street, or Buffalo off the I-190 near Allentown, Bryant, and Forest. In Albany, you will find rehabs near Madison Ave. and Central Ave. Rehab centers in this part of New York state may offer a welcome reprieve from the hustle of the big city.
What If I Want to Travel Out of State for Treatment?
If you're a native to the Big Apple or any other city or town in New York, traveling to a treatment facility outside of the state can be beneficial. As cultured and inviting of a place that it is, if New York is where your addiction began and where you have people in your life who enable your substance use, committing to treatment and maintaining your sobriety may be challenging. Many patients find it helpful to attend rehab in a new environment to free of the triggers that arise in familiar places.
American Addiction Centers (AAC) is the leader in addiction treatment, and we have facilities nationwide for you to choose from. Sunrise House in Lafayette Township, New Jersey, is driving distance from the heart of Manhattan. Other locations include our facilities in Southern California; Dallas, Texas; Las Vegas, Nevada; and beautiful rural Mississippi.
With 8 locations nationwide, AAC provides plenty of options to consider for your journey to recovery.
Traveling to NY for Rehab
Although a heavily populated and condensed state, New York still draws people from around the world, specifically to NYC. Afterall, it's home to the Statue of Liberty, art museums, theaters, and Yankee Stadium. Not to mention, several movies have been filmed in the city.
Whether you're the one traveling to New York for treatment or if you're visiting a loved one who is, attractions will keep your mind intrigued and preoccupied.
One of the most inspiring attractions to visit is the one created for the heroes of 9/11. The 9/11 Memorial and Museum pays tribute to those who lost their lives in the terrorist attacks on February 26, 1993 and on September 11, 2001.
If the great outdoors is more for you, try one of New York's famed beaches, like Orchard Beach in The Bronx, Tobay Beach in Oyster Bay, or the many secluded beaches of the Hamptons on Long Island. You can even visit
Niagara Falls
, Central Park, or the
New York Botanical Garden
if being out in nature is what you're looking for.
If art and culture is more your schtick, there's the music of Carnegie Hall to enjoy and the plays at the Broadway Theater.  When you're ready to venture to more touristy sites, visit the Empire State Building, the Statue of Liberty, or Times Square. Surely, you will find plenty to do.
Getting There
There is no shortage of ways to get into New York. There are four major airports in the state. This includes John F. Kennedy International Airport, Buffalo Niagara International, LaGuardia Airport, and Newark Liberty International Airport. There are also several airports upstate, like Hancock and Albany International. Which airports you use depends on where your rehabilitation facility is located.
Regardless of treatment center location, ground transportation is more than likely needed. In NYC, many people use the Metropolitan Transportation Authority (MTA New York City Transit), which is the rail and bus system. Subways are the easiest, fastest, and one of the most cost-effective ways to travel. Taxicabs and rideshare services like Uber are also available.
Additionally, there are over 130 transit systems throughout New York State.
What to Pack
Taking an important step like going to rehab can be a little scary. Speaking to admissions counselors and reading reliable sources online can answer many of your inquiries. Anything you can do to prepare ahead of time will help ease your mind about the process. Part of that preparation is knowing what to bring.
For inpatient rehab in New York, be sure to pack the following:
A change of clothes for 7-10 days: New York is very warm in summer months, with wintertime dipping into the 20s and 30s with snowstorms. Make sure your attire is appropriate for the time of year.
Approved toiletries: The facility will provide a list of what to bring and what is not needed. For example, most rehabs ban alcohol-based mouthwash and other products.
Cellphone and/or laptop, if allowed, to be used outside of program hours: Check with your treatment center for their policy on electronic devices.
Prescribed medications (to be stored for you at the facility): If you require medication to manage conditions like diabetes or high blood pressure, be sure to communicate this prior to your arrival.
Leisure materials such as books or magazines to read: Most inpatient programs offer a few hours of free time to allow patients to relax and unwind at the end of each day.
Please be sure to call ahead and ask specific questions, as permitted items will vary at each facility. You want to bring all of your necessities, but keep other items that you aren't permitted at home.
Additional Resources
The following is a list of organizations and sources that can provide help for those struggling with addiction.
Sources
Substance Abuse and Mental Health Services Administration. (2015). Treatment Episode Data Set (TEDS): 2005-2015.
Substance Abuse and Mental Health Services Administration. 2017 State Profile—United States and Other Jurisdictions: National Survey of Substance Abuse Treatment Services (N-SSATS).