California Alcohol and Drug Treatment Centers
If you're looking for addiction treatment in California, you probably have some questions. There are both state funded rehabilitation centers in California. On the other hand, there are also California addiction treatment centers that primarily accept private insurance plans. Below, we answer some of the more frequently asked questions about rehabilitation centers in both Northern California and Southern California.
Do Rehab Centers in California Treat Alcohol and Drug Addiction?
California is one of the most popular destinations for substance abuse treatment in the U.S. Over 150,000 people age 12 and older received treatment there in 2015.1
The top 5 addictions people seek treatment for in California are:
Methamphetamine.
Heroin.
Alcohol.
Marijuana.
Other forms of opioids, such as prescription painkillers.1
However, California rehabs treat a number of other substance addictions such as cocaine and prescription sedative addictions.
A large number of people with addictions also struggle with mental health disorders, such as depression, anxiety, and bipolar disorder. Many rehab centers in the state can treat these dual diagnosis conditions with an integrated approach that addresses both issues at the same time.
American Addiction Centers (AAC) offers treatment for addiction and dual diagnosis or co-occurring conditions in California. We provide quality care that helps you recover from addiction and manage any mental health problems.
We can also treat people who are dealing with other medical issues such as:
HIV/AIDS.
Hepatitis C.
Pregnant women.
People with chronic pain.
AAC's addiction treatment and therapies are evidence-based to help those with addiction recover and live a life of sobriety. We're available to talk to you right now, give us a call at to learn more about our programs in California. If you are unable to talk right now leave your number in the box below and we'll call you.
Where Is Treatment Located in California?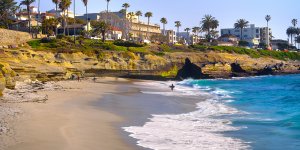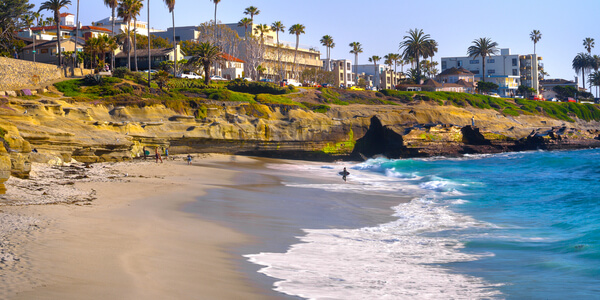 As of 2017, California had 1,311 treatment facilities.
2
Many of these facilities are located around major cities in the state, such as San Francisco, Los Angeles, and San Diego. But you can find treatment in nearly every part of the state, from the Central Valley to the Inland Empire to remote parts of Northern California.
Here are a few cities in Northern California with rehabilitation facilities:
Eureka
Fremont
Hayward
Oakland
Redding
Santa Rosa
Stockton
Stratford
Sunnyvale
Many people seek treatment in California because of its climate. It's warm and sunny most of the year, and many programs, particularly in Southern California, are located near the state's famed beaches, such as, Laguna Beach, Coronado, Venice Beach, El Matador Beach, Santa Monica Beach, and La Jolla.
Here are a few cities in Southern California with rehabilitation facilities:
Aliso Viejo
Banning
Beverly Hills
Canoga
Costa Mesa
Encinitas
Huntington Beach
La Crescenta
Laguna
Murrieta
These programs provide a nice escape from the harsher climates in other parts of the country, as well as a place where people can get away from the negative influences that may have led them to use—all while enjoying beautiful surroundings.
AAC offers inpatient, residential, partial hospitalization, and intensive outpatient addiction treatment in California. We are conveniently located within about an hour's drive from the Los Angeles and San Diego airports.
During the COVID-19 (aka coronavirus) pandemic AAC is here to answer questions you have about addiction and treatment plans. Our California facility, Laguna Treatment Hospital is open and accepting patients.  At Laguna Treatment Hospital, our medical team provides all levels of care from medical detox to outpatient treatment.
Can I Detox In California?
California has more than 400 detox facilities. These include outpatient, residential, and hospital inpatient environments.2
We operate the only addiction treatment center in Orange County that's licensed as a chemical dependency recovery hospital.
AAC specializes in medical detox, which includes supervision from healthcare professionals and the use of medications to make the process safer and more comfortable. We operate the only addiction treatment center in Orange County that's licensed as a chemical dependency recovery hospital.
Our facilities can safely manage acute alcohol withdrawal, and people detoxing from opioids may receive treatment medications—such as buprenorphine—that lessen the intensity of withdrawal symptoms.
Does My Insurance Cover Treatment in California?
Rehab programs in California accept various forms of insurance, including insurance from people in state or out of state. For example, AAC in California is now in-network with Anthem Blue Cross. We also have a self-payment option and offer payment plans.
More than half of rehab facilities in the state accept private insurance. More than 80% accept cash or self-payment, more than 30% accept Medicaid, and more than 60% offer a sliding scale payment system.2
Insurance coverage can vary from provider to provider and plan to plan. Some plans will fully cover the cost, while others may only partially cover it or only cover certain types of care. However, many plans cover detox and outpatient treatment.
Find Drug and Alcohol Treatment Centers in CA
There are various drug rehab centers in Northern California, Southern California, and every area in between. Southern California rehab centers may be placed in locations such as Orange County, Los Angeles, San Diego, and more. On the contrary, mid-to-northern California rehab centers for drug or alcohol abuse may be in areas such as the bay area and central coast.
There are various options for drug treatment in San Diego and other parts of Southern California, like American Addiction Centers' treatment facility for addiction in Laguna Beach.
Why Choose American Addiction Centers
AAC stands by the quality of its care. That's why our treatment is backed by our 90-day promise. If you relapse after completing 90 days of treatment at an AAC program, you can come back for 30 days of complimentary treatment on us.
What to Expect in California Rehab
Before you attend rehab in California, you'll want to be prepared. State residents are already familiar with the climate, but people from out of state will want to make special considerations while packing. For example, if you're coming to California from a colder state like New York or Pennsylvania, you probably won't need your wool sweater or heavy coat.
Packing List
Here's a sample list of other items you may want to consider packing for a rehab stay in California:
Sunglasses.
Sunscreen.
Sandals or flip flops.
Driver's license or identification.
Insurance information and medical records.
Alarm clock.
Toiletries.
Clothing (warm clothes for the summer, sweatshirt/hoodie for the cooler months).
Laundry detergent.
Photos of loved ones and other items to remind you of home.
List of current medications.
Names, phone numbers, and addresses of close family and friends.
Some cash.
Additional items that might be allowed depending on the program include electronic devices, nail clippers, razors, cigarettes, and mouthwash. Talk to the program before you pack these.
Other issues you might want to take care of before attending rehab include:
Travel plans to the treatment center, such as flights.
Setting up childcare.
Making sure your time off from work or school is approved.
Arranging automatic bill payments.
Telling people you will be in treatment (this is up to you).
Be sure to review any program rules and be prepared to follow them. Many programs conduct mandatory drug testing, require permission to leave the property, prohibit inappropriate conduct, and expect attendance at a majority of therapy sessions.
Some programs may provide transportation from the airport, but check with the program beforehand. AAC staff can meet you at the airport and take you to our facility. Once there, the admissions process is quick and usually takes an hour or less.
If you'd like to learn more about AAC addiction treatment in California, contact us anytime at . Our admissions staff are available 24/7.
Other Ways to Get Help
Sources
Substance Abuse and Mental Health Services Administration. (2017). Treatment Episode Data Set (TEDS): 2005-2015.
Substance Abuse and Mental Health Services Administration. 2017 State Profile—United States and Other Jurisdictions: National Survey of Substance Abuse Treatment Services (N-SSATS).
Last Updated on November 25, 2020