California Alcohol and Drug Rehab Treatment Centers
California rehab centers boast some of the nation's best drug and alcohol rehab detox services on the west coast. Whether you or someone you love is looking for a qualified, compassionate, and accredited rehab program, let American Addiction Centers be the first step on the road to recovery.
On this page:
Where is Treatment Located in California?
Popular locations for rehab centers in California include Orange County, San Diego County, Los Angeles County, and the Bay Area. Many of these facilities are located around major cities, but you can also find treatment in nearly every part of the state, from the Central Valley, to the Inland Empire, and even to remote parts of Northern California.
Laguna Treatment Hospital Spotlight
Laguna Treatment Hospital is a Joint Commission accredited and CDRH licensed facility offering medically supervised detox programs and 24/7 nursing care. Just minutes away from the beach, this Orange County rehab center offers destination treatment with comprehensive detox and
inpatient drug rehab
programs to suite your personal needs.
Services offered include:
Individual and Group Therapies
Medication-Assisted Treatment
Co-Occurring Disorder Treatment
Live-In Rehabilitation
Aftercare Planning and Access to our Alumni Network
Translation Services (Spanish 24 Hours a Day & Others With Notice)
Does Insurance Cover Drug & Alcohol Rehab in California?
Yes, plenty of rehab programs in California accept forms of in-state and out-of-state insurance plans. For example, AAC's Southern California rehab, Laguna Treatment Hospital, is in-network with Anthem Blue Cross and many other insurance companies, such as Kaiser Permanente, United Healthcare, and more. AAC also offers a self-payment option and may work with patients to set up affordable payment plans if necessary.
More than half of rehab facilities in California accept private insurance, over 80% accept cash or self-payment, over 30% accept Medicaid, and more than 60% offer a sliding scale payment system.1
Do Rehab Centers in California Treat Alcohol and Drug Addiction?
California rehabs treat people addicted to substances such as alcohol, cocaine, stimulant medications, prescription opioids, heroin, and other illegal opioids. Some rehabs may also treat those with behavioral addictions.
The top 5 addictions people seek treatment for in California are:
Methamphetamine.
Heroin.
Alcohol.
Marijuana.
Other forms of opioids, such as prescription painkillers.2
A large fraction of those who suffer from addiction also struggle with one or multiple mental health disorders, such as depression, anxiety, and bipolar disorder. Many rehab centers in the state of California, including Laguna Treatment Hospital, can also treat co-occurring conditions with an integrated approach and evidence based care that addresses both disorders simultaneously.
We're currently available to talk to you in private about finding addiction treatment in California. Give us a call at to learn more about our substance abuse treatment program in California.
Other Ways to Get Help
Find Drug and Detox Treatment Centers Near You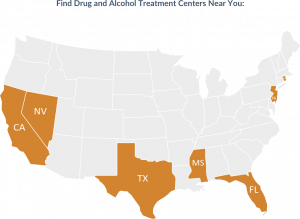 FAQ About Drug & Alcohol Rehab Treatment in California
You Might Also Be Interested In
Sources