Drug & Alcohol Rehab Treatment Centers in North Carolina
Instantly find your coverage information.
We'll be able to tell you if your insurance provider is in network with an American Addiction Centers treatment facility.
* These fields are required

If you're looking for addiction treatment in North Carolina, there are treatment options available and several resources in order to make an informed decision. Looking for a rehab center that is the right fit is an important task and one that should not be taken lightly. From choices in locations to what to pack; you've got questions about treatment in North Carolina and we have answers.
Do Rehabs in North Carolina Treat My Addiction?
Many people undergo treatment in North Carolina for a variety of substance use disorders. According to the Substance Abuse and Mental Health Services Administration (SAMHSA), nearly 40,000 people over the age of 12 were admitted to rehab in North Carolina in 2015.1 Of those patients, 25-29 year-olds represented the largest are bracket, with 7,687 of admissions coming from them.1
Treatment for addiction isn't a simple, one-dimensional fix. Many people who abuse drugs or alcohol are also struggling with a co-occurring mental health disorder such as depression, anxiety, or even PTSD. It's important for individuals to get treated for both their addiction and their mental health issues simultaneously to stand the best chance of success in recovery. If co-occurring disorders are impacting your drug use and your ability to remain sober, be sure to look for a North Carolina rehab center that can address these concerns.
Where Can I Find Rehab Treatment in North Carolina?
Finding a treatment program in North Carolina should not be a challenge. As of March 2017, there are 472 treatment facilities in the state, including 184 private non-profit, 252 private for-profit, and 13 state government facilities.2
Additionally, there are a variety of types of treatment programs available, which includes outpatient, residential (non-hospital), and hospital inpatient.2
Rehab facility locations are conveniently spread throughout the state. From the wilderness mountains in Asheville, to the tranquility of Greensboro, to coastal Wilmington, North Carolina offers a rehab locale for just about anyone looking for treatment.
What if I Want to Travel Out of State for Treatment?
If you're a Tar Heels native, traveling to a treatment facility outside of North Carolina can be a very positive choice. As beautiful a state as it is, if it is the place where your addiction started and where you have friends and people in your life who enable your continued use of substances, going to rehab and maintaining your sobriety may be more challenging. For many, it's healthy to get addiction treatment in a new environment to avoid triggers that easily arise in familiar places.
American Addiction Centers (AAC) is the leader in addiction treatment, and we have facilities nationwide for you to choose from. From California, to Texas, to Mississippi, and other states, AAC provides you with many options outside of North Carolina for your treatment needs. Please take the time to review your options to see what may be a good fit for you.
Traveling to North Carolina for Rehab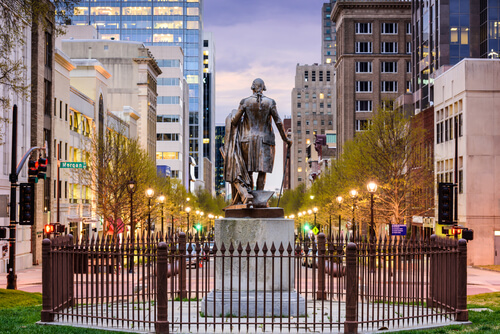 If you're traveling to North Carolina for treatment, you will be welcomed with a variety of natural beauty and manmade attractions that will take your breath away.
Leaving home to go to rehab can be scary for both you and your loved ones. Being surrounded in an environment that relaxes you and supports your sobriety efforts is paramount, and many North Carolina rehabs offer such features.
If you're visiting a loved one at one of NC's rehab centers, be sure to make a vacation out of the experience. You can drive along the Blue Ridge Parkway to enjoy the scenery that stretches across a 469-mile road from the Great Smoky Mountains National Park in North Carolina to the Shenandoah National Park in Virginia. Museums and visitor centers are available to visit along the way.
If you enjoy hiking and to the sound of running water in nature, you will love the Linville Gorge and Falls, which is also known as the "Grand Canyon of the East."
Enjoy an intriguing piece of history and visit the Biltmore House, an 8,000-acre, 250-room compound and the largest private home in the United States. In it you'll find antiques, artwork, and collections of vintage accessories and clothing.
So many attractions from the aquarium, to the zoo, and to the Outer Banks, surround you in the healing power of nature, frequently recognized as a key component to lasting recovery from addiction and a healing force for those with co-occurring mental health issues. Many treatment facilities allow patients with good behavior to participate in excursions during their stay in rehab, so be sure to ask about this option when researching a treatment facility in NC.
Getting There
There is no shortage of ways to fly into North Carolina, as the state has 3 major airports. Charlotte Douglas International Airport is located in Charlotte. Wilmington International Airport is in Wilmington, and finally Piedmont Triad International Airport is located in Greensboro.
The Greensboro Transit Agency (GTS) provides public transportation, running 16 different routes Monday-Saturday in Greensboro. Charlotte Area Transportation System (CATS) operates both the bus and light rail service for that city, providing 70 routes. Wave Transit operates as the public transportation source in Wilmington, providing 16 regular routes with all running 7 days a week, except for one.
Depending on the services offered, you may also arrange for ground transportation to and from the airport with your treatment facility. Find this information out ahead of time so that you can be prepared.
What to Pack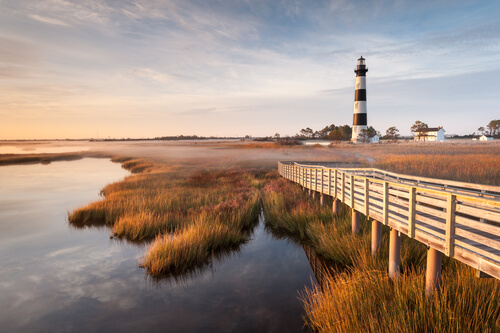 As courageous as it is to go to treatment, it can still be a little scary at the same time.  Preparing ahead can help ease your mind.
Weather in North Carolina can vary drastically depending on the time of year. Summers are warm and humid, while winters can be very cold with snowfall. Be prepared for rain year-round by adding a waterproof jacket, closed-toe shoes, and umbrella to your list of essentials.
Pack the following:
A change of clothes to last 7-10 days: shorts and T-shirts are appropriate for summer months; warmer clothes are required in winter.
Facility-approved toiletries.
Prescribed medications (which will be stored for you at the facility).
Reading materials such as books or magazines.
Check with the facility about their policy on cellphones, laptops, and other electronics.
Items allowed at each facility will vary, so please be sure to call ahead and ask specific questions to make sure you're bringing all of your essentials and leaving items at home that aren't allowed.
Additional NC Resources
Alcoholics Anonymous has a thriving community in North Carolina. Those who are fresh out of rehab or decades into a life of recovery can all find a welcoming meeting to share a sense of community with others. View the list of NC meetings to find one in your neighborhood.
The North Carolina Department of Health and Human Services (NDHHS) offers a comprehensive list of hotlines to assist those who are looking for addiction resources and other related services. NCDHHS can assist North Carolina residents directly as well.
Sources
Substance Abuse and Mental Health Services Administration. (2015). Treatment Episode Data Set (TEDS): 2005-2015.
Substance Abuse and Mental Health Services Administration. 2017 State Profile—United States and Other Jurisdictions: National Survey of Substance Abuse Treatment Services (N-SSATS).