Substance Abuse in the Air Force
Addiction is a major issue affecting Air Force veterans. Some veterans may abuse substances in the effort to cope with traumas, transitioning stress, or mental illness. Help and treatment are available through the Department of Veteran Affairs (VA) and community care partners such as  American Addiction Centers (AAC).
Substance Abuse in the Air Force
Addiction is a pattern of substance use making it difficult to function in daily life.1 Veterans are at increased risk for addiction.2, 3, 4 Common substances that airmen and veterans abuse are alcohol and prescription medications.2, 5
Alcohol Abuse
Air Force service members have the lowest rates of heavy drinking in the military.6 Veterans may continue or escalate drinking behavior after separation from the military.7, 8 Some statistics about alcohol abuse are:2, 7
In the Air Force, servicemen (24.5%) and servicewomen (6.3%) drink heavily.
Veterans are most commonly affected by alcoholism.
Sings of alcohol abuse may include:1
Drinking in hazardous situations.
Frequently experiencing hangovers.
Impaired coordination.
Memory issues or loss.
Mood and behavior changes.
Slurred speech.
Taking unnecessary risks.
The smell of alcohol on someone's breath.
Drug Abuse
The military has a zero-tolerance policy toward drug use, but veterans may still turn to drugs.5, 8 Drug abuse statistics indicate that:5, 8, 9
7% of Department of Veterans Affairs (VA) rehab admissions are because of heroin use.
Drug use among veterans increases significantly after leaving the military.
Less than 1% of active military personnel use drugs.
Signs of drug abuse may include:1
Different eating or sleep patterns.
Dilated or constricted pupils.
Memory issues or loss.
Mood and behavioral changes.
Taking risks.
Using drugs in hazardous situations.
Our Admissions Navigators are always available to assist you.
Call Now (888) 902- VETS
AAC's admissions navigators will provide information about treatment options for veterans – Salute to Recovery – and what is needed in order for the VA to help pay for treatment.
Mental Health and Air Force Veterans
Mental health disorders, including post-traumatic stress disorder (PTSD), depression, and anxiety affect many veterans.5, 6, 10, 11 Up to half of all Iraq and Afghanistan veterans have a mental health diagnosis: 5, 6, 10
14-22% of Iraq ad Afghanistan veterans have PTSD.
2% of veterans have anxiety/panic disorders.
The percentage of veterans with PTSD and other mental health disorders is influenced by exposure to combat or trauma.6, 10 In addiction, 3.6% of veterans have PTSD and 3.5% of veterans have depression.
Substance Abuse and Co-Occurring Diagnosis
A co-occurring diagnosis is the presence of addiction and a mental health disorder. Veterans may turn to substance use to cope with stress or symptoms of PTSD.2, 6, 8 Co-occurring mental illness are common among veterans:2, 3
75% of veterans diagnosed with addiction also have PTSD.
82-93% of Iraq and Afghanistan veterans are diagnosed with addiction and co-occurring mental illness.
Nearly all veterans with substance addiction also have a mental health diagnosis.
Overcoming Stigma and Asking for Help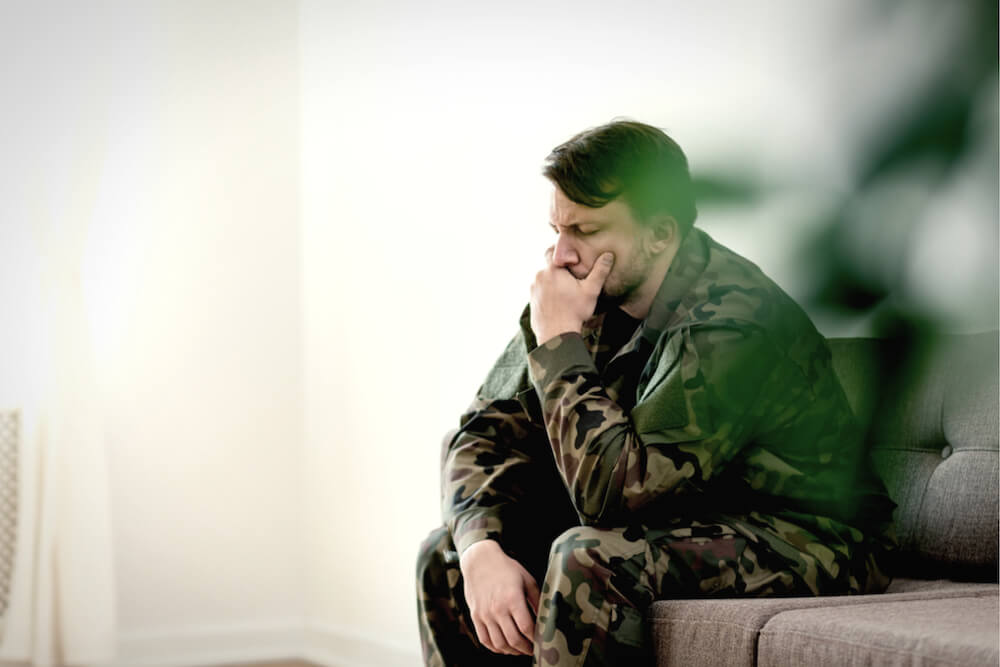 The stigma associated with mental health problems persists even after service. One of the most common stigmas about seeking help is that you will be seen as week and that treatment makes you unreliable.15, 16
The military is working to reduce stigma by changing how treatment is viewed. Seeking treatment does not harm one's career for 97% of servicemen.16 High-ranking officers have been sharing their experiences to normalize treatment-seeking and prove that receiving care doesn't have to impact your military career.16 Make the Connection, supported by the VA, hopes to reduce stigma through sharing of personal stories of other service members and veterans that have received treatment and recovered from their addition.17, 18 The Air Force offers the Air Force Wounded Warrior Program (AFW2).19 This program is Congressionally-mandated and Federally-funded organization that is focused on help airmen and veterans that were wounded, ill, and injured.19
VA Substance Abuse Assessment
The VA offers a short, private online screening to help identify possible alcohol abuse, drug abuse, or mental illness, such as PTSD and depression in veterans. Results can be printed to review with your doctor or other healthcare provider.
Health Insurance and VA Benefits  
Financial assistance for veterans with PTSD is available, as symptoms can make it difficult to work. The Comprehensive Assistance for Family Caregivers, is a program through the VA for veterans who served on or after 9/11.20 The program may include a monthly stipend, healthcare, mental health treatment, and support and training for caregivers.20
VA substance abuse programs are available to veterans. TRICARE provides coverage for mental health care for active service members and veterans.22 Effective, medically necessary rehab for veterans is covered under TRICARE.23 However, VA drug rehabs can't always accommodate everyone. The MISSION Act allows veterans to receive treatment from community providers if certain criteria are met, through Community Care.24, 25
Learn more about how VA benefits can help make rehab more affordable.
Addiction Treatment for Veterans
Veterans' rehabilitation centers treat addiction and co-occurring illness but veterans may have trouble accessing these facilities because of wait time or location.25 The MISSION Act allows veterans to get care from a provider in the community who is in-network with the VA, provided that they are approved beforehand.24, 25
What is Salute to Recovery program?
The VA isn't the only place that knows how to help veterans. AAC is a Community Care Provider, and we specialize in treating veterans with addiction and co-occurring mental illness.  
The Salute to Recovery program is tailored for veterans and we have veterans on staff to address the complex issues facing veterans. Treatment options include:
Individual and group therapy.
Family and marriage counseling.
Coping skills for trauma.
Symptoms management.
Anger management.
Communication skills.

AAC has a 90-day promise that you'll maintain sobriety upon completion of 90 days of treatment, or you can get 30 more days of treatment free. For more information or to get started on your journey, chat with admissions navigator today, or call .
If you're a veteran struggling with addiction or co-occurring illness, don't let stigmas hold you back. Support is available through the VA, community resources, and community providers. Getting treatment is the best way to heal and start living your best life.
Reviews for AAC Salute to Recovery Program
Sources
American Psychiatric Association. (2013). Diagnostic and Statistical Manual of Mental Disorders (5th). Arlington, VA: American Psychiatric Publishing.
Teeters, J.B., Lancaster, C.L., Brown, D.G., & Back, S.E. (2017). Substance use disorders in military veterans: Prevalence and treatment challenges. Substance Abuse and Rehabilitation, 8, 69-77.
Lan, C.W., Fiellin, D.A., Barry, D.T., Bryant, K.J., Gordon, A.J., Edelman, E.J., … Marshall, B.D. (2016). The epidemiology of substance use disorders in US veterans: A systematic review and analysis of assessment methods. The American Journal on Addictions, 25(1), 7-24.
U.S. Department of Veterans Affairs. (2019). PTSD and substance abuse in veterans.
National Institute on Drug Abuse. (2019). Substance use and military life.
Schumm, J.A. & Chard, K.M. (2012). Alcohol and stress in the military. Alcohol Research: Current Reviews, 34(4).
Ames, G., & Cunradi, C. Alcohol use and preventing alcohol-related problems among young adults in the military.
Derefinko, K.J., Hallsell, T.A., Isaacs, M.B., Salgado Garcia, F.I., Colvin, L.W., … Klesges, R.C. (2018). Substance use and psychological distress before and after the military to civilian transition. Military Medicine, 183(5-6), 258-265.
Meadows, S.O., Engel, C.C., Collins, R.L., Beckman, R.L., Cefalu, M., Hawes-Dawson, J., … Williams, K.M. (2018). 2015 Health related behaviors survey: Substance use among U.S. active-duty service members. Santa Monica, CA: RAND Corporation.
Crum-Cianflone, N.F., Powell, T.M., LeardMann, C.A., Russell, D.W., & Boyko, E.J. (2016). Mental health and comorbidities in U.S. military members. Military Medicine, 181(6), 537-545.
RAND Corporation. (2019). Improving the quality of mental health care for veterans: Lessons from RAND research.
NIMH. Anxiety Disorders.
Sharp, M-L., Fear, N.T., Rona, R.J., Wessely, S., Greenberg, N., Jones, N., & Goodwin, L. (2015). Stigma as a barrier to seeking health care among military personnel with mental health problems. Epidemiologic Reviews, 37(1), 144-162.
Dingfelder, S.F. (2009). The military's war on stigma. Monitor on Psychology, 40(6).
U.S. Department of Veterans Affairs. (2015). Mental health stigma: 10 things you should know about.
U.S. Department of Veterans Affairs. (2020). Make the connection.
United States Air Force. Air Force Wounded Warrior (AFW2) Program.
U.S. Department of Veterans Affairs. (2019). VA caregiver support.
Veterans of Foreign Wars. (2020). Financial grants.
Tricare. (2018). About us.
Tricare. (2018). Substance use disorder treatment.
U.S. Department of Veterans Affairs. (2019). Community care.
U.S. Department of Veterans Affairs. (2019). Understanding community care.
Tricare. (2019). Crisis hotlines.