Find Drug and Alcohol Rehab Centers in Fresno
Statistics About Fresno
Why Drug and Alcohol Rehab in Fresno?
Why Choose American Addiction Centers?
Find Rehab Centers in Fresno and Beyond
More Ways to Get Help
Statistics About Fresno
Why Drug and Alcohol Rehab in Fresno?
Why Choose American Addiction Centers?
Find Rehab Centers in Fresno and Beyond
More Ways to Get Help
Fresno drug rehab centers help residents and visitors experience a safe and fulfilling recovery from substance use disorders (SUD)s. Here's a closer look at the prevalence of addiction in Fresno and
California
and what you need to know about recovering from addiction in Fresno.
Statistics About Fresno
Heroin
,
oxycodone
, and
methamphetamine
are the most commonly abused drugs in Fresno.
1
Because of the use of injection drugs, there is a prevalent rise of Hepatitis C and HIV in the county.1 In Fresno County, compared to other counties in the state of California, has higher rates of people admitted to treatment for alcohol and drug dependency, arrests due to dangerous drug offense, as well as hospitalizations and deaths due to drug and alcohol use.1
In California, there are 2,757,000 people who have been diagnosed with a substance use disorder: 1,068,000 with illicit drug use disorder, 206,000 with painkiller use disorder, and 2,088,000 with alcohol use disorder.2 In addition, 4,097,000 people aged 12 and older report past-month illicit drug use and 16,226,000 people reported past-month alcohol use.2
In 2017, there were 2,199 drug overdose deaths in California that involved opioids.3
Why Drug and Alcohol Rehab in Fresno?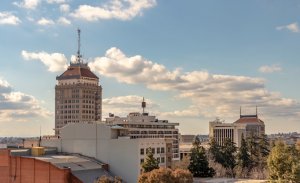 Fresno is located in the center of the San Joaquin Valley
in the southern part of California's Central Valley. As California's fifth-largest city by population, Fresno is home to many beautiful parks and gardens and offers many attractions to those who enjoy the art scene.
Some of the most popular attractions and landmarks in Fresno are the Fresno Chaffee Zoo, Forestiere Underground Gardens, Downing Planetarium, and the Fresno Art Museum. Fresno also provides easy access to national parks such as Yosemite, Sequoia, and Kings Canyon.
People in Fresno can expect sunny weather year-round. Summer temperatures usually peak no higher than 98 degrees, while winter lows average about 38 degrees. Those who enjoy spending time outdoors will be able to appreciate Fresno's mild, comfortable climate at any time of year whether they choose to hike nearby trails or explore the city's many gorgeous parks and gardens.
Fresno has a public transit bus system that runs 7 days a week and numerous bike racks positioned around the city for those who prefer to be more active in their daily transit. Ride-sharing services are also available in Fresno for those who wish to get around easily without having to drive their own vehicles. The city of Fresno prides itself on offering its residents and visitors a modern, green, and clean public transportation system.
Why Choose American Addiction Centers?
American Addiction Centers offers a nationwide network of facilities, an alumni support system, quality care, and a 90-day promise. If a person relapses after completing 90 days of treatment at an AAC program, they can return for 30 days of complimentary treatment.
Additionally, American Addiction Centers alumni from across the country host fun gatherings and events while alumni coordinators check-in regularly to ensure those recovering from substance abuse benefit from continued support.
Find Rehab Centers in Fresno and Beyond
At American Addictions Centers we focus our treatments around healing the body, mind, and spirit. At our treatment centers we offer a wide range of treatment options and different levels of care to best fit our patients needs on their road to recovery.
You owe it to yourself to work with our experienced team of doctors, clinicians, and counselors to create a one-of-a-kind, constantly evolving treatment plan designed to help you get the most out of your recovery experience. Our goal is to treat the whole person, and that means addressing co-occurring mental illness, physical wellness, social issues, and more.
As Orange County's first chemical dependency recovery hospital, Laguna Treatment Hospital provides research-based clinical and support services for adults suffering with drug and/or alcohol addiction and co-occurring mental health disorders. The hospital has the expertise to care for most patients, including those who are medically compromised and require 24/7 medical care through its unique medical model for addiction treatment.
More Ways to Get Help
Sources
Clarke, K. (2016). The case of a needle exchange policy debate in Fresno, California. Critical Social Policy Journal. 36(2), 289–306.
Substance Abuse and Mental Health Services Administration, Center for Behavioral Health Statistics and Quality. (2017).
National Institute on Drug Abuse. (2019). California opioid summary.
S. Department of Health and Human Services, Substance Abuse and Mental Health Services Administration, Center for Behavioral Health Statistics and Quality. (2017). 2017 state profile—United States and other jurisdictions. National Survey of Substance Abuse Treatment Services (N-SSATS).