Addiction Treatment in San Jose and the Bay Area
San Jose Substance Abuse Statistics
Why Drug Treatment in San Jose?
Why Choose American Addiction Centers?
Start Your Recovery Today
More Ways to Get Help
San Jose Substance Abuse Statistics
Why Drug Treatment in San Jose?
Why Choose American Addiction Centers?
Start Your Recovery Today
More Ways to Get Help
There are various areas to find effective drug addiction treatment in the bay area, one of which is in the city of San Jose. San Jose is located near addiction treatment centers that can help residents and visitors safely and successfully recover from substance use disorders. If you struggle from substance abuse in San Jose, here's how you or a loved one can find quality and effective addiction treatment.
San Jose Substance Abuse Statistics
In Santa Clara County alcohol and marijuana are the most commonly used substances followed by prescription drugs, cocaine, and hallucinogens.1 It is estimated that 55% of residents have reported the use of alcohol in the past month. 1 In addition to alcohol and marijuana use in the country, residents also reported the misuse of prescription drugs; 65% painkillers, 37% sedatives and depressants, and 31% stimulants. 1
Additional drugs, such as methamphetamines (28%), heroin (28%), and cocaine (19%), have been used by Santa Clara Country residence in the past 30 days.1 In 2016, there were 26.4 opioid prescriptions for every 100 residents in Santa Clara County.1 Between January 1, 2018 and August 13, 2018 there were 27 opioid-related deaths in Santa Clara Country. 2
Why Drug Treatment in San Jose?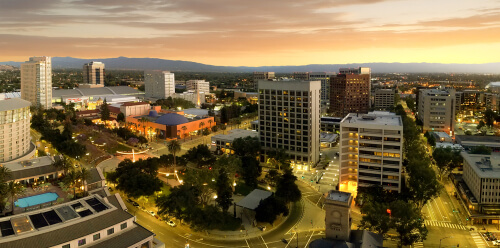 Drug rehab in San Jose offers those recovering from addiction tons of enjoyable activities and professional opportunities. As the third most populous city in California and just 50 miles south of San Francisco, San Jose offers residents and visitors year-round sunshine, warm temperatures, and an abundance of fun activities.3 San Jose is well-known as the epicenter of the tech industry and is home to some of the largest tech corporations in the world, including Google, Facebook, Apple, Netflix, Tesla, and many more. People who consider themselves to be foodies, nature lovers, shoppers, and artists will enjoy the many cultures and attractions San Jose has to offer, though there's something in this city for everyone.
Some of the most popular attractions in San Jose include the Winchester Mystery House, the Tech Museum, and the Rosicrucian Egyptian Museum. Sports enthusiasts may enjoy watching the San Jose Sharks in SAP Center and visiting the Excite Ballpark to watch San Jose Giants' minor league games or traveling an hour north to watch the San Francisco Giants play at Oracle Park. Those who enjoy spending time outdoors will appreciate San Jose's Mediterranean climate that boasts plenty of sunshine and comfortable year-round temperatures that hover around 60 degrees.
Bay Area drug and alcohol addiction treatment centers are often close to buses, trains, and light rails – all of which are the main modes of public transportation in San Jose. Most of the city is automobile-dependent given its vast layout, but its large freeway system helps people get to their destinations with ease. San Jose's health-conscious culture has helped make this city bicycle-friendly in recent years, with many added many bike lanes that run alongside traffic and biking trails.
Why Choose American Addiction Centers?
American Addiction Centers offers a nationwide network of facilities, an alumni support system, quality care, and a 90-day promise. If a person relapses after completing 90 days of treatment at an AAC program, they can return for 30 days of complimentary treatment.
AAC is in-network with many insurance companies. Your addiction treatment could be free depending on your policy and deductible.
Additionally, American Addiction Centers alumni from across the country host fun gatherings and events while alumni coordinators check-in regularly to ensure those recovering from substance abuse benefit from continued support.
Start Your Recovery Today
At American Addictions Centers we focus our treatments around healing the body, mind, and spirit. At our treatment centers we offer a wide range of treatment options and different levels of care to best fit our patients needs on their road to recovery.
You owe it to yourself to work with our experienced team of doctors, clinicians, and counselors to create a one-of-a-kind, constantly evolving treatment plan designed to help you get the most out of your recovery experience. Our goal is to treat the whole person, and that means addressing co-occurring mental illness, physical wellness, social issues, and more.
As Orange County's first chemical dependency recovery hospital, Laguna Treatment Hospital provides research-based clinical and support services for adults suffering with drug and/or alcohol addiction and co-occurring mental health disorders. The hospital has the expertise to care for most patients, including those who are medically compromised and require 24/7 medical care through its unique medical model for addiction treatment.
More Ways to Get Help
Sources
County of Santa Clara (2017), Santa Clara County Substance Use Assessment 2017
San Jose Inside. (2018). Opioid use and abuse in Santa Clara County: by the numbers.
United States Census Bureau. (2019). Fastest-growing cities primarily in the south and west.