Drug & Alcohol Rehab Treatment in San Jose, California
Instantly find your coverage information.
We'll be able to tell you if your insurance provider is in network with an American Addiction Centers treatment facility.
* These fields are required

Find San Jose rehabs and nearby treatment centers in California. San Jose, located in west-central California, is part of Santa Clara County and situated along Coyote Creek and the Guadalupe River. If you struggle from substance abuse in San Jose, effective addiction treatment is available in the Santa Clara County area – and American Addiction Centers can help you locate it.
Do Rehab Centers in San Jose Treat Alcohol and Drug Addiction?
Yes, the San Jose Bay Area offers many addiction treatment centers that treat various forms of substance abuse issues. You can find treatment providers located within the area that work with all types of addiction. Some of these types of addictions include:
Alcohol addiction.
Benzodiazepine addiction.
Cocaine addiction.
Heroin addiction.
Marijuana addiction.
Opioid addiction.
You may be able to find treatment centers in San Jose that focus primarily on one type of addiction, such as an alcohol rehab, but for the most part, addiction centers will assist people with a range of substance abuse issues.
Additionally, American Addiction Centers alumni from across the country host fun gatherings and events while alumni coordinators check-in regularly to ensure those recovering from substance abuse benefit from continued support.
Where is Addiction Treatment Located in San Jose?
San Jose, located in west-central California, is part of Santa Clara County and situated along Coyote Creek and the Guadalupe River. San Jose is only 50 miles southeast of San Francisco1 and, as the third-largest city in California, you might expect a high demand for addiction care in the area. According to survey research, 86% of Santa Clara County residents indicate that they've used some type of substance in their lifetime.2 Alcohol and marijuana were two of the top substances people in Santa Clara say they have used recently.2
When seeking substance abuse treatment or mental health treatment, San Jose, CA and surrounding areas offer many options. AAC's Laguna Treatment Hospital is located directly south of San Jose and north of San Diego, and easily accessible from either region.
If you are dealing with addiction issues, whether it's alcohol, marijuana, opioids, heroin, or another substance, American Addiction Centers (AAC) California facility, Laguna Treatment Hospital, can serve as your first step on the road to recovery. Offering various types of medication-assisted treatment and population-specific programs, Laguna Treatment Hospital offers an intensive environment to recover from substance use disorders and other co-occurring mental health conditions.
What is the Cost of Rehab in San Jose?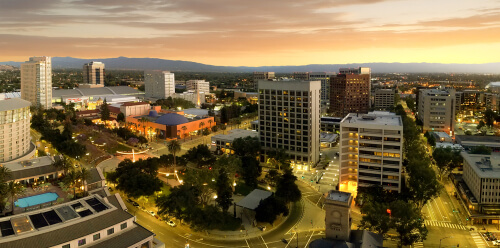 The cost of treatment at a San Jose rehab center will vary depending on the facility, but most places will accept some form of insurance. There are 1,502 substance abuse rehab centers in California with over half accepting private insurance and more than a third accepting Medicaid.3 Here are more details about what types of payments are accepted in California: 3
Cash or self-payment is accepted by 82.8 % of drug treatment centers.
Private health insurance is accepted by 58.3 % of rehab facilities.
Medicare is accepted by 20.9 % of rehab centers.
Medicaid is accepted by 39.1 % of drug rehabs.
If you meet the criteria, you may be eligible for a sliding fee scale discount, which 58.3% of addiction centers accept.
Some people may not have any insurance and don't have adequate funds to pay for treatment. In this case, almost half of the drug rehab centers in California will either charge a minimal amount or nothing at all.3
If you decide to participate in AAC's Laguna Treatment Hospital, they accept many large private insurance plans, such as Kaiser Permanente, Aetna, Blue Cross Blue Shield, TRICARE, United Healthcare, and more.
Other Ways to Get Addiction Help & San Jose Rehab Resources
In addition to reaching out to drug rehab centers in San Jose, CA, you can find an array of free resources in the area. Check out these website links below for more help:
Common San Jose Rehab & Addiction Statistics
In California, there are 1,502 drug rehab centers.3

Of these addiction centers, 1,041 are outpatient clinics.
Within these outpatient rehabs, there are 209 detox facilities.
There are 283 facilities in outpatient facilities that offer methadone/buprenorphine maintenance or naltrexone treatment.
Of the California drug rehabs, there are 572 residential facilities.
There are 34 hospital inpatient facilities.

A total of 150,071 people aged 12 and older were admitted to California drug addiction rehabs in 2015.4 Of this number:

17,080 people were admitted for alcohol use.
44,730 people were admitted for opiates, including heroin.
4,948 people were admitted for cocaine.
21,997 people were admitted for marijuana/ hashish.
45,036 people were admitted for methamphetamine/ amphetamines.
FAQ About Drug & Alcohol Rehab Treatment in San Jose, California
Take Our Substance Abuse Self-Assessment
Take our free, 5-minute substance abuse self-assessment below if you think you or someone you love might be struggling with substance abuse. The evaluation consists of 11 yes or no questions that are intended to be used as an informational tool to assess the severity and probability of a substance use disorder. The test is free, confidential, and no personal information is needed to receive the result.