Long Beach Drug & Alcohol Rehab Centers Near You
About The Contributor
Nitara Osbourne, M.Ed., is an award-winning writer and Content Specialist at American Addiction Centers.
Read More
Long Beach rehabs and recovery centers offer quality addiction treatment programs in Los Angeles, CA. If you or a loved one is in need of drug detox, inpatient or outpatient rehabs, or long-term residential treatment, let American Addiction Centers help guide you on the road to recovery.
Where is Rehab Located in Long Beach, CA?
Drug rehab and detox centers are scattered throughout Long Beach, so finding one near you should not be an issue. What sets rehab programs apart are the level of treatment offered, the quality of the staff, as well as the amenities and treatment modalities that can change based on your individualized needs.
American Addiction Centers' Laguna Treatment Hospital provides supervised medical detoxification, withdrawal management, and residential treatment to those seeking treatment in California. Just 41-minute drive from Long Beach, Laguna Treatment Hospital is just far away enough to remove yourself from common environmental triggers that cause drug use, but just close enough that family members and loved ones may easily visit.
Laguna Treatment Hospital AAC's Rehab Near Long Beach
Laguna Treatment Hospital is a Joint Commission accredited and CDRH licensed facility offering medically supervised detox programs and 24/7 nursing care. Just minutes away from Long Beach, this rehab center offers destination treatment with comprehensive detox and inpatient drug rehab programs to suite your personal needs.
Learn More About Laguna Treatment Hospital
What is the Cost of Rehab in Long Beach?
The cost of rehab differs and is dependent on the history of recovery attempts by the patient, type of addiction, insurance coverage, and the amenities offered by the facility. The cost of rehab may deter people from finding treatment, but there are a variety of options for those who are ready to find treatment. The cost may also change if you have other responsibilities such as employment or going to rehab with children. Because of the multitude of variables to consider when considering the cost of treatment, it is easiest to discuss your options with one of our admission advisors at
Does Insurance Cover Drug and Alcohol Rehab in Long Beach?
Many rehabs and detox centers in Long Beach accept insurance to cover all or part of the cost of rehab. Some common insurance providers include: Kaiser Permanente, Humana, Aetna, and TRICARE. Some life-threatening withdrawal symptoms from substances such as alcohol or opioids may require medically monitored inpatient detox. Even though this is more costly, it is also lifesaving. Find out if your insurance provider may be able to cover the cost of rehab.
Can I Go to Rehab in Long Beach Without Insurance?
Although having insurance definitely helps to offset the total cost of rehab for individuals, there are a variety of options available for those without insurance as well. From payment plans and paying out of pocket, to finding low cost, state funded, or free rehab options, call us at
Does Medicaid/Medi-Cal Cover Rehab in Long Beach?
Medicaid, also known as Medi-Cal in California, may cover addiction treatment and is accepted at treatment centers nationwide. Depending on eligibility, you may qualify to have at least part of your rehab stay covered by Medicaid/Medi-Cal or Medicare as well.
Do Rehab Centers in Long Beach Treat Alcohol and Drug Addiction?
Most rehabs in Long Beach and California state offer treatment for drug and alcohol addiction. Commonly abused substance types where people seek treatment are:
What Types of Drug Rehabs are Available in Long Beach, CA?
Depending on the level of care needed, rehab and detox facilities in Long Beach may offer: drug detox, inpatient or outpatient rehab, residential rehab, and sober living options. Due to the onset of COVID, many treatment facilities are also offering telehealth rehab options as well. Additionally, there are many programs across the U.S. that offer rehab for veterans where programs are specifically catered towards veterans.
How Long Can I Stay in Rehab?
How long a patient remains in treatment can vary based on the unique medical needs of each individual. However, it typically falls between 30-90 days. Medical detox may take between 5-7 days.
Find Drug & Alcohol Rehab Facilities Near You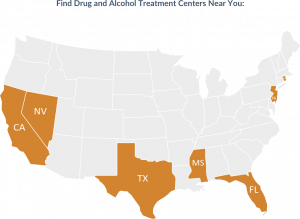 Other Ways to Get Help & Long Beach Rehab Resources

There are different options available to get help for drug and alcohol rehab treatment. Here are a list of choices:

Common Long Beach Rehab & Addiction Statistics

There are many quality substance abuse treatment facilities across California. And unfortunately, there are many individuals battling either alcohol abuse or substance abuse.

Rehab statistics:

In 2015, 45,000+ individuals entered into rehab for methamphetamine abuse.1
In 2015, 30,000+ individuals 12 and over went to rehab in California for marijuana abuse.1
In 2015, 35, 000+ individuals 12 and over who looked for rehab in California were addicted to heroin.1
In 2015, 150,000+ individuals 12 and overlooked for rehabilitation in California.1
As of 2017, California had a total of 1,311 substance abuse treatment facilities.2
In 2017, 90%+ of California rehab clinics treated both drug and alcohol abuse.2

Addiction statistics:

Between 2006 and 2017, heroin-related ER visits in California tripled.3
In 2018, 45,000+ overdose deaths in California involved opioids.3
In 2018, about 35 opioid prescriptions were written by physicians for every 100 individuals compared to the nation's average of 51.4 prescriptions.4
By 11th grade, nearly 40% of California students have used marijuana and over 50% already used alcohol.4
Between 2017 and 2018, synthetic opioid deaths in California increased by 60%.4

Long Beach Drug & Alcohol Rehab FAQs

Sources:
About The Contributor
Nitara Osbourne, M.Ed., is an award-winning writer and Content Specialist at American Addiction Centers.
Read More