Orange County Drug & Alcohol Rehab Treatment Centers
Instantly find your coverage information.
We'll be able to tell you if your insurance provider is in network with an American Addiction Centers treatment facility.

Orange County rehab centers boast some of the most advanced, specialized, and targeted drug and alcohol rehab programs in the United States. Whether you or someone you love needs drug addiction help or drug detox treatment, rehab centers in Orange County provide the best route to sustainable recovery.
Where Can I Find Drug & Alcohol Rehabs in Orange County, CA?
Orange County's cities are home to hundreds of highly specialized and targeted treatment programs. In Aliso Viejo, CA, American Addiction Centers' (AAC) Laguna Treatment Hospital offers medically supervised detoxification services and withdrawal management for people who are chemically dependent on drugs such as alcohol, benzodiazepines, opioids, and stimulants, and who require medical supervision during their detoxification process.
While Laguna Treatment Hospital exclusively offer inpatient residential treatment in Southern California, other Orange County, California drug rehab programs in cities such as Newport Beach, Costa Mesa, Anaheim, Huntington Beach, and Irvine place emphasis on outpatient treatment.
Laguna Treatment Hospital AAC's Orange County Rehab Center
Laguna Treatment Hospital also offers co-occurring disorder rehab treatment and intensive live-in rehabilitation for those suffering from substance use disorders and other co-occurring mental health conditions.
Learn More About Laguna Treatment Hospital
Does Insurance Cover Rehab in Orange County?
Yes, many Orange County drug rehab centers accept health insurance plans, and many health insurance plans cover inpatient and outpatient drug and alcohol abuse treatment in Orange County. However, your insurance carrier, the type of insurance plan you have, your state of residence, and many other factors contribute to the extent to which your rehab services will be covered. Orange County also offers many free rehab centers and state-funded rehabs that accept Medi-Cal.
Discussing your rehab payment options is easy at American Addiction Centers. Upon calling our admissions navigators, we will help you or your loved one find the perfect rehabilitation center for your particular needs and payment method.
Or, you can find out if you are covered instantly by completing our online tool below!
How Do I Choose the Best Rehab in Orange County?
Once you've determined that you need rehab or another form of professional help for your substance use disorder, you can embark on the endeavor of choosing the perfect rehab in Orange County for you. Choosing the best rehab in Orange County depends on your personal goals and necessities.
While deciding which rehab may be your perfect fit, you may want to make some of the following considerations:
What are my overall treatment goals?
Am I searching for short-term treatment or long-term treatment?
Would I prefer an inpatient or outpatient Orange County detox center?
Would I prefer an inpatient or outpatient drug rehabilitation program?
Am I experiencing any medical conditions that require 24/7 attention while recovering from substance abuse issues?
Might I have any co-occurring mental illnesses, and does my desired provider offer co-occurring disorder rehab treatment?
Does my dual diagnosis treatment center in Orange County treat my particular mental health condition?
Does my desired rehab offer evidence-based therapies, individual therapy, group therapy, or another specialized therapy I am interested in utilizing?
Does my desired rehab provider accept my health insurance?
Depending on your desired level of care or your drug of choice, the stage you are at in your recovery, or any of your personal preferences, you may decide that one Orange County rehab might be better for you than the next.
Orange County Addiction Statistics & Resources
The primary drug of choice in almost half of all Orange County rehabilitation center admissions was methamphetamine (41% for men, and 50% for women).1
Heroin, alcohol, and marijuana all followed as other common drugs of choice at admission.1
Over half of those who entered a treatment center in Orange County smoked their drug of choice, as opposed to consuming it orally or through injection. 1
Marijuana was the secondary drug of choice for almost ¼ of admissions, followed by alcohol and meth. 1
21% of men entered treatment in Orange County for heroin use. 1
Over 50% of admissions to Orange County rehabs were to outpatient treatment programs, while 44% were admissions to residential programs that last more than 30 days. 1
The majority of Orange County rehab admissions were between the ages of 18 and 45. 1
Over half of Orange County rehab admissions were male. 1
In 2017, there were over 5,500 hospitalizations due to overdoses and drug related poisonings reported in Orange County.2
23% of patients who entered an Orange County treatment center also reported to have a co-occurring mental health condition.1
Orange County Addiction Resources:
Find Drug & Alcohol Rehabs Near You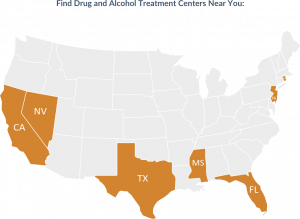 FAQ About Drug & Alcohol Rehab Treatment in Orange County
Sources: