Find Local Drug and Alcohol Rehab Centers Near Los Angeles
There are a plethora of highly effective treatment centers in Los Angeles for people who are struggling with substance use disorders. Here's more about drug and alcohol addiction rehab treatment in Los Angeles and what you can do if you or a loved one needs help recovering from addiction.
Los Angeles Substance Abuse Statistics
The most common addiction types in Los Angeles are heroin, methamphetamine, marijuana, alcohol, prescription drugs, and cocaine.1 An estimated 8.4% of people aged 12 and older in Los Angeles County are diagnosed with a substance use disorder.2
Of the 42,700 people in Los Angeles who were recently treated for substance use disorders, 40.3% reported heroin as their primary drug problem. This was followed by methamphetamine (21.6%), marijuana (13.9%), alcohol (13.4%), prescription drugs (6.0%), and cocaine (3.7%).1 The number of primary heroin admissions in Los Angeles increased by 98% from 2007 to 2016.1
In Los Angeles County, 19% of residents aged 12 and older report having misused prescription drugs at least once in their lifetime.4 An estimated 11.2% of Los Angeles County residents who misuse prescription drugs have experienced an overdose.4 Between 2017 and 2018, 7,940 people in Los Angeles County received treatment for alcohol use disorder.5
Why Substance Abuse Treatment in Los Angeles?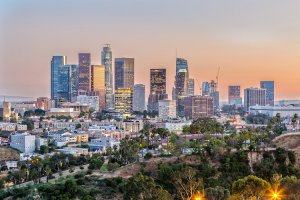 Los Angeles rehab centers, and all rehab centers in California, have some special advantages over other rehab centers. Los Angeles is home to A-list celebrities, shopping hotspots, fun museums, and miles of inviting, relaxing beaches. This southern California city is the most populous city in the state and the second-most populated city in the entire U.S. Residents and visitors to Los Angeles are located just minutes away from Hollywood, Santa Monica, and Long Beach, and have access to wildly fun attractions like Disneyland and Universal Studios.
Los Angeles is widely recognized for its moderate climate and boasts an annual average high temperature of 75 degrees and an average low of 57 degrees. The weather is normally warm and dry, though rainfall provides some moisture between October and May. In downtown Los Angeles, the average seasonal rainfall is between 14 and 15 inches.
The Griffith Observatory, the Hollywood Walk of Fame, Third Street Promenade, Runyon Canyon Park, and the Los Angeles County Museum of Art are among top attractions in this famous West Coast city. No matter what your interests, Los Angeles is bound to fulfill your desires as they pertain to the outdoors, shopping, and fun things to do. You can spend the day at one of the city's many beautiful beaches, hike the Griffith Park trail, or hang out in downtown Hollywood to catch a glimpse of your favorite celebrities.
Los Angeles prides itself on having one of the country's best public transportation networks that include subways, light-rail, buses, and shuttles to nearly everywhere in the Greater Los Angeles area. Health-conscious individuals have the option of walking or riding their bike to nearby destinations. Ride-sharing services are also available in Los Angeles to accommodate those who want more privacy than that offered by public transit networks without having to drive their own vehicles.
Choose American Addiction Centers in California
American Addiction Centers offers a nationwide network of drug and alcohol treatment programs, an alumni support system, quality care, and a 90-day promise. If a person relapses after completing 90 days of drug treatment at an AAC program, they can return for 30 days of complimentary treatment.
Additionally, American Addiction Centers alumni from across the country host fun gatherings and events while alumni coordinators check-in regularly to ensure those recovering from substance abuse benefit from continued support.
Find Alcohol and Drug Rehab Centers in Los Angeles
At American Addictions Centers we focus our treatments around healing the body, mind, and spirit. At our treatment centers we offer a wide range of treatment options and different levels of care to best fit our patients needs on their road to recovery.
You owe it to yourself to work with our experienced team of doctors, clinicians, and counselors to create a one-of-a-kind, constantly evolving treatment plan designed to help you get the most out of your recovery experience. Our goal is to treat the whole person, and that means addressing co-occurring mental illness, physical wellness, social issues, and more.
If you don't choose Los Angeles addiction treatment, Orange County's first chemical dependency recovery hospital, Laguna Treatment Hospital provides research-based clinical and support services for adults suffering with drug and/or alcohol addiction and co-occurring mental health disorders. The hospital has the expertise to care for most patients, including those who are medically compromised and require 24/7 medical care through its unique medical model for addiction treatment.
More Ways to Get Addiction Help in Los Angeles
Sources
Health Outcomes and Data Analytics Unit, Clinical Services and Analytics Branch, Substance Abuse Prevention and Control, Los Angeles County Department of Public Health (2017). Annual review of patients in publicly funded substance use disorder treatment programs in Los Angeles County, 2015- 2016 fiscal y
Los Angeles County Department of Public Health. (2019). Costs of alcohol and other drug misuse/abuse. Substance Abuse Prevention and Control (SAPC) Brief.
Los Angeles County Department of Public Health. Opioid abuse prevention and treatment in Los Angeles County.
Health Outcomes and Data Analytics, Substance Abuse Prevention and Control, Los Angeles County Department of Public Health. (2019). Prescription medication misuse and public perceptions in Los Angeles County: findings from the 2017 community needs assessment.
Los Angeles County Department of Public Health. (2019). Excessive drinking and consequences. Substance Abuse Prevention and Control (SAPC) Brief.