Huntington Beach Drug & Alcohol Rehab Centers
Huntington Beach drug and alcohol rehabs offer solutions and hope to those struggling with addiction. From offerings like evidence based and medically assisted treatment to 24-hour monitoring and care, American Addiction Centers (AAC), provides quality care and support to help individuals get on the path to recovery and stay clean.
Where is Rehab Located in Huntington Beach?
When looking for drug rehab in Huntington Beach, there are many choices from which to choose from along the coastal cities in Southern California. Just a short 30-minute drive away from Huntington Beach, AAC's Laguna Treatment Hospital in Aliso Viejo, offers supervised medical detoxification, withdrawal management, and residential treatment.
Laguna is accredited with the Joint Commission, which acknowledges AAC's commitment to health care safety and quality. Laguna has also been featured in Newsweek's list of best addiction treatment facilities in the United states in 2020.

What is the Cost of Rehab in Huntington Beach?
The cost of rehab varies depending on your personalized needs, drug of choice, amenities offered, and insurance coverage.
Does Insurance Cover the Cost of Rehab?
Many insurance providers are able to cover all or part of the cost of drug rehabilitation depending on your coverage level. Common insurance plans like Anthem, Blue Cross Blue Shield, Kaiser Permanente, United Healthcare, and Aetna are accepted by many rehab facilities. Some withdrawal symptoms from a substance like alcohol can be dangerous. In these cases, individuals may require medically monitored inpatient detox. This is a more costly level of care, but it can also save the life of the individual. See if your insurance coverage will allow you to cover all or part of the cost of treatment.
Are you or a loved one struggling with addiction and are concerned about the cost of treatment? Use our cost of addiction calculator to find out how much money addiction will cost you over your life time compared to the cost of going to rehab.
Can I Attend Rehab Without Insurance?
Patients may pay the cost out of pocket, choose low cost rehab treatment, or even choose a free drug rehab option. Health insurance coverage and income must be verified.
Does Medicaid/Medi-Cal Cover Rehab?
Medicaid covers rehab treatment. Accepted at rehab centers across the nation, it's a state and federal run health insurance program, which covers over 70 million people and those covered in the Children's Health Insurance Program. Medicaid eligibility includes guidelines, and requirements and policies vary with each state. Medicare may also be another option for those who qualify.
Do Rehab Centers in Huntington Beach Treat Alcohol and Drug Addiction?
Rehabs in Huntington Beach, California are able to aid in rehabilitation from a wide variety of addictions and drugs. Drug and/or alcohol rehabs typically may offer: detox services, inpatient and/or outpatient rehab, and residential treatment. Many treatment facilities are also able to offer specialized services such as co-occurring treatment to treat both addiction and mental health disorders such as anxiety and depression as well as medically assisted treatment (MAT) such as suboxone. The period of time a patient remains in treatment can vary based on the needs of the patient, but typically falls between 30-90 days, while medical detox can be 5-7 days.
Other Ways to Get Help & Huntington Beach Rehab Resources
There are resources available to get help for substance abuse treatment in the state of California. Below is a list:
Find Drug & Alcohol Treatment Centers Near You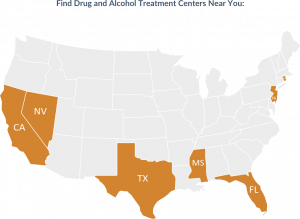 Common Huntington Beach Rehab & Addiction Statistics
Quality rehab facilities are available across the state of California. Unfortunately, there's also a presence of substance abuse and alcohol abuse.
Rehab statistics:
Upwards of 150,000 individuals 12 and overlooked for rehabilitation in California in 2015.1
More than 35, 000 individuals 12 and over who looked for rehab in California were addicted to heroin in 2015.1
More than 45,000 individuals entered into rehab for methamphetamine abuse in 2015.1
The Golden State had a total of 1,311 substance abuse treatment facilities in 2017.2
More than 30,000 individuals 12 and over went to rehab in California for marijuana abuse in 2015.1
Upwards of 90% of California rehab clinics treated both drug and alcohol abuse in 2017.2
Addiction statistics:
Heroin-related ER visits in California tripled between the timeframe of 2006 and 2017.3
Upwards of 45,000 overdose deaths in California involved opioids in 2018.3
By 11th grade, roughly 40% of California students have used marijuana and upwards of 50% of the students have already used alcohol.4
About 35 opioid prescriptions were written by physicians for every 100 individuals compared to the country's average of 51.4 prescriptions in 2018.4
Synthetic opioid deaths increased by 60% in California between the period of 2017 and 2018.4
FAQ About Drug & Alcohol Rehab Treatment in California
Sources:
[1]. Substance Abuse and Mental Health Services Administration. 2017 State Profile—United States and Other Jurisdictions: National Survey of Substance Abuse Treatment Services (N-SSATS).
[2]. Substance Abuse and Mental Health Services Administration. (2017). Treatment Episode Data Set (TEDS): 2005-2015.
[3]. California Health Care Foundation. (2018). California Healthcare Almanac.
[4]. National Institute on Drug Abuse. (2020) California Opioid-Involved Deaths and Related Harms.
[5]. California Legislative Information. (2020). Assembly Bill No. 75.
[6]. California Courts; The Judicial Branch of California. (2020). Drug Courts.
[7]. California Courts; The Judicial Branch of California. (2020). Proposition 47: Safe Neighborhoods and Schools Act.