Drug & Alcohol Rehab Treatment in St. Petersburg, Florida
Instantly find your coverage information.
We'll be able to tell you if your insurance provider is in network with an American Addiction Centers treatment facility.
* These fields are required

If you or your loved one are searching for drug and alcohol rehab treatment in the St. Petersburg, Florida area, this page can help you locate fitting addiction treatment programs nearby.
Additionally, AAC will help you understand the cost of rehab, how to use insurance to pay for treatment, and if there are free resources in the St. Petersburg area for substance abuse and mental health conditions.
If you are struggling with mental health or substance abuse problems in the St. Petersburg area of Florida, American Addiction Centers can help. Call
Where is Addiction Treatment Located in St. Petersburg, Florida?
According to Findtreatment.gov, there are 49 treatment programs within 25 miles of St. Petersburg, Florida.1
AAC's Florida locations are conveniently situated in Miami and Tampa, two large Floridian cities, making drug rehab treatment easily accessible to a wide variety of people in the Southern State.
Call us at to learn more.
What is the Cost of Rehab in St. Petersburg, Florida?
The cost of rehab in St. Petersburg will vary based on several factors, such as whether you use insurance to pay for rehab, what coverage and benefits your specific insurance plan offers, and the type of treatment you receive. Other factors such as location and your medical necessity will also influence your treatment cost.
Health insurance typically covers all or a portion of your mental health and substance abuse treatment. Fill out our form below to learn more about whether your particular insurance may cover rehab at AAC.
Can Insurance Cover the Cost of Rehab?
Your insurance plan may cover at least some of the cost of rehab. Numerous Federal mandates require certain types of insurance programs to cover substance use disorder treatment.2 However, the amount of insurance coverage offered by plans varies between individuals. Additionally, if have health insurance through Medicare or Medicaid, you may be able to apply these benefits towards a rehab program, depending on whether or not your chosen treatment center accepts Medicare or Medicaid.3,4
Are There Free Rehab Centers in St. Petersburg?
In the St. Petersburg area, Findtreatment.gov notes that there are 3 free treatment programs within 100 miles.1
Apart from free and state-funded rehabs, there are low-cost rehab options available for patients in St. Petersburg, Florida, as well While receiving free or low-cost treatment can be a good thing for many people, there are also some disadvantages to choosing one of these problems, such as long waiting lists. These programs may also vary in intensity of services and potentially might not meet every person's treatment needs.5
Other Addiction Treatment Resources in St. Petersburg, FL
St. Petersburg, located on the west central coast of Florida near Tampa, is home to about 250,000 residents.8 St. Petersburg is in Pinellas County, which has a population of nearly 1 million people.9 There are resources for addiction treatment that include:
St. Petersburg Rehab & Addiction Statistics
In terms of substance use, Florida:10,11
Has around 1.1 million people per year who have a substance use disorder.
Has around 57,000 in some type of rehab program on any given day.
Had a 13% increase in drug-related deaths in 2020.
Pinellas County, home to St. Petersburg, also has some alarming statistics, with:12
Nearly 21% of adults have reported heavy or binge drinking, which is higher than the Florida average of 17.5% of adults.
977 people died from alcohol-related auto accidents in 2016.
277 people died in 2016 from accidental drug-related causes.
Frequently Asked Questions: St. Petersburg, FL Rehab Centers
Signs it's Time for Rehab
To be diagnosed with an SUD, you must meet at least two of the following criteria (within the past 12 months):14
Has cravings or strong urges to use substances
Attempts to cut back on using or to stop using a substance have proven unsuccessful
Uses substances in high-risk situations
Has experienced increased conflict with family and friends due to substance use
Has neglected obligations at home, work, or school due to substance abuse
Abandons important hobbies and other leisure pursuits to use substances instead
Has spent a lot of time and resources finding, using, and attempting to recover from using a substance
Uses more of a substance than was originally intended
Has continued using the substance despite knowing that it makes a medical or psychological condition worse
Has developed tolerance to the substance, which means they need more of it to experience the same effects or feel a diminished response
Has shown signs of withdrawal when they have stopped using the substance or take the substance to avoid feeling withdrawal.
Some behavioral signs of addiction can include:15
Stealing money to buy drugs or alcohol.
Maintaining poor hygiene or not caring about your appearance.
Lying to others about your use of substances.
Sudden changes in peer groups and hobbies.
Mood swings that involve anger or agitation.
Trouble with school, work, or the law.
Find Drug & Alcohol Treatment Centers Near You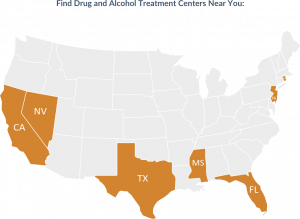 Sources: