Inpatient Drug and Alcohol Rehab in Florida: How to Choose the Best
Drug and alcohol abuse impacts people of all ages, genders, religions, socioeconomic statuses, and locations. However, if you are struggling with substance abuse in the state of Florida, there are various inpatient rehab centers in Florida that help those with substance use disorders and other co-occurring mental health conditions.
Choosing the best Florida inpatient drug and alcohol rehab can be challenging, but American Addiction Centers (AAC) is here to help. If you or a loved one is seeking inpatient rehab for a drug or alcohol use disorder in the state of Florida, you can find an array of diverse treatment options in Texas.
American Addiction Centers offers inpatient rehab in Florida. Call  today to learn about our Dallas, Texas treatment center.
Inpatient Rehab and Addiction Statistics in Florida
There were 30,104 rehab admissions in Florida in 2015.1

10,245 people were admitted for opiate addiction.
8,145 people were admitted for alcohol addiction.
4,551 people were admitted for marijuana addiction.
1,676 people were admitted for cocaine addiction.
976 people were admitted for methamphetamine addiction.

There are 726 substance abuse treatment facilities in Florida.2
There are 212 inpatient drug rehabs in Florida.
There are 598 outpatient treatment addiction facilities in Florida.
177 Florida facilities treat with methadone/buprenorphine maintenance or naltrexone.
What is Inpatient Rehab?
Florida inpatient drug rehab is often termed residential treatment because of the setting.3 In an inpatient Florida rehab, patients stay in their facility overnight for days, weeks, or months at a time.3 Inpatient rehab facilities in Florida are excellent for those dealing with severe addiction to a variety of substances, including alcohol, cocaine, opioids, and more.4
In an inpatient or residential rehab, treatment is designed to follow the model of a "therapeutic community.3 This involves utilizing everyone in the rehab community to assist in recovery.4 Other residents and staff will be active participants in guiding the environment. The goal of inpatient drug or alcohol rehab is to get to the root of addictive behavior and make long-term changes.4
Why Should I Go to Inpatient Rehab in Florida?
When deciding where you should go for addiction treatment, you may want to consider one of the inpatient drug centers in Florida. Those who already live in Florida may wish to stay close to home so that family members can visit and possibly take part in family therapy, if applicable.
If you live outside the state of Florida, it may be a good choice to relocate. You may be dealing with negative environmental dynamics that hold you back from recovery. By moving away from the area, you can break free from that influence.
Florida offers the benefit of a temperate climate, with the ocean along the east coast and the Gulf of Mexico along the south coast for those who like the water.
Tips for Finding the Best Inpatient Rehab in Florida
Check for inpatient rehab centers in Florida around major cities, such as Jacksonville, Miami, Tampa, Orlando, and St. Petersburg.
Look for a place that offers a range of treatment levels and therapy options.
Find inpatient rehabs that offer specialized programs for specific populations—men, women, veterans, LGBT, people with co-occurring disorder treatment, and so on.
Work with an inpatient rehab that is accredited and uses certified therapists.
Does Insurance Cover Inpatient Rehab in Florida?
Payment for rehab is often the first thing on people's minds when they are considering treatment. Insurance typically covers inpatient rehab in Florida. However, the extent of your insurance coverage and how much you may have to pay out-of-pocket depends on your insurance policy, the treatment center you select (in-network or out-of-network), and other factors. Luckily, there are plenty of free rehab options and state-funded programs available for people who do not have insurance.
If you are wondering whether your rehab stay in Florida may be covered by insurance, fill out the form below.
Inpatient Rehabs in Florida
Recovery First | Hollywood, FL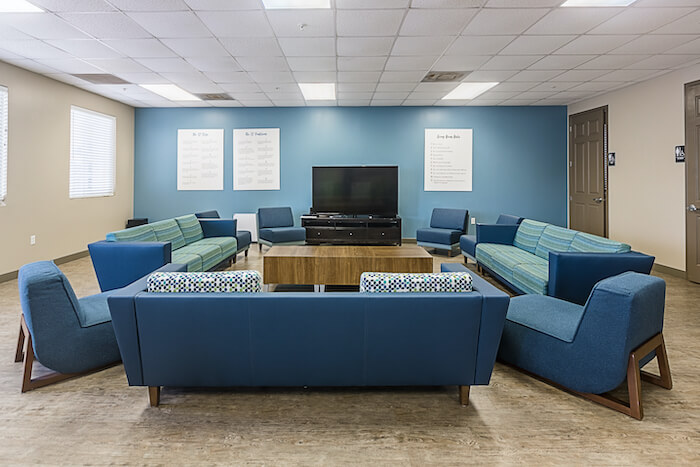 Recovery First, one of AAC's Florida rehab centers, provides accredited drug detox, partial hospitalization drug rehab, and intensive outpatient programming in Hollywood, Florida. Just a 30 minute drive from downtown Miami, Recovery First specializes in treating those with addiction to drugs and alcohol and is well-fit for those suffering from co-occurring mental disorders.
Address: 4110 Davie Road Extension
Hollywood, FL 33024
Learn More About Recovery First
River Oaks | Tampa, FL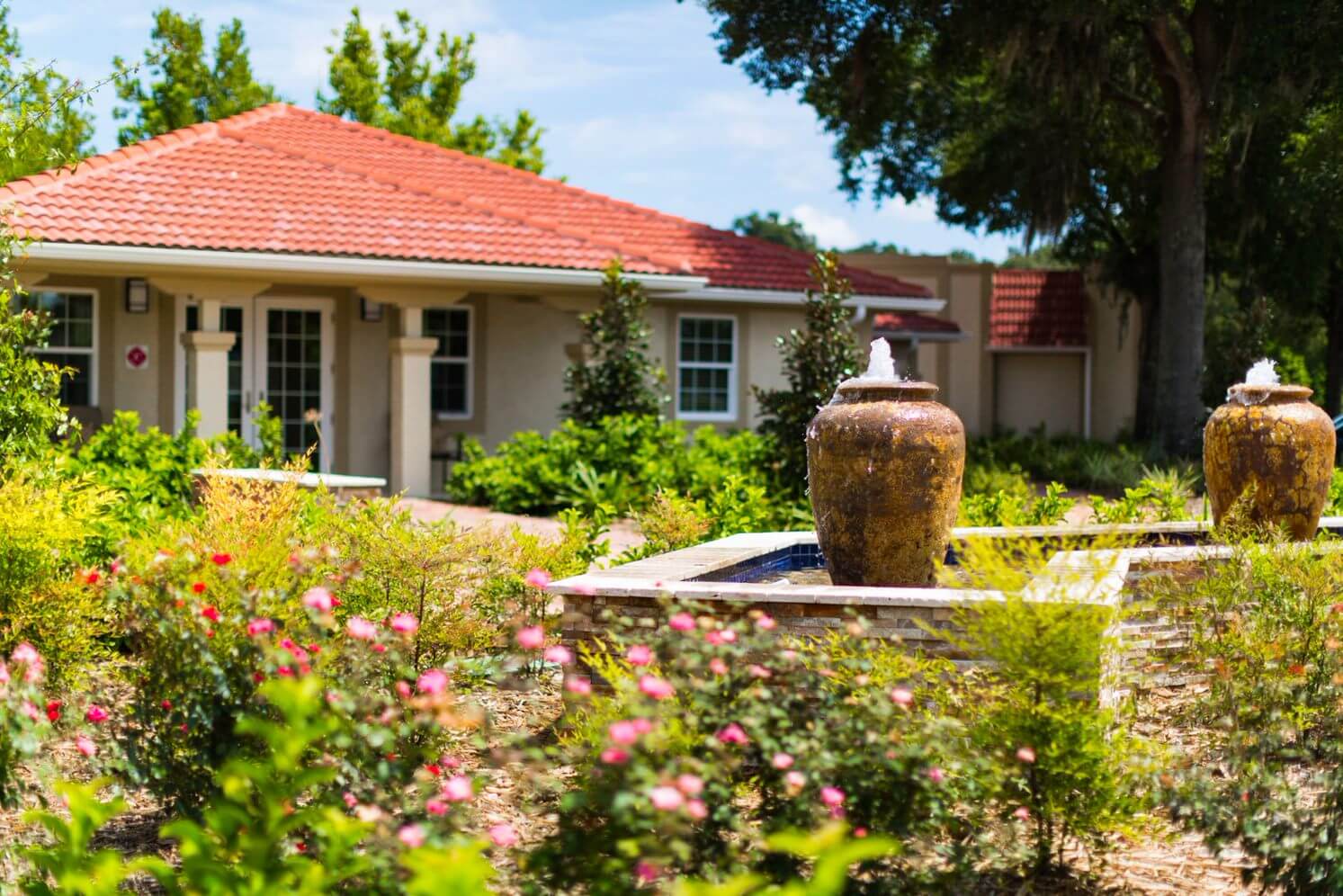 River Oaks sits on a secluded 26-acre property in Tampa, Florida and provides drug and addiction treatment services such as detox, residential treatment, and outpatient programs to those suffering from addiction and other co-occurring disorders. Just a 24 minute drive from downtown Tampa, River Oaks is an ideal place to recover and connect with sober peers, and patients can choose from various
evidence-based
addiction therapies to suit their personalized needs and goals.
Address: 12012 Boyette Road
Riverview, FL 33569
Can Mental Health Issues Be Treated in Inpatient Rehab?
Comorbidities are often a concern for people with substance use issues.5 Mental illness often goes hand in hand with addiction and requires a comprehensive treatment approach.5 You can receive mental health treatment in tandem with addiction treatment at an inpatient rehab in Florida. American Addiction Centers (AAC) offers co-occurring disorder treatment at River Oaks Treatment in Tampa and Recovery First in Miami.
During treatment, a doctor may administer medication to assist with substance use disorder.5 Additionally, a therapist will administer evidence-based behavioral therapies such as:5
Cognitive-behavioral therapy.
Dialectical behavioral therapy.
Assertive community treatment.
Integrated group therapy.
How Long Does Florida Inpatient Rehab Last?
The length of inpatient rehab in Florida is personalized to fit your needs. The most effective time frame is 90 days. However, there are 60-day rehab programs and 30-day rehab programs. You can speak to an admissions navigator about which program is right for you.
Other Rehab Options in Florida
Drug detox: this rehab option usually uses medication to assist in the detoxification process.3
Partial hospitalization program: this is a more intense treatment, but it's not 24/7. You typically attend 5 days a week for 4-6 hours a day.6
Intensive outpatient program: this is a step down from partial hospitalization but more intense than regular outpatient. You may come to therapy about twice a week for about 3 hours per day.6
Outpatient therapy: this includes participating in different evidence-based therapies with a certified therapist.3
You Might Also Be Interested In
Sources: