Alcohol & Drug Rehabs in Georgia: How to Find Rehabs in Georgia
Instantly find your coverage information.
We'll be able to tell you if your insurance provider is in network with an American Addiction Centers treatment facility.
* These fields are required

Drug rehab in Georgia can help people living in this southern state recover from substance use disorders and co-occurring mental health conditions. Between 2018 and 2019, there were 1226 unintentional overdose deaths in Georgia.1 Thankfully, treatment and rehab facilities are becoming more available across the nation.2 In 2020, there were 348 substance use facilities or rehabs in Georgia.2 Figuring out where you want to attend drug addiction treatment can be difficult, and it requires taking your individual needs into account.
American Addiction Centers offers addiction treatment at each of our nationwide treatment centers, along with co-occurring disorder treatment. Call
Where Are Rehabs in Georgia Located?
Drug and alcohol treatment is becoming more accessible. In 2020, there were 348 substance use treatment facilities in Georgia.2 Atlanta, Georgia's capital, has a higher concentration of treatment centers, but there are rehabs for men and women in several other cities across Georgia.3 Georgia has a variety of rehab centers, including luxury rehab centers, LGBTQ rehabs, rehab for veterans, and more.
Cities like Decatur, Savannah, Marietta, and Augusta also offer multiple rehab facility options.3 Additionally, Georgia is next to Florida, South Carolina, and Alabama, all of which offer access to beautiful beaches. Georgia also has a variety of museums, zoos, and aquariums.
Find Drug & Alcohol Treatment Centers Near You
Though American Addiction Centers does not have a rehab center in Georgia state, River Oaks Treatment Center is just a short plane ride away in Florida state. Call us today and we can help you organize transportation to one of our rehab facilities near you. For some, finding treatment options nearby but not directly located in their town or state is a more desirable option. It allows the patient time away from their usual triggers and environments that may cause them to use. Explore our other rehab facilities near you, as there may be a treatment program that meets your needs, even if it is a bit farther from home.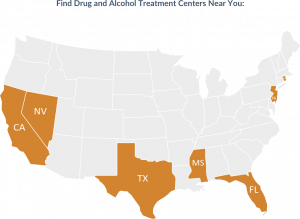 Take Our Substance Abuse Self-Assessment
Take our free, 5-minute substance abuse self-assessment below if you think you or someone you love might be struggling with substance abuse. The evaluation consists of 11 yes or no questions that are intended to be used as an informational tool to assess the severity and probability of a substance use disorder. The test is free, confidential, and no personal information is needed to receive the result.
What Is the Cost of Rehab in Georgia?
Since there are several drug treatment facilities in Georgia, the cost can vary significantly. Factors like treatment type, length of stay, and location can influence the cost of treatment. Thankfully, over half of Georgia rehabs accept some form of insurance, both private or state-funded, and most accept private payment options.2 In Georgia in 2020, 88.5% of payments for substance use facilities were cash or self-funded compared to 56.9% for private health insurance and 54.9% for Medicaid.2
The River Oaks rehab center accepts many insurance plans through common providers like Aetna, Blue Cross Blue Shield, and United. The best way to check if your treatment will be covered is to go to the AAC insurance check website. For many people, insurance is not an option. In Georgia, 47.4% of facilities offered a sliding scale fee option, and 40.8% offered free or low-cost treatment services.2
Do Georgia Rehabs Take Insurance?
Yes, Georgia rehabs typically accept health insurance plans. This means that drug or alcohol addiction treatment, as well as co-occurring mental health condition treatment, may be fully or partially covered through your insurance plan. However, the extent of your coverage will depend on your particular needs, your provider, your health insurance plan, and more. To discover what behavioral health benefits your health insurance plan offers, fill out the form below.
Do Rehab Centers in Georgia Treat Alcohol and Drug Addiction?
Substance use treatment facilities treat all forms of addiction including drugs and alcohol. Some rehabs may offer many levels of care, while others may only offer one or a few levels of care, such as drug detox or outpatient treatment. Select rehab centers might specialize or only treat one form of addiction, however, it is more common that rehab centers are equipped to handle many different forms of addiction.2 In fact, 87% of facilities in the United States were able to treat both substance and alcohol addiction, and 88.1% were able to also address mental health conditions concurrent with addiction.2 This flexibility creates more access, reflecting the 31.8% of clients that entered rehab for both drug and alcohol abuse, 54.3% for just substance abuse, and 14% for alcohol abuse only in 2020 in the United States.2
Some drug and alcohol rehab centers offer young adult or teen rehab, while others may have specialized faith-based programs.
In Georgia specifically, 76.9% of facilities treated both alcohol and drug use.2 The most common substance that clients detoxed from was opioids, followed by alcohol.2 Below is a list of commonly abused or misused substances in Georgia in 2020:2
Opioids
Alcohol
Benzodiazepines
Cocaine
Methamphetamines
Other Ways to Get Help & Georgia Rehab Resources
Deciding to seek treatment can be an intimidating first step. Aside from rehab or treatment facilities, there are other resources available for you in Georgia. Support groups and faith-based and community-led programs are all accessible within the state. Below is a list of some, but not all, groups with a presence in the state of Georgia:
For a full list of Georgia-specific resources, you can visit the Georgia Council on Substance Abuse resource page.
FAQs About Rehabs in Georgia
Sources