Houston Texas Addiction Treatment Center
As the home of NASA's Space Center, Houston has a lot going on. Unfortunately, the city also has its fair share of substance abuse. If you need alcohol or drug treatment in Houston, luckily, American Addiction Centers has addiction treatment 
facilities in the Texas areas
.
Statistics about Houston
Because of its proximity to Mexico, where a lot of illegal drugs are manufactured, Houston is considered a High Intensity Drug Trafficking Area (HIDTA). In fact, as of 2017, officials have identified 535 drug-trafficking or money-laundering organizations in Houston's 17-county HIDTA alone.1 Methamphetamine poses the biggest threat in the Houston HIDTA, followed by synthetic cannabinoids, marijuana, cocaine, heroin, and opioids.1In 2017, authorities seized 6,259 kilograms of cocaine in the Houston HIDTA—an increase of 571% from 2014.1
In 2017, 648 people died while abusing substances in Harris County,2  and of those deaths, 310 were related to opioids, 2 146 were linked to heroin,1 and 55 were linked to fentanyl and fentanyl analogs, more than double the number reported in 2016.1
Why Houston?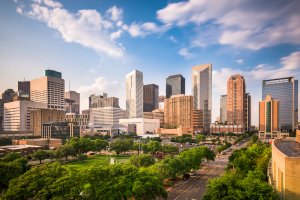 Situated in Harris County right on Galveston Bay, Houston is the home of the
Space Center, one of NASA's most important training complexes
. When you visit here, you can learn more about the US Space Program and maybe even catch a rocket in flight.
Of course, the city has other notable amenities to keep you occupied. Peruse the Theater District, which is home to the Houston Grand Opera, or take a stroll through the Historic District for a variety of shops and restaurants.
You should have no problem exploring the city year-round, as the weather is hot in the summer and relatively mild in the winter. Expect highs in the low-90s in June, July, and August, paired with lows in the mid-40s in December, January, and February.
Use that great weather to your advantage to get outside and have fun when you fish in the Gulf of Mexico, hike in the Sam Houston National Forest, or kayak down Buffalo Bayou.
Don't worry if you don't have a car, as Houston's METRO system can get you around town with ease. Currently, the city maintains 1,236 active buses, 3 light-rail lines, several HOV lanes, paratransit service, and park and ride locations.
Why Choose American Addiction Centers?
American Addiction Centers offers a nationwide network of facilities, an alumni support system, quality care, and a 90-day promise. If a person relapses after completing 90 days of treatment at an AAC program, they can return for 30 days of complimentary treatment.
Additionally, American Addiction Centers alumni from across the country host fun gatherings and events while alumni coordinators check-in regularly to ensure those recovering from substance abuse benefit from continued support.
Start Your Substance Abuse Recovery Today
At American Addictions Centers we focus our treatments around healing the body, mind, and spirit. At our treatment centers we offer a wide range of treatment options and different levels of care to best fit our patients needs on their road to recovery.
You owe it to yourself to work with our experienced team of doctors, clinicians, and counselors to create a one-of-a-kind, constantly evolving treatment plan designed to help you get the most out of your recovery experience. Our goal is to treat the whole person, and that means addressing co-occurring mental illness, physical wellness, social issues, and more.
Greenhouse Treatment Center
, one of our rehab centers near Houston, prides itself on its luxurious setting and high-end amenities, offered to all residential patients who come to start their path to recovery. Located in a former Neiman Marcus spa, Greenhouse provides its patients with indoor and outdoor pools, a fully-stocked fitness center with a proctored wellness program, and three meals a day crafted by expert executive chefs.
More Ways to Get Help
Getting alcohol or drug addiction treatment in Houston, Texas is easy when you utilize the following local resources:
Sources:
Office of National Drug Control Policy, Houston Investigative Support Center. (2018). 2018 Houston HIDTA threat assessment. Houston High Intensity Drug Trafficking Area.