Drug & Alcohol Rehab Treatment Centers in Houston, Texas
Instantly find your coverage information.
We'll be able to tell you if your insurance provider is in network with an American Addiction Centers treatment facility.
* These fields are required

According to a Texas Control Update, the Houston, Texas area is a high-intensity drug trafficking area. In 2010, authorities seized 1.5 tons of cocaine, 108 tons of marijuana, and 400,000 dosage units of illicit pharmaceutical drugs in Houston.1 Survey data indicates that 11.8% of people age 12 and older in the Houston-Sugar Land-Baytown MSA used illicit drugs in the past year.2
If you are dealing with a substance abuse issue, let American Addiction Centers (AAC) aid you on your journey to sobriety. Our Greenhouse Treatment Center in Texas will provide you the tools you need to recover from substance abuse issues and reclaim your life from the disease of addiction.
Where is Addiction Treatment Located in Houston, TX?
With over 2.2 million people residing in Houston, this city is the country's fourth-largest and is located in Southeast Texas near Galveston Bay and the Gulf of Mexico. As a hub of economic activity and cultural diversity, Houston also hosts many tourists.3 With such a populous area, you can find many rehab centers in Houston and the surrounding cities. In fact, 37,370 people 12 and older sought treatment at a drug rehab facility in Texas in 2015. 4
AAC's Greenhouse location is conveniently located at 1171 107th Street Grand Prairie, TX, close to shopping, dining, and other recreational activities.
During the COVID-19 (aka coronavirus) pandemic AAC is available to answer questions about addiction and treatment options. Our rehab treatment facility near Houston, Greenhouse Treatment Center, is open and accepting patients and has medical experts and a caring staff who will stand by you on your journey to recovery.
Do Rehab Centers in Houston Treat Alcohol and Drug Addiction?
Yes, Houston alcohol and drug addiction treatment centers work with all types of addiction, including addiction to cocaine, heroin, prescription painkillers, meth, opiates, benzos, and alcohol.
Some treatment centers target specific addiction issues, but most rehab centers will be equipped to manage all types of substance abuse and work with a diverse variety of people who are addicted.
Find Addiction Treatment Near Me in Houston, TX
To find a Houston, Texas rehab center, call American Addiction Centers at Your designated navigator will help you understand your best addiction treatment options whether you need a highly supervised drug detox program or a more long-term inpatient rehab program. You may also use our free insurance verification form below to check whether or not your insurance plan will pay for rehab at AAC's Texas rehabilitation center before speaking to an admissions navigator.
What is the Cost of Rehab in Houston, Texas?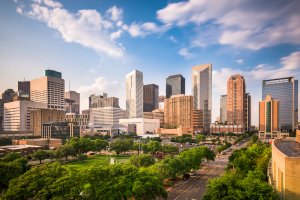 The cost of drug rehab in Houston will vary depending on what type of treatment you need and how long you stay in rehab. However, the majority of Houston rehabs accept private or state-funded insurance. More than half of drug treatment facilities in Texas accept health insurance payments and Medicaid.5 Let's take a closer look at the other forms of payment and insurance that drug rehabs in Texas accept: 5
2% accept cash or self-payment.
7% accept private health insurance
1% accept Medicare.
6% accept Medicaid.
6% charge on a sliding fee scale
For clients who can't pay, 44.6% of rehab facilities in Texas will still assist with treatment options at no charge or a minimal charge.
AAC's Greenhouse Treatment Center in Northern Texas accepts many private insurance plans through large companies such as Aetna, Blue Cross Blue Shield, Anthem, Amerihealth, Kaiser Permanente, and United Healthcare.
Find out if your insurance provider may be able to help with the cost of treatment with our online verification form below.
Other Ways to Get Help & Houston Rehab Resources
These resources will assist you as you begin your journey to sobriety:
Common Houston Rehab & Addiction Statistics
The following statistics represent the annual averages from 2005-2010 of persons 12 and older living in the Houston-Sugar Land-Baytown MSA area: 2
8% of the population engaged in illicit drug use.
9% of the population participated in marijuana use.
9% of the population engaged in prescription drug use.
9% of the population were classified as having a substance use disorder.
1% of the population participated in binge drinking.
FAQ: Drug & Alcohol Rehab Treatment in Dallas
Take Our Substance Abuse Self-Assessment
Take our free, 5-minute substance abuse self-assessment below if you think you or someone you love might be struggling with substance abuse. The evaluation consists of 11 yes or no questions that are intended to be used as an informational tool to assess the severity and probability of a substance use disorder. The test is free, confidential, and no personal information is needed to receive the result.