Drug & Alcohol Rehab Treatment Centers in Austin, Texas
Instantly find your coverage information.
We'll be able to tell you if your insurance provider is in network with an American Addiction Centers treatment facility.
* These fields are required

As the capital of Texas, Austin is a thriving city with ample resources for those struggling with substance use disorders. If you're struggling with addiction and are in need of alcohol or drug rehab in Austin, American Addiction Centers offers substance abuse treatment options in Texas that can help you overcome your addiction.
Where is Addiction Treatment Located in Austin, Texas?
Austin, the capital of Texas, is in the central part of the state within Travis County and borders the Colorado River.1 With a population of 9.5 million in 2019,2 Austin remains the 11th most populous city in the United States.3
The National Center for Health Statistics indicates that 1,398 residents of Travis County died due to drug overdose between 2006 and 2016.4 In 2016, 444 Travis County residents were hospitalized due to a drug overdose.4 Seeking treatment before you have an overdose is critical.
Including rehab centers in Austin, TX, there are 502 addiction treatment centers located in Texas, providing adequate facilities throughout Travis County.5 AAC's Greenhouse Treatment Center is conveniently positioned just north of Austin, between Dallas and Fort Worth. You'll find that Greenhouse's location allows for easy access to highways, restaurants, and other amenities.
During the COVID-19 (aka coronavirus) pandemic AAC is available to answer questions about addiction and treatment options. Our Dallas treatment facility, Greenhouse Treatment Center, is open and accepting patients and has medical experts and a caring staff who will stand by you on your journey to recovery.
What is the Cost of Rehab in Austin, TX?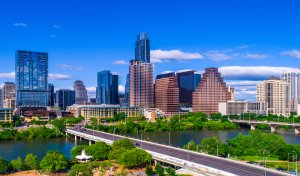 While cost may be a concern for those seeking treatment in Texas, most Austin rehab centers accept some form of private or state-funded insurance. In fact, more than half of the addiction treatment facilities in Texas accept private health insurance and Medicaid. Here is a closer look at the breakdown of what types of payments are accepted:5
89% accept cash.
64% accept private health insurance.
20% accept Medicare.
58% accept Medicaid.
37% accept state-financed health insurance.
50% accept sliding-fee scale.
45% help clients who don't have the ability to pay.
If you decide to use AAC's Greenhouse Treatment Center in Texas, they do accept a wide variety of private insurance plans through companies such as Aetna, Humana, Anthem, AmeriHealth, Blue Cross Blue Shield insurance, and more.
For those who don't have insurance, talk to a rehab coordinator about different ways you can still participate in rehab. Many facilities offer private payments, payment plans, free rehab, or state-funded options.
Do Rehab Centers in Austin Treat Alcohol and Drug Addiction?
Yes, substance abuse treatment in Austin's alcohol and drug addiction centers provide treatment for all types of addiction issues, including both drug and alcohol addiction. Texas had 37,370 total admissions to drug and alcohol rehab centers in 2015. The top substances abused were as follows:6
Opiates, including heroin, accounted for 8,824 admissions.
Marijuana accounted for 7,559 admissions.
Methamphetamine/amphetamine admissions numbered 6,233.
Alcohol accounted for 5,472 admissions.
Cocaine admissions were 3,213.
As you can see, drugs and alcohol both play a part in the struggle with addiction. While some treatment centers do focus on treating one type of addiction, such as an alcohol treatment center, most rehabs work with a wide range of populations and addictions to various types of substances. Finding best drug and alcohol rehab center in Austin for your situation will depend on a variety of factors, including the substances you struggled with, so be sure to reach out to American Addiction Centers or your physician before you decide when, where, and how to seek professional help for your substance use disorder.
Common Austin Rehab & Addiction Statistics
From 2006–2016, 1,398 Travis County residents died from an overdose of drugs. Of these deaths:4
42% were due to all types of opioids.
15% were due to semi-synthetic or natural opioids.
19% were due to heroin.
13% were due to benzodiazepines.
9% were due to methamphetamines.
11% were due to a combination of benzodiazepines and opioids.
From 2015–2016 in the city of Austin, there were 191 opioid drug overdoses.8
In that same year in Austin, there were also 89 overdose deaths from benzodiazepines.
There were 52 overdose deaths from cocaine.
There were 51 overdose deaths from methamphetamine.
Frequently Asked Questions About Austin, Texas Rehab Centers
Ways to Get in Contact With Us
If you believe you or someone you love may be struggling with addiction, let us hear your story and help you determine a path to treatment.
There are a variety of confidential, free, and no obligation ways to get in contact with us to learn more about treatment.