Austin Texas Addiction Treatment Center
Statistics about Austin
Why Austin?
Why Choose American Addiction Centers?
Start Your Substance Abuse Recovery Today
More Ways to Get Help
Statistics about Austin
Why Austin?
Why Choose American Addiction Centers?
Start Your Substance Abuse Recovery Today
More Ways to Get Help
As the capital of Texas, Austin is a thriving city that happens to have a hidden problem: substance abuse. If you're struggling with substance abuse and are in need of alcohol or drug rehab in Austin, there is hope. American Addiction Centers offers
substance abuse treatment options in Texas
that can help you overcome your addiction.
Statistics about Austin
The extent of drug and alcohol abuse in Austin stretches far and wide. Overall, both illicit drugs and prescription drug use is prevalent and problematic. As of 2018, emergency medical service teams in Austin responded to an average of 140 calls per month related to K2 synthetic marijuana overdoses.1
In the Austin/San Antonio Corridor, a well-known high-intensity drug trafficking area, the weight of heroin seized in 2016 increased 16% in 2016, meaning more drugs are coming through this area from the Mexican border.1 Multiple drugs were the cause of death, prescription drugs alone were involved in 38% of deaths. A combination of illicit and prescription drugs made up 36% of multiple-drug deaths, while illicit drugs alone made up 28%.2  In addition to drug related deaths, alcohol was found in the system of 28% of drivers involved in fatal auto accidents in Travis County in 2018.2
Why Austin?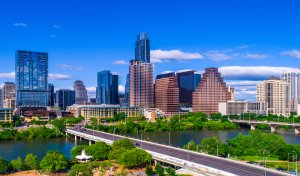 Austin is fast becoming
one of the country's coolest town
s, with East Austin ranking as one of the trendiest hipster towns in the United States. Many features elevate Austin to the top, including its unique barbecue dishes and delectable Mexican casual foods. When you're done eating, don't forget to hit up the live music scene, which offers everything from blues to rock to country to pop.
You'll have no problems enjoying the Austin weather, as this central-Texas city has pleasant weather nearly year-round. In January, the coldest month of the year, the temperature dips only into the 40s. The hottest time of year is August, when the highs get to the upper 90s.
Take advantage of the warmth with visits to some of Austin's numerous outdoor parks. Take a hike on the River Place Nature Trail or Barton Creek Greenbelt, or try kayaking Lady Bird Lake for a little fun on the water.
Whatever you decide to do, getting around will be easy thanks to the city's public transit system. Known as the Capital Metro, the service offers 14 high-frequency bus routes, several commuter bus services, commuter rail service, and on-demand transit to assist you in going from one end of town to the other without a car.
Why Choose American Addiction Centers?
American Addiction Centers offers a nationwide network of facilities, an alumni support system, quality care, and a 90-day promise. If a person relapses after completing 90 days of treatment at an AAC program, they can return for 30 days of complimentary treatment.
AAC is in-network with many insurance companies. Your addiction treatment could be covered depending on your policy.
Additionally, American Addiction Centers alumni from across the country host fun gatherings and events while alumni coordinators check-in regularly to ensure those recovering from substance abuse benefit from continued support.
Start Your Substance Abuse Recovery Today
At American Addictions Centers, we focus our treatments around healing the body, mind, and spirit. At our treatment centers we offer a wide range of treatment options and different levels of care to best fit our patients' needs on their road to recovery.
You owe it to yourself to work with our experienced team of doctors, clinicians, and counselors to create a one-of-a-kind, constantly evolving treatment plan designed to help you get the most out of your recovery experience. Our goal is to treat the whole person, and that means addressing co-occurring mental illness, physical wellness, social issues, and more.
Greenhouse Treatment Center
 prides itself on its luxurious setting and high-end amenities, offered to all residential patients who come to start their path to recovery. Located in a former Neiman Marcus spa, Greenhouse provides its patients with indoor and outdoor pools, a fully-stocked fitness center with a proctored wellness program, and three meals a day crafted by expert executive chefs.
More Ways to Get Help
If you need substance abuse treatment in Austin, turn to one of these resources to assist you:
Sources:
House Select Committee on Opioids and Substance Abuse, Texas House of Representatives. (2018). Interim report to the 86th Texas legislature.
Travis County Medical Examiner's Office. (2018). Annual report 2018.