Alcohol and Drug Treatment Centers in San Antonio, Texas
Statistics about San Antonio
Why San Antonio?
Why Choose American Addiction Centers?
Start Your Substance Abuse Help Today
Statistics about San Antonio
Why San Antonio?
Why Choose American Addiction Centers?
Start Your Substance Abuse Help Today
Dealing with substance abuse and addiction can be difficult, but luckily, American Addiction Centers can help. We provide substance abuse treatment programs near San Antonio where you can get the help you need to recover. As the home of The Alamo and the miles-long River Walk, San Antonio is a great place to rejuvenate and refocus on recovery.
Statistics about San Antonio
Like much of the U.S., drug and alcohol use are common in San Antonio. San Antonio is in Bexar Country, and accounts for one-third of all Texas newborns born suffering from opioid withdrawal.1
As of 2018, methamphetamine and fentanyl overdoses are on the rise in Bexar County.3 People in and around San Antonio made 597 opioid-related calls to the Texas Poison Center Network in 2017.2
In the Austin/San Antonio Corridor saw a 16% increase in heroin seizures in 2016, which is an indicator that drug trafficking between the U.S. and Mexico is on the rise.3
In 2016, Bexar County reported 73 heroin-related deaths — the most in all of south Texas.3
Why San Antonio?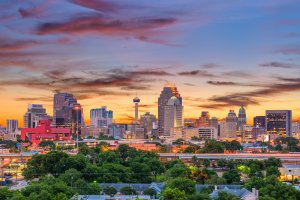 Why choose rehab centers in San Antonio? It's the second biggest city in Texas and the seventh in the United States, so you'll find there's plenty to do.
San Antonio is most well-known as the home of The Alamo
, which was a stronghold in the Texas Revolution. Today, it's a
UNESCO World Heritage site for the San Antonio Missions
that makes a perfect day trip.
The River Walk is another fine attraction that takes you along the San Antonio River and offers numerous shops and restaurants to peruse. For a little more fun, try visiting SeaWorld, Six Flags Fiesta Texas, or Morgan's Wonderland—all fun amusement parks.
Weather in San Antonio is pleasant in the fall, spring, and winter, but can get quite hot in the summer, with an average high of 95.7 degrees Fahrenheit in August. In the winter, things don't get too chilly, with an average low of 40.5 degrees Fahrenheit in January.
Because the weather is great in San Antonio nearly year-round, you can take advantage of all the outdoor amenities the area has to offer. Take a hike through the Government Canyon State Natural Area, or enjoy a picnic at the local Eisenhower Park.
Even if you don't have a car, you can easily make it to all of the above places using San Antonio's public transit system, VIA Metropolitan. It provides bus and van service with 96 routes, 8 park and ride facilities, and 7,200 bus stops.
Why Choose American Addiction Centers?
American Addiction Centers offers a nationwide network of facilities, an alumni support system, quality care, and a 90-day promise. If a person relapses after completing 90 days of treatment at an AAC program, they can return for 30 days of complimentary treatment.
Additionally, American Addiction Centers alumni from across the country host fun gatherings and events while alumni coordinators check-in regularly to ensure those recovering from substance abuse benefit from continued support.
Start Your Substance Abuse Help Today
At American Addictions Centers we focus our treatments around healing the body, mind, and spirit. At our treatment centers we offer a wide range of treatment options and different levels of care to best fit our patients needs on their road to recovery.
You owe it to yourself to work with our experienced team of doctors, clinicians, and counselors to create a one-of-a-kind, constantly evolving treatment plan designed to help you get the most out of your recovery experience. Our goal is to treat the whole person, and that means addressing co-occurring mental illness, physical wellness, social issues, and more.
Greenhouse Treatment Center
, our substance abuse treatment center near San Antonio, prides itself on its luxurious setting and high-end amenities, offered to all residential patients who come to start their path to recovery. Located in a former Neiman Marcus spa, Greenhouse provides its patients with indoor and outdoor pools, a fully-stocked fitness center with a proctored wellness program, and three meals a day crafted by expert executive chefs.
More Ways to Get Help
Remember, you aren't alone when it comes to substance abuse. There are plenty of organizations for drug and alcohol addiction treatment in the San Antonio area where you can get help, including:
Sources:
Bridger, C.M. (2018). Public health: responding to the opioid epidemic. City of San Antonio Metropolitan Health District: Pathways to Hope Conference.
Hellerstedt, J. (2018). Opioid & substance abuse prevalence. Presentation to the House Select Committee on Opioids & Substance Abuse.
House Select Committee on Opioids and Substance Abuse, Texas House of Representatives. (2018). Interim report to the 86th Texas legislature.